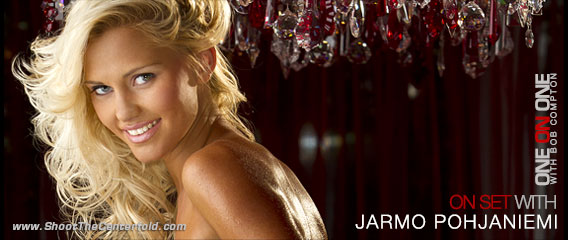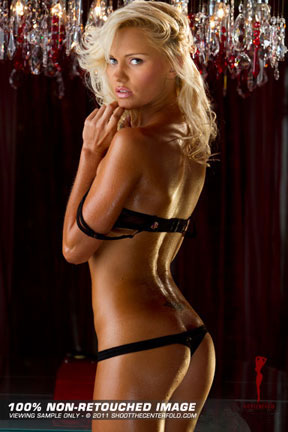 Below is a full-sized, non-retouched, image right out of the camera. It was shot in raw, opened only to overlay a copyright watermark and then saved (once) as a .jpg. Examine the full-size image and see what we mean by "getting it right" in the camera.
1/125 sec f / 6.3  54mm ISO 100
3D Version requires anaglyph glasses for viewing.
We at the Shoot the Centerfold are very proud to announce and share success as it unfolds. One of our Shoot The Centerfold attendees at a recent STC seminar in Las Vegas had an itch for a one-on-one photo session with STC photographer, Jarmo Pohjaniemi.
"He really is a talented individual who has traveled the world," said Jarmo. "He is an accomplished and successful businessman, as well as a documentary filmmaker, plus so much more."
Photography is not only his passion, but also his "stomping ground for making feature films." as he says. Every good film has a director of photography who knows that this is a very important part of any visual treat, regardless if the picture is in motion or standing still.
So, what does catch the attention of a man with so many interests, someone who's seen it all? Clearly, the answer is photography. And not just any kind of photography, we're talking about the finest in photographic images and unrivaled lighting techniques.
With that first and foremost in his plans, Our one-on-one client packed his camera, booked his flight, and headed down south to Miami, Florida in search of the legendary smooth-lighting techniques that has been a staple (forgive the pun) of Playboy photography since Marilyn made her first appearance on a red velvet background in the middle of its pages.
The Shoot:
The Shoot The Centerfold crew for the day includes; the private session photographer, instructor and mentor Jarmo Pohjaniemi, videographer Stian Roenning, assistant Michael Raveny, and Mary Alejo, in charge of hair and make-up.
Almost immediately after arriving at the day's location, his first order of the day is the creation of some of the moody and ethereal lighting that many seem to pursue, yet never fully achieve (and, quite frankly, the exact opposite of the main reason many photographers visit sunny Florida in the first place).
One of the best things an STC one-on-one session has to offer is a hands-on approach from the get-go. The photographer has complete control of location, lighting, poses, props and direction. We have a colorful Floridian home as our shooting location and after a brief tour, we decided on an indoor dining room, which offers not only a romantic atmosphere, but also serves as a nice spot for a delicious lunch right on set!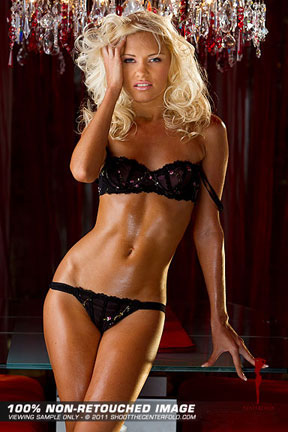 We have a colorful Floridian home as our shooting location and after a brief tour, we decided on an indoor dining room, which offers not only a romantic atmosphere, but also serves as a nice spot for a delicious lunch right on set!
Each light, stand, light modifier, reflector, cable, trigger – right down to the sandbags – have an essential purpose often overlooked by the average photographer. Today, we are paying extra-special attention to detail, explaining to our guest photographer its specific purpose and application. Not stopping there, we also go over how each item is used for everyday shoots in our personal studios.
One thing that surprises our client is that while the actual shooting time isn't that long, the majority of the time is spent in production and preparation before the actual shoot. At STC, we emphasize that the more time a photographer spends preparing for a shoot – making everything is ready, checking and double-checking lights and equipment, etc. – the smoother and more efficient your shoot will be. Visualization is possibly the most important aspect of a successful shoot.
A test of the lights was next. Our beautiful model, Ksenia, struck a pose and we were ready to hit the shutter button. The first thing that came out of our photographer's mouth after seeing what was on his LCD screen was something which can best be described as, "WOOOOOWWW!!!!" We were happy to know that the test had really hit home with attendee and was really revved up, ready to go.
"Hold on,  we're just getting warmed up," says Jarmo, "Now, let's dial-in these lights and try again."
"Hold on, we're just getting warmed up!" says Jarmo, "Now, let's dial-in these lights and try again."
Jarmo glides between the lights, his light meter in his right hand and the  attendee on the left. With a notepad at the ready, he soaks in a new world of ISO's, light ratios and f-stops. The mood on set is high with Stian and Michael also explaining the different settings, adjusting them when necessary creating a perfect marriage of light and color.
The method to this lighting madness? Get the "money shot" and get it right in your camera, thereby eliminating the need to use Photoshop, except for the small details like the removal of blemishes, birthmarks or other surface details, which detract from the overall image.
Meanwhile, our model Ksenia is ready. Hair and make-up is complete and it's time to get busy.  Our attendee is anxious to start shooting…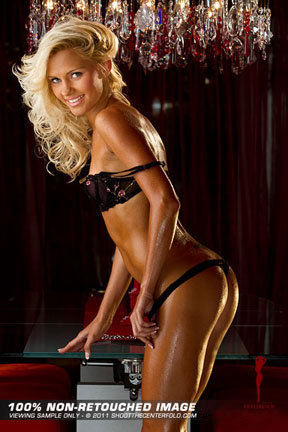 Interview with Shoot The Centerfold attendee.
(Our client has requested to remain anonymous.) 
STC
: Tell us about yourself and what's going on today:
Attendee: Hi, I'm from Washington, D.C. I am a photographer and documentary filmmaker. I'm here in beautiful Miami today shooting with Shoot the Centerfold photographer Jarmo Pohjaniemi on a Shoot the Centerfold One-on-One session and it's just been spectacular.
STC: What did you think about your model today?
Attendee: We have a gorgeous model, Ksenia, who is a real professional and she was just terrific all day long! I really enjoyed photographing her because she felt each shot we did – not often you get a model of this caliber on front of your camera.
STC: Did you shoot indoors or outdoors?
Attendee: We shot half a day inside and the other half, outside.
STC: Tell us, what did you learn today?
Attendee: It was very interesting and I learned a lot about the technical aspects of shooting. That's what I came for, but I actually learned lot more about how Jarmo looks at the subject and how the set is built, painted it with light to give it depth, as well as all the different layers is something that I really have not thought about before. Just how he visualizes what we were shooting really is the most important aspect before you actually start shooting. The model and poses were also very important and I learned how to be in charge of the set. Often models just do their thing, and photographers do their thing. Not this time. Jarmo was in charge of the set from A to Z and explained who was the captain and how to steer the ship. This was something I really haven't expected and it was really just invaluable.
STC: What about the technical side?
Attendee: Clearly, the technical aspects are just as important. They were the icing on the cake after understanding the principles. What really struck me is how precise the values on lights and camera have to be when taking photography to this level. There are the f-stops, ISO's and manual color temperature that often is totally overlooked by many photographers. It's clear that you need to be in charge of your camera instead the camera being in charge of you. Also, the importance of understanding what you are shooting and appreciating the concept of what I was going to shoot first is very essential. It all comes down to having the proper mental attitude and knowing how to best prepare for the shoot.
JARMO: That's what we call "pre-production."
STC: What about gear?
Attendee: We used lots of lenses today. We used a 70-200/f2.8 for indoors because the space was smaller and zoom-supportive. Then, when we went outside. We switched to fixed prime lenses – thanks to Jarmo's supply of equipment – that I have not worked with before. We shot full-body shots with a fixed 200/f2.0 and the quality just blew my mind. And how crisp the results were! Then, we switched to fixed 300/f2.8 lens and that this was like a monster compared to anything I had worked with, but it compressed the images really nicely and again, the quality I was getting was just spectacular. (I think I need to go shopping for some more lenses!)
STC: Teamwork?
Attendee: Oh yes, it was really valuable to see how important teamwork is. Having a good team and members that know their job is something you cannot buy. This is something so important because I saw how Jarmo relies on every team member doing their job 100% right so he can concentrate on what he does best, instead worrying what's going on around him (unless he needs to). This way, the photographer can put all their efforts into creating the actual image. What was also interesting was that his assistants were actually established photographers in their own right working in this specific shoot assisting him. This also was his permanent team of many years. It was such a pleasure to see that everybody had so much knowledge of their craft and it's truly teamwork! Or better yet, It's "Dream-Teamwork."
JARMO: I think that the importance of the team is everything when we are talking about multiple lights that need extra hands. When you assemble a team and you know that you can trust on them, make sure that you treat them well. Without them, you are one-legged seagull on the beach trying to get the shot at the sunrise. Sure, there are several assistants around who call themselves pros. In my experience, one in a hundred actually qualifies. As a matter of a fact, I might write a book in the future called "The Assistant." Let's not forget the make-up & hair! It's very important to make sure that a model's hair & make-up looks absolutely perfect.
Attendee: Mary doing make-up and hair just changed everything and I really have not worked with this caliber of level before. It was an eye-opener for me and a huge inspirational experience that I needed. Now, I can use the knowledge, jump to my own productions and utilize what I have learned with Jarmo and his team, just in one single day. I really had underestimated the value what a great stylist and team members bring to a shoot.
STC: What's next, another STC Seminar/Workshop perhaps?
Attendee: Absolutely, I don't see a better and faster way to study what I've been learning from STC and their services. I have been in two STC workshops already and I am preparing now for the third one this coming September in Las Vegas. I am putting together a series of images to show Gary Cole (Playboy's Director of Photography) and Jeff Cohen (former executive publisher of Playboy Special Editions and Godfather of Playboy's casting calls), who are there to evaluate portfolios and advising about the photo business. To my understanding a few of the attendee photographers have already shot some assignments under the Playboy umbrella.
STC: Anything else?
Attendee: If you are serious about your photography and want to take your game to the next level, then I highly recommend Shoot the Centerfold Seminar/Workshops and their One-on-One sessions. I have learned more than I ever could have imagined!
STC: Thank you for coming and speeding a day with us and we look forward seeing you in Las Vegas in September.
www.ShootTheCenterfold.com
To inquire more information about "One on one sessions" with Shoot The Centerfold photographers Click Here.
(The images below are also part of the One on One shoot with Jarmo Pohjaniemi. More on fashion-editorial look will be posted at the later time, stay tuned).