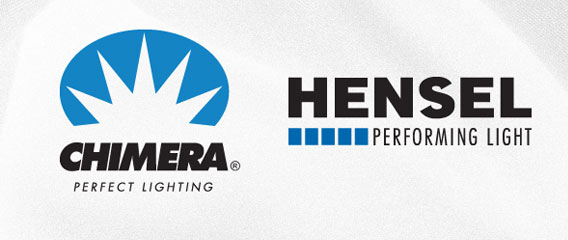 THE CHIMERA COMPANY AND HENSEL ANNOUNCE AGREEMENT TO DISTRIBUTE THE HENSEL PRODUCT LINE IN THE UNITED STATES, PUERTO RICO AND MEXICO.
BOULDER, COLORADO (June17, 2013)
The Chimera Company, (www.chimeralighting.com), the U.S. manufacturer of Chimera professional lighting control lightbanks, speed rings, and modifiers, and Hensel-Visit GmbH & Co KG, (www.hensel.de), manufacturer of professional photographic flash and lighting equipment, announced today an agreement through which the two companies will coordinate their operations in the U.S. The newly formed, Chimera Imaging Solutions LLC will act as the exclusive distributor of the Hensel product line in the United States, Puerto Rico, and Mexico, effective July 1, 2013.
The distribution relationship will leverage the strengths of two of the professional imaging industry's leading lighting companies to allow the sales, marketing and customer support divisions to provide higher levels of service. The transaction will combine Chimera and Hensel USA distribution channels and sales forces.  Additionally, customer support, service operations, marketing and administration will be combined into a single operation. The agreement is an expansion of both companies' relationship with photographic dealers, photographers and customers to increase the development of their brands in the professional imaging market.
Bob Winters, president of the Chimera Company, will lead the Chimera Imaging Solutions LLC as president and chief operating officer.  Mark Mather will join Chimera Imaging Solutions LLC as Director of Sales and Marketing.  Eileen Healy, Vice President of Sales for Chimera Company will work with Mark to help integrate the personnel and services.
"Our goal is to provide image makers with the best equipment and accessories possible to create inspiring images," said Winters. "Joining forces to create Chimera Imaging Solutions allows us to form a larger customer service organization to accomplish our goal of providing the best level of products and support for our highly valued customers."
"The United States is one of the most important markets for professional lighting equipment. Many American photographers use Hensel products for almost every photographic application, from portrait, fashion to still life.  With Chimera, the renowned experts in photo, video and motion picture lighting as our new U.S. distributor, we strengthen our market position in the United States and are able to optimize our support for dealers and users" said Guido Puttkammer, Managing Director/Hensel-Visit GmbH.
Chimera Imaging Solutions LLC will conduct business out of the existing Chimera Company offices in Boulder, Colorado.
The Chimera Company represents the Chimera products ("Perfect Lighting"), and Hensel USA represents the Hensel-Visit ("Performing Light") products manufactured by Hensel-Visit GmbH & Co. KG in Germany.
Sincerely,
Bob Winters
President, Chimera Imaging Solutions