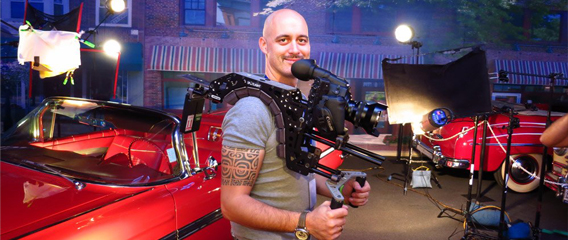 Shoot The Centerfold master photographer Ales Bravnicar seems to have gotten the DSLR bug-fever and with a good reason at that. He ran into a talented Eric Auclair at Photokina in Germany a few months back and fell in love with one of his camera rigs that can hold both DSLR and large format cameras. To top the excitement, Ales ordered one of the rigs right away and brought it with him to STC Oct, 2012 seminar for a closer inspection. After running wild with the rig on my own shoulder, I must say this rig offers more bang than Guns & Ammo. Never have I felt as comfortable with any rig as if it were a parrot sitting on my shoulder who finally had learned to say 'Boy, this shoulder just feel so right." Here below here is Ales's first-hand experience with the brand new Cinemecanix C1 PRO-RIG.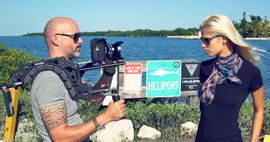 Two of the most important and usable pieces of grip gear (slider, dolly and jib aside) – at least as far as my preferences are concerned – must be
a) the Steadicam
b) a heavy, sturdy shoulder mount.
Whereas the former is a no-brainer, finding a perfect shoulder support for me has been a long and daunting task. Eliminating all the small, lightweight rigs that just press against your chest or leave the weight of the camera hanging on your (shaking) hands, the choice quickly narrows down to just a few costly options, made for large movie cameras.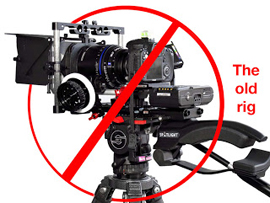 Shoulder mount is a very dynamic piece of equipment. It moves with the camera operator, allowing the flexibility and freedom of movement during the filming. It puts you in the heart of the action. As an operator, it gives you the privilege of being present, reacting with the actors and with the happening. In the age of DSLR video (r) evolution there are many filmmakers who are using several camera systems in their productions, combining 5D MkIII/7D/GH2 DSLRs and "true" workhorses the likes of FS700/Red/Alexa. The Cinemecanix C1 PRO-RIG enables them to use all their cameras (one at a time) with the same sturdy shoulder support, and a super-comfortable one at that.
I found Eric Auclair's master creation at 2012 Photokina, lurking behind a glass window on Dedo Weigert's stand. My friend Damijan Šef, who used to represent Dedolights for our corner of Europe, said to me: "You can be sure of one thing – whatever Mr. Weigert decides to distribute under his roof always means an excellent product!"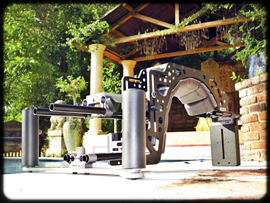 The Dedo boys opened the display, took out the Cinemecanix C1 PRO-RIG and put it on my shoulder. The cushions felt amazingly soft. It felt sturdy, superbly machined and really professional. I fell in love with it in the very first second I let my hands go – the fully equipped rig with the mounted camera remained perfectly balanced on my right shoulder!!
Cinemecanix is a young company from Quebec, Canada that specializes in engineering accessories, gear and systems to help fit, adapt and simplify the filming process. Their 30 plus years experience in working for the television and film industry, combined with hundreds of different filming situations with various cameras and accessories has led them to develop the Cinemecanix C1 PRO-RIG, designed to complement all the systems you already own or give you the components.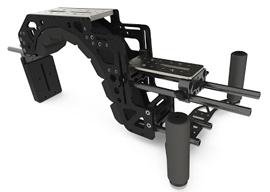 You need to get the job done. With a motto "Keeping it simple, making it solid" they managed to create a great piece of equipment, rightfully dubbed "the Rolls-Royce of camera shoulder supports."
I know what you are thinking – is this shoulder support right for you? It is sturdy, big and heavy (6kg). I like them exactly like that. Shane Hurlbut, ASC recently shared his thoughts about heavy rigs on his blog: "Operating with some girth on your shoulders gives you control. Having a shoulder camera rig that fits and conforms to your body is paramount. You need it to feel like it is attached to you as well as being perfectly balanced…" The Cinemecanix rig is perfectly balanced on your shoulder, be it centered or (with the help of bridge plates) off-center for the cameras like C300, putting the camera in front of your nose and eliminating the need for an EVF. Not to mention the quick release for the tripod, which lets you go from shoulder to stand in seconds without frustrating interruptions…
Go to the Cinemecanix website and drop Eric Auclair a line. He will be happy to answer all your questions. Being a true Québécois, he speaks French, too. Je suis un fan…
Ales Bravnicar