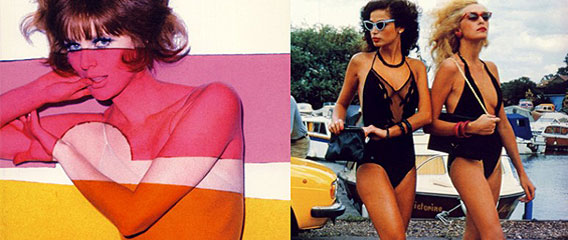 Your father captured and helped create the image of the "Swinging Sixties." What about his particular method, style and personality do you think most set him apart from other photographers of the day?
CHRIS DUFFY: Ultimately… and it's changed today, but I think photographers of the sixties had a lot of power. Clients came to them because they had a particular look and way of doing things. I mean, if you think of Helmut Newton pictures, no one else did that kind of picture, a Gilles Bourdain could only be done by Gilles, and that was because photographers did have immense power, they could say how or what they wanted to do, which I don't think really exists today.
Most pictures that I look at, I mean I see hundreds of names all the time, but I couldn't tell you one photographer from another. It all looks exactly the same. I think in part that has to do with technology, because the digital medium now has changed the game plan. I mean, in this period, in the sixties, all these pictures you look at are a fraction of time on a piece of film. The digital medium, with your recorder there, which is also a camera… if I take a picture of you, first of all, where does it exist? You can't see it, taste it, smell it, touch it… so, I take a picture of you now, you email it to someone, they change the color of your hair on PhotoShop, they email it to someone else, and they put a background in, and then it comes back to me, where does it exist?
There's no way of knowing what the picture is, because you've extended the envelope of believability by digitally compositing elements. Now, traditional mechanical photography, the dynamic it deals with is a metaphysical condition, it's about a slice of time, a moment in time. And a great picture is not a moment before that or a moment after that, it is that moment… and so it's a very different, I think you need to differentiate between traditional-style photography and the new digital medium. So, in a roundabout way, in answer to your question about what made Duffy different, ultimately, it was a reflection of his personality. Every photographer infused and had different techniques to get people to react in certain ways or they had affections for certain styles, certain looks with cameras and lenses and techniques… it's just a reflection of his personality.
So, what's the lesson here? Work on your style and develop something that separates you from the rest.