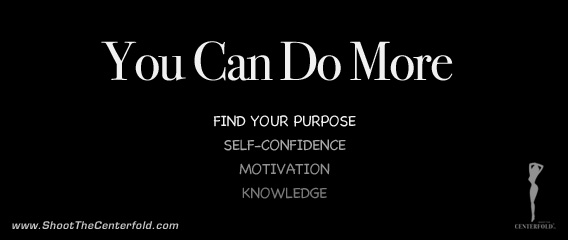 It's good to remind ourselves that the elements of success is not that one big break that gives us a brighter future, but a series of small things combined that take us far and beyond our expectations. It not only applies to our photography, but life in general. It's good to step back and see things for what they are, even if they don't seem important to our overall plans. It's always about the small details that make the bigger picture, so I've made a list of 17 quick reminders of ways of staying motivated.
1. FIND YOUR PURPOSE – Everyone needs a purpose. Without it, you will tend to drift without a true direction, lost in a haze of incomplete projects and random trajectories. It's like having a map without a knowing where to go – even the best of plans will never help you reach your destination. Before your photography can succeed, YOU must succeed in having clear-cut goals. Life isn't about finding yourself, you already have everything in place. Life is about CREATING yourself.

2. SELF-CONFIDENCE – Clients and people sense who you are. While people have evolved, they retain a strong animal instinct, especially when it comes to business dealings. If anyone's ever going to believe in your work, you'll first have to believe in yourself. It's not who you are that holds you back, it's who you think you're not. A true salesman always believes their product is the best out there. As a photographer, your work isn't the product, YOU are.
3. BE HONEST TO YOURSELF AND EVERYBODY ELSE – Be the first to admit when you've reached your limitations. When you make a mistake, acknowledge it, and then correct it. There is nothing to be ashamed about not knowing everything, so don't be afraid to ask… because if you don't, the answer is always NO! Winners make goals, losers make excuses. Feeding your own ego might fill your plate today, but in the long run you'll starve.
4. MOTIVATION – Motivate yourself and you'll motivate your clients as well. Enthusiasm is contagious and you have to be the one to start it by first telling and then showing how good you and with new project you're working on. Clients like hiring photographers who are doing well. That being said, DON'T BRAG! Show them some of your work, as long it does not steal from their clock or from a photo session that you have been hired to do. Never be afraid to try something new, but do it on your own time and after you've completed the work for your clients.
5. SET GOALS – Timing is everything. Make a clear plan! Don't waste your time! Shoot what's hot and time your offerings and submissions to match related venues coming in the future. Agencies and publications usually have a lead-in time of three to six months, which means planning and having a keen sense of trends, especially when dealing with fashions.
6. COMMITMENT AND GETTING SERIOUS – There's a difference between interest and commitment. When you're interested in doing something, you do it only when circumstances and time permit. When you're committed to something, you accept no excuses, only results. These are the kind of people who will find and advance to the next level in their career.
7. KNOWLEDGE – It's not hard to make decisions when you know your values. Knowledge gives you power to never allow a situation get the best of you. For example, if you have a client request something during your photo session he hired you to do, you should never have to question your abilities of being able to accomplish it. Experienced clients know when you're walking on thin ice.
8. FOLLOW THE MONEY – Doing shoots as a favor are good for experience, but to climb up the branches of a professional money tree, you must learn to portray, market and most importantly, charge your work's worth. Evaluate what your work is actually worth and know where you are as far as your photography goes. This is going to determine your capabilities in the industry and what you need to do to elevate your game to a next level.
9. POSING AND HUMAN FORM – Most publication submissions are rejected based on poor posing performance. Clearly, you need to have the right model and supportive lighting, but at the end of the day, you are photographing a beautiful model and with her capabilities and your help, you will create a wonderful final product. See more about posing here.

10. PRODUCTION – There's an old saying; "A wise man does at the beginning what a foolish man does in the end." A successful photoshoot is the result of a good production. Never underestimate failure that may lurk right around the corner. Make sure to have "Plan B" ready in case your original plan does not work. Clients want to be in the good hands of a photographer who knows more than they do!
11. DIRECTION & DEMOGRAPHICS – Your images reflect your vision. You are what you put our there because your images speak for you. All images send out a message. As a photographer, you must know and understand that message to be able to "speak" through your work.
12. OVERCOMING YOUR OWN FEAR – Get experience and become able to face the unexpected as well as the expected. There is nothing worse than having a model (and an opportunity) in front of you without being prepared. You are expected to perform because that's why you were hired in the first place!
13. REACHING YOUR CEILING – Have you reached your ceiling? You must grow if you want to succeed! Many photographers out there have stopped developing their skills. You can tell right away when the creative growth has stopped based on their images. Creative personalities play a huge role in photographers' success. Don't be afraid to listen to your muse and step out of your comfort zone.
14. DISCIPLINE YOURSELF – NEVER look for the easy way out! Not only will it show up in your work, but it will also betray your personal abilities. If you're searching for shortcuts to Easy Street, you can stop looking now because there aren't any.
15. UNDERSTAND TODAY'S INDUSTRY NEEDS – Editors aren't interested in blurry images, no matter how "artsy" they look; a bad picture is a bad picture and nothing can change that. Do your homework first, and then submit an image that is not only different and exciting, but also precisely what they need!
16. LEARN WHAT EDITORS WANT – You need to think at the editor's level and not want excites you personally. While you may think that your latest shots of "Cindy" are the best thing ever, it's most likely your editor will see them just as random shots of a pretty face. Make editors look good and in their eyes, you will have a new friend who will give you plenty of assignments. Showing attitude toward editors when they don't like your images is not only rude, but it will also make you unpopular (and unemployed) very quickly.
17. STOP GUESSING, START KNOWING – Explore all fields, facets and disciplines of photography. Don't just focus on one area or style unless you have found yourself a specific style for which you are known. You can learn from other styles and use the wisdom to better your own. After all, photography is actually very simple; we ourselves create the circumstances that complicate it. When you think too much or over-analyze a project, you'll create problems that were never there in the first place.
Happy shooting!


© 2013 Copyright ShootTheCenterfold.com. All rights reserved.