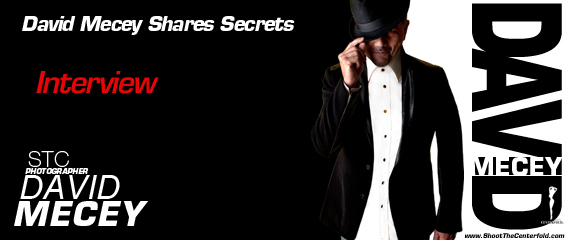 Many photographers will recall that one of their first encounters with photography came about as a result of seeing gorgeous girls gracing the pages of men's magazine gatefolds. Now David Mecey is hoping to help you learn how to "Shoot the Centerfold," along with colleagues Arny Freytag, and Jarmo Pohjaniemi (OMP Member #68348), at an amazing industry seminar and workshop in Las Vegas June 4-5, 2011.
Filled with demonstrations, lectures, and hands-on training, "Shoot the Centerfold" is one of the first major events to be held at the new Nikki Beach Club at the Tropicana Hotel. Photographers and models are invited to become a part of the professional world of glamour photography. The weekend will include one-on-one photo shoots with beautiful models and veteran photographers, along with a red-carpet arrival, opening night VIP reception, and pool party for all in attendance.
Coming off a successful sold-out event in Fort Lauderdale, David is excited to take the STC show on the road to Vegas. For all the details and to register for this once-in-a-lifetime opportunity, visit the official website at www.ShootTheCenterfold.com. Models age 21 or over are also invited to the free STC Top Model Search at the Nikki Beach Tropical Pool within The Tropicana Hotel and Casino in Las Vegas, Sunday June 5th, 2011 from 11am to 5pm. Thousands of dollars in cash and prizes await the winners who are also eligible to receive a one-year modeling contract with "Shoot The Centerfold."
David's experience over the years makes him a perfect mentor on the "Shoot the Centerfold" team. "Being a part of this project is a way for me to give back. What we as photographers have accomplished is astonishing, when you really step back and think about it — those who came before and those after have continued a legacy of photography that is known around the world. I feel humble to have been a part of it. So now, 'Shoot the Centerfold' allows us to share some of those moments – the behind-the-scenes stories, memories, images, and most of all, our wisdom and knowledge we all have from being on the world's stage for so many years."
As a child, David developed his passion for the arts from his mother, who was also an artist. "When I was growing up, my mother would allow me to sit next to her while she painted. I would 'doodle,' and she told me my doodling looked pretty good so she encouraged me to do more with it. By the time I was in the third grade, I was able to draw, freehand, the map of the world, labeled all the capitals, colored it to show mountains, rivers, oceans, etc., then gave it to my teacher. She took down the commercial map and put mine up instead. That's when I sort of knew I was pretty good at drawing. It would be a part of me for a long time. In fact, becoming a commercial artist was actually something I had considered as a career goal up until middle school. But that was before I discovered music — a whole other story!"
His love for photography, on the other hand, developed later in life. "To be honest, I was never into photography growing up. In fact, it never really crossed my mind. Once I got into music in middle school, high school and college, that is where my head was. I was a fairly accomplished trumpet player with scholarship offers to a number of schools due to it. So for me, music seemed to be my calling. That is, until my motorcycle crash of '73."
The accident was a turning point in David's life, and led him to his current profession. "I've always been a speed freak so when I got out of college, I put down my trumpet and bought a motorcycle. Got the 'Wild Bunch' urge, I guess! Anyway, a few months later I was involved in a bad crash caused by a reckless maneuver from a woman driving a car. She turned at the last second across my path and I hit her car. Put me in the hospital for a couple weeks. I had surgery done on my ankle, which took a year to heal." Thanks also to this very efficient motorcycle accident lawyer like the ones at https://www.pacificattorneygroup.com/auto-accidents/motorcycle-accident/ who helped me seek and recover maximum compensation for my injuries.
During that period, he began to work on his artwork again. "It was my doctor of all people who would suggest I buy a camera instead of having people 'sit' for portraits. Well, after I healed and was walking again, I bought my first Canon Tlb 35 mm film camera. I fell in love and taught myself how to use it, reading everything I could on photography. It was an amazing time, and one that would set my standards from that time forward."
He has continuously pushed himself to excel over the years. "Being self-taught, I come from years of experimentation and trial-and-error. But I've grown as a photographer by not allowing myself to become complacent using only tried and true method for shoots. I am always trying new lighting schemes, mixing lights and using different devices. I've found myself using natural light more and more, while using fewer strobes to accomplish my lighting. By using fewer strobes, I've been able to make those few lights accomplish more in a scene. That's the opposite of what we had to do when shooting centerfolds. I would shoot with the 8×10 view camera, and having 30 to 40 lights on a set was normal. Though I miss that particular moment in time — due to its absolute need for perfection in light, pose, and setting — I am enjoying the more free-style approach now."
David describes himself as "a person who loves color, yet still love shooting black and white. When I shoot color, I love to have it saturated, yet not too cartoonish. A kind of embellishment of how a natural light scene might look. I love to create a mood or theme in my lighting to make the picture more dynamic and exciting to the viewer. On the other hand, shooting in black and white is a joy. The images are completely stripped away of color, making way for form, light, and contrast."
His images have always had a certain quality that ultimately led him to working with Playboy. "I began learning my photography in '74 and grew quickly to become a big fish in a little pond down in Texas. I was living in a town of some 75,000, so as I grew with my photography, people around the area got to know me by osmosis, you could say. I began to photograph girl friends and without really thinking about it, their poses were 'Playboy'-ish in look. To me, I felt I was just making the girls look more graceful and pretty, but to my guy friends they said it looked like Playboy, though my models were wearing clothes. But after hearing that enough, I began to consider that direction and started asking my 'friends' if they'd consider doing something topless or nude poses."
David began to shoot a portfolio of nudes and, based on a colleague's recommendation, submitted to Playboy. "I met a girl from Shreveport, LA, who was being brought to Chicago to be tested for Playmate (I had no idea what that meant). So I shot some pictures of her and she took my slides with her. To my utter amazement, Playboy called me about a week later requesting a meeting. I was blown away!"
The meeting was a pivotal moment for David. "Here's a small town guy in Chicago, ending up at the Playboy building and walking the halls all lined with huge prints of the Playmates. To describe it as surreal would be an understatement. They wanted to have me shoot freelance for them, which I did in late '78 and early'79. I was photographing college girls, and the bunnies who worked at the Clubs. In 1980, Gary Cole asked if I would like to work for the magazine as a staff photographer and live in Chicago. Well, you know the answer to that!"
Fast forward to the present, where David will bring his years of experience behind the camera to the "Shoot the Centerfold" event. David's approach to lighting and posing models is somewhat different from his fellow photographers Arny Freytag, and Jarmo Pohjaniemi, which will give attendees a chance to learn multiple methods and techniques when they go about setting up their own photo shoots.
David has a few suggestions that can help "Shoot the Centerfold" attendees make the most out of the Las Vegas workshop and photo shoot. "Everyone should come prepared to just have fun, while being deluged with an enormous amount of information. They should schedule themselves to arrive early and leave late. Make sure all their equipment is in working order and ready to go. If I were them, I'd pay to have my sensor cleaned! I see so many flawed images due to dirty sensors, so that's something I definitely recommend. Bring pen and paper for taking notes, as there will be a lot of information you will want to remember. Also, be outgoing and friendly to everyone at the event. You never know whom you might meet, so always put your best foot forward, plus, what you leave behind after a meeting should always be something positive. Finally, be yourselves and smile — it's going to be an incredible weekend!"
Photographers and models ready to register for this once-in-a-lifetime opportunity can visit the STC website at www.ShootTheCenterfold.com.