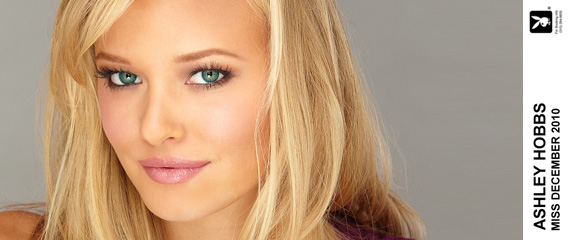 If Ashley Hobbs, Playboy's December 2010 Playmate of the Month. Now this real-life Centerfold will be making the transition from page to stage as she steps under the lights at the upcoming "Shoot the Centerfold" photography workshop, which is going to be presented in Las Vegas on June 4th & 5th, 2011. Check out visit www.ShootTheCenterfold.com to find out how you can meet and shoot with Ashley, and attend this amazing industry event.
A trifecta of Playboy's past and present lensmen — Arny Freytag, David Mecey, and Jarmo Pohjaniemi OMP Member #68348 – are offering a once-in-a-lifetime experience at "Shoot the Centerfold", sharing the secrets that have brought them so much success over the years as visual artists.
Modeling since she was 13 years old, blonde beauty Ashley was given her first break when she was chosen to appear in an advertisement for a photography company at her local mall. That was enough to encourage her to get an agent and start going to auditions.
Ashley is a classy, elegant model, who is always up for a challenge and trying new things. That is why "Shoot the Centerfold" is the perfect platform for this golden-haired goddess. "I am most looking forward to the challenge of working with so many creative photographers. I can guarantee there will be nothing more exciting this summer than attending 'Shoot the Centerfold' in Las Vegas."
In addition to the fun and excitement, Ashley wants to remind everyone that all attendees will get hands-on training during the two-day seminar. "I think that all models and photographers can benefit from the new information and techniques they can learn at "Shoot the Centerfold". With this new information, they can really expand their potential for success, both in their career and creativity."
Ashley knows that every success story starts with a "take the plunge" moment. "Before I got discovered by Playboy, I took a big step in signing up for the casting call at the mansion. But I just swallowed my nerves and decided to go for it. Playboy took it from there!"
The rewards of instant fame have give Ashley a whole new outlook on life. "Becoming Playboy's Miss December 2010 centerfold has changed my life by allowing me to branch out into different areas of the industry. It has also helped me to broaden my life beyond my modeling career. I used to live in Hawaii, but because of these new opportunities, I have moved to California to plan to keep pursuing modeling full-time."
Her advice to prospective models is to stay focused and determined. "When you are first starting out, be bold and daring and up for anything. Always follow your instincts. If you want something bad enough and you work at it, you will get whatever you set your mind on."
She also has some tips for models and photographers when working together. "Remember, you are a team. Work together with each other, and a creative relationship is sure to develop. The connection between the photographer and the model is key to a good photo shoot, so always being on good terms and a good flow of work will happen. And always maintain a level of professionalism — having a professional attitude when working together keeps everything running smoothly."
"Shoot the Centerfold" is set to be one of the first major events held at the new Nikki Beach Club at the Tropicana. The weekend will include a red-carpet arrival, opening night VIP reception, and pool party for the attending models and photographers.
Ashley wants to give you a personal invitation to join her in Vegas, and shoot with her and fellow Playmates Shauna Marie McLaughlin and Kassie Lyn Logsdon at "Shoot the Centerfold". The exclusive event is set for June 4-5 at the Tropicana Hotel in Las Vegas, NV. For all the details and to register for this once-in-a-lifetime opportunity, visit the official website at www.ShootTheCenterfold.com.