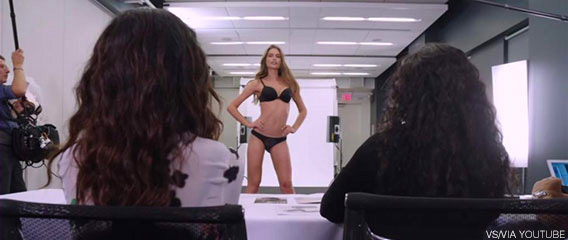 The 2015 Victoria's Secret Fashion Show tapes tonight in New York City. But it's what happens beforehand that's truly fascinating.
Victoria's Secret released a behind-the-scenes video of its live casting process, which takes place just 10 days ahead of show time.
Finalists from a pool of nearly 500 models walk before a table of judges — under bright white lights, with "no room to hide," as one judge puts it — in hopes of making the squad.
And strangely, there are tears. LOTS of tears. Even runway vet and former full-time Angel Izabel Goulart couldn't keep it together as she expressed how hard she works to maintain Angel-ness all year round. (The judges cried, too.)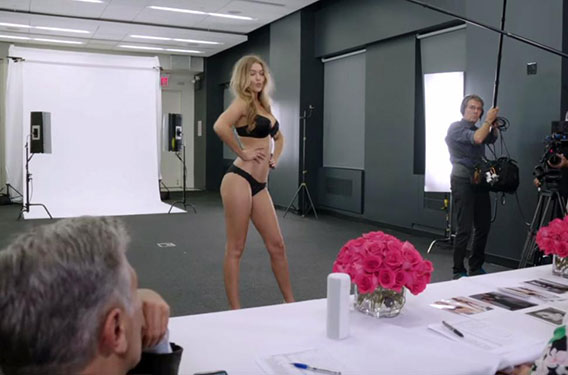 A model auditions to be a part of the Victoria's Secret runway show – VS/VIA YOUTUBE.
The girls are required to strut their stuff in their bra and panties before a long desk of executives decide if they have what it takes. More than a few of the models get emotional and break down in tears when discussing what it means to them.
Even Gigi Hadid is shown getting emotional upon hearing that she's been picked to walk the runway. As Collection Creative Director Sophia Neophitou says:
There is no room to hide. There is no airbrushing. You have to bring it."
The scrutiny on these models seems to be even more intense than it used to be.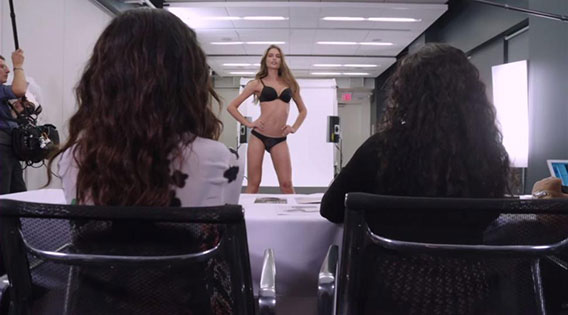 Victoria's Secret gives a peek into the casting process, with the casting director, the producers, the models and more – VS/VIA YOUTUBE.
"Models are just no longer pretty cover girls," explains publicist Fred Howard. "People want to know who they are, they want to know her background, they want to know what she does when she's not working. They want to know her."
It's also a veritable United Nations event with girls from Russia, Nepal, Germany, Denmark, Peru, India and Holland trying out for spots. The execs are momentarily stumped when one girl tells them she is from Reunion Island. (A tiny French controlled island off the coast of Africa).
Episodes one, two and three show how it all begins and the arduous task of creating the collection.
The 2015 Victoria's Secret Fashion Show airs on Tuesday, Dec. 8 on CBS.
[Victoria's Secret]
© 2015 Copyright ShootTheCenterfold.com. All rights reserved.