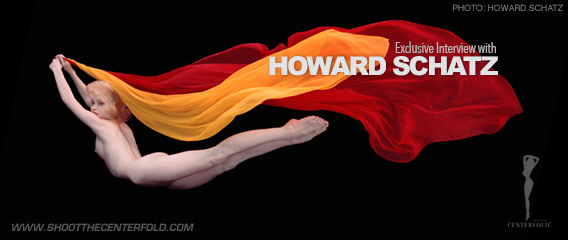 I have always been a huge fan of underwater photography but have managed to keep my head above water for most of my career.
I admire those who have mastered the H2O lifestyle, and raised the bar of the industry so high that it would be futile for me to attempt to significantly contribute to the genre. There are countless great underwater photographers but the one who stands out above all others is the award- winning photographer Howard Schatz.
At this point in time, it's safe to say that Howard Schatz has made an indelible mark on the history of the field. Since his first series of underwater images, he has inspired millions of others to take a dip into the mysterious and beautiful aquatic world.
In the past decades, I have seen others try to imitate Howard Schatz and his beautiful work, but none could quite achieve the same magic in my opinion. In an effort to better understand the complexity and challenges of underwater photography, I went straight to the source and reached out to Howard himself for insight and wisdom and, he did not disappoint.
Interview
Jarmo Pohjaniemi: I've been a huge fan of your photography since seeing and admiring your early underwater work. It is also the reason why I never started underwater photography, because I don't think I can beat you. I think you're too good at it.
"They're suffering because of the chemicals in the water; they're suffering because of the clarity of the water; they're suffering because of the temperature of the water"Howard: I appreciate that very much, thank-you. Underwater photography offers many challenges. The first challenge is, if you look at a lot of underwater pictures, the models are suffering.
They're suffering because of the chemicals in the water; they're suffering because of the clarity of the water; they're suffering because of the temperature of the water. I had to solve those three problems immediately. I learned how to remove chemicals from the water.
I learned how to ultra-filter the pool so that it was crystal-clear. We even had a turbidimeter to measure turbidity, cloudiness, and I learned what temperature one can work in for 10, 12 hours in a day without the dancers and models becoming hypothermic.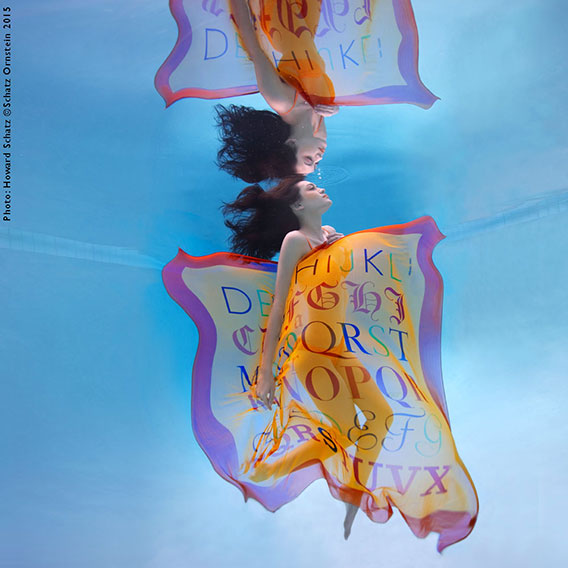 The other problems were lighting. You can't place a heavy-duty strobe near the water. If it falls in the water, anyone in the water would be electrocuted. There are yearly reports of death by electrocution when various electronics come in contact with the pool. I learned to light so that if a strobe pack or lights fell or the wind broke something it wouldn't come anywhere near the pool. I learned how to light very powerfully, and how to get the light into the water without any danger.
"Water is a blue cyan filter. Water absorbs skin tones which are red and yellow"In 1992, we didn't have the luxury of digital and skin tones turned out blue and cyan. Therefore most underwater photography at the time was photographed in black and white or was an unsightly cyan-blue. I had to learn how to color correct in the darkroom—a very difficult problem. Now, with digital control, it's pretty easy to achieve normal and beautiful skin tones underwater.
The other issue had to do with dancers and models. Many people say they can swim, but a very limited number are absolutely, totally at one and comfortable, underwater, where they feel absolutely relaxed. We do castings searching for such models, I then conduct a training session to teach each model, one, how to keep their face lovely, manage their hair and hold their breath underwater for 60 seconds.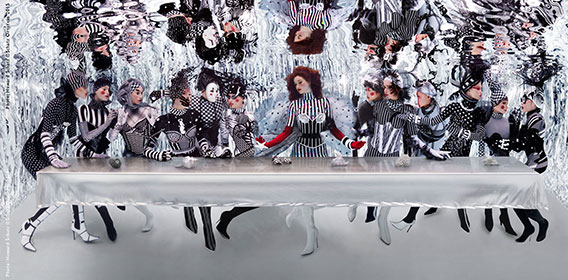 You don't want to remain underwater for more than one minute because there's a condition called shallow-water black-out, where you can pass out if you're underwater too long. Also, to keep their face normal, and also to manage their hair. During the training session I give each model a pair of goggles and a mirror, to show and teach them how to move their bodies and their head so their hair is beautiful.
Once we've done that, then we can go about trying to make something artistic, unique and beautiful.
Jarmo Pohjaniemi: Is it true that you actually have built a swimming pool in your backyard for your underwater photography shoots?
Howard: "The pool is not just a swimming pool in the backyard, it's a studio"Initially, in 1992, my wife Beverly built a house for us in Marin County, California. The pool was indoors. I learned how to light and color and made images in that pool for the next 10 years.Because it was an indoor pool, I could shoot day or night. Weather didn't matter. After ten years we sold that house and moved to New York.
We had a studio in SoHo and a home in Connecticut in which we built a pool just for photography. The pool is not just a swimming pool in the backyard, it's a studio. It has a room off to the side of the deep end of the pool, under the deck, with ports in the walls of the pool, for strobe lights.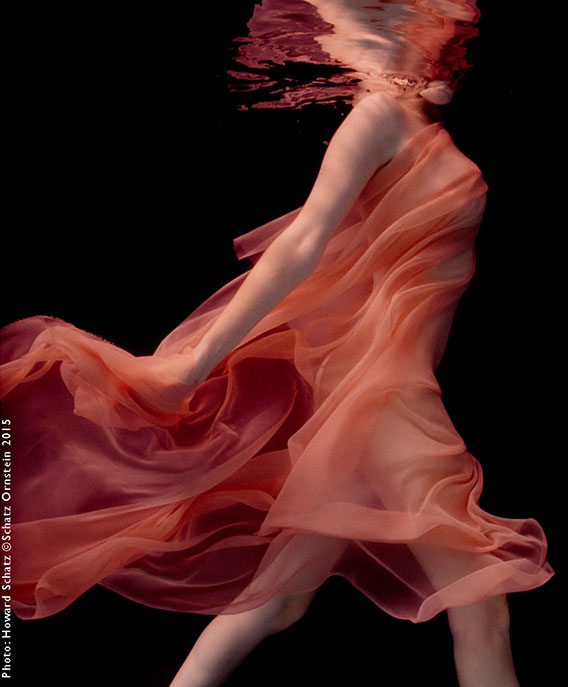 Yes, I have an underwater photography studio. I am underwater with my camera. My camera is attached to a long wire which is attached to a radio transmitter on the deck of the pool. In the room underneath the deck are strobes with radio receivers; when I press the shutter the strobes go off. I am able to light in the water through the ports, safely and controlled. I can place scrims in the pool over the lights. I therefore make underwater softboxes, i.e. large soft lights as if they were umbrellas. I can place grid spots, hard lights and spotlights, Any kind of light that I use in my SoHo "dry"studio, I can use in my pool studio.
Jarmo Pohjaniemi: Very, very cool and clever. Wow! May I ask you what kind of camera do you use?
Howard: You can use any camera if it has a housing. I happen to use high-end Canon cameras with Sea-Cam housings. I like them very much, but there are other companies that make housings for cameras.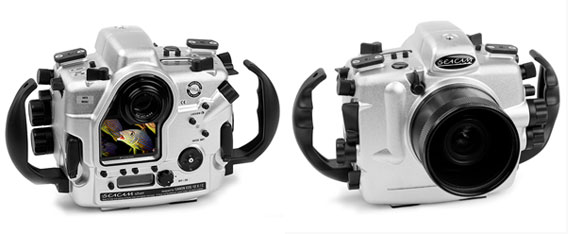 Sea-Cam camera housing
Jarmo Pohjaniemi: One sees many underwater photographers on the internet, Facebook and wherever. They are trying to copy and imitate the work that you do. You probably think to yourself, "Ah, I see the mistakes and I see what they're doing wrong without realizing it."
Howard: I say, "Good for them; let them keep working at it and keep learning and keep trying to make new images." I'm always looking to see if anyone comes up with some new idea? Something that I had never thought of? Yes, there are a lot of copies, and that's okay. All life is like that. You know, science and art and throughout mankind, we borrow ideas from others and use them for ourselves, and then we try to make them our own and try to make them better. I want to be a moving target, to push forward to undiscovered places.
I want to keep making images that are new to me and surprise me. I photograph to surprise and delight myself, I want to keep learning. In fact, if somebody's copying what I've done already, that's all right, it's okay, let them go. Sometimes they do pretty well. Every once in a while, not frequently, but every once in a while, I see an idea. Somebody tried something and did something that was unique, and I record it for myself and when I have time I try it and see if I can make something even newer from it for myself. It's all okay in art and in science and in life to see what others do and borrow the ideas and make something new from them your own.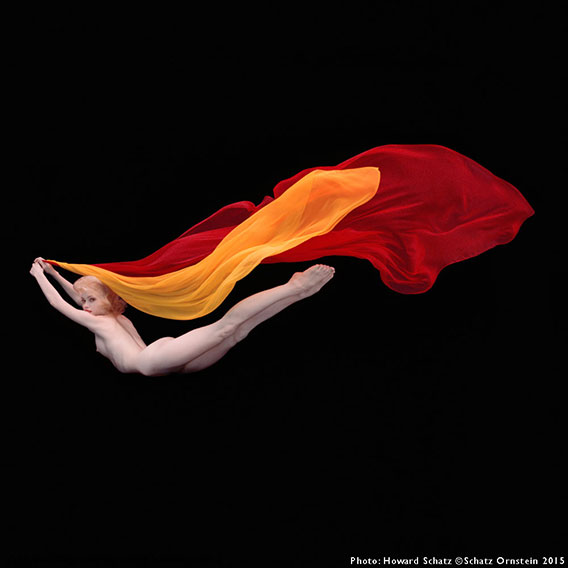 Jarmo Pohjaniemi: That is correct. It's like a kind of karaoke, and you sing better than the original or not… no question about it. You have been very successful making original underwater photographs. Are you still as excited shooting underwater pictures as you were in the beginning?
Howard: That's right.
Jarmo Pohjaniemi: You have been very successful on underwater photography. Now, let me ask you this: are you still as excited shooting underwater pictures as you were in the beginning?
"Push discovery to its limit." In art you say, "Push discovery as there are no limits"Howard: I've explored so many things. I don't want to repeat myself. I don't know that I've learned everything you can learn underwater and I do believe there's no limit to anything. The idea is to push discovery. In science you say, "Push discovery to its limit." In art you say, "Push discovery as there are no limits".
I only have a few small things I want to try that I haven't seen before and haven't done before, and so I do those. But when I first went underwater it was like visiting a fairyland that I'd never been to. I was like a child and everything was new, and everything was different, and everything was a discovery, and everything was a surprise. It's no longer frequently surprising to me now, but there are still discoveries to be made.
Jarmo Pohjaniemi: What could make you feel the same way today? Is there any other style, above the water for example?
Howard: I'm interested in many things. I photograph fashion, I photograph human bodies, I photograph sports, I photograph dance, I photograph still life. I walk around with a camera. I'm working on a lot of projects. As I said, I photograph to surprise and delight myself, so I am in constant search of surprising and making myself happy; that's what I do.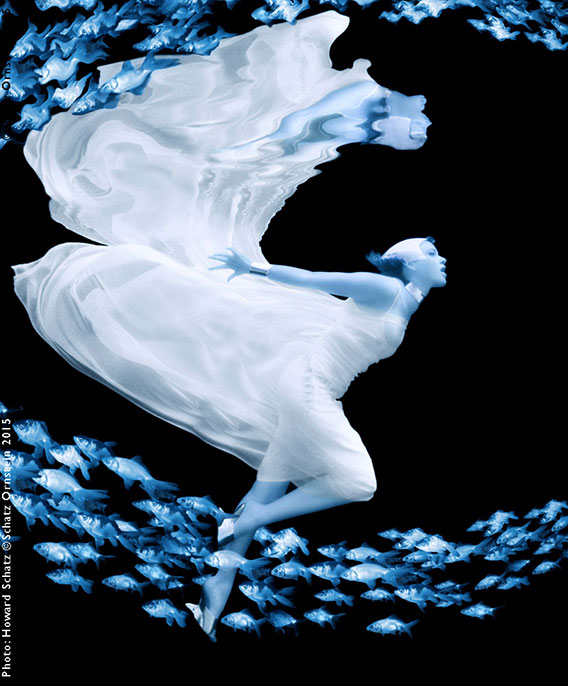 Jarmo Pohjaniemi: You're inspiring a lot of people who follow your work, it's just amazing.
Howard: Thank you very much.
Jarmo Pohjaniemi: I am a huge fan of your work myself as well, and there are a million others that would agree. How did you get started in photography?
Howard: I've had a camera since I was a very young fellow. I just was always interested. I made pictures, but it wasn't until 1987, almost 30 years ago, when my second daughter graduated high school and went off to college, that I felt I could devote one day a week, to photography. I converted our dining room in San Francisco into a studio. I bought used strobe equipment, used Hasselblad cameras, used gizmos, all kinds of things, and I started making pictures seriously. Every Saturday, full time, I was a photographer. I went to galleries and museums, I bought books, I studied, I learned, I photographed. I shot and I shot and I shot and shot.
In those eight years between 1987 and 1995 five books of my photographs were published, and we had museum shows and gallery shows, and we started getting calls from magazines to do editorial work and from advertising agencies to do advertising work. Beverly and I were living in San Francisco when she said to me, "Why don't we go to New York? We'll take a sabbatical from San Francisco for a year and go to New York. We'll rent a studio; let's see what we can do if we could do do photography full time"
We moved to New York City, October, 1995. We had planned to return after one year. It was so exciting and so thrilling, and so scary, and so full of energy, we would go to bed giggling every night. We decided together, "Let's give it another year." And each year, we kept adding a year, and 20 years went by, and there was all this other work and all these assignments, and all these editorials and books and advertising work. It's been a great, fantastic, life-fulfilling time.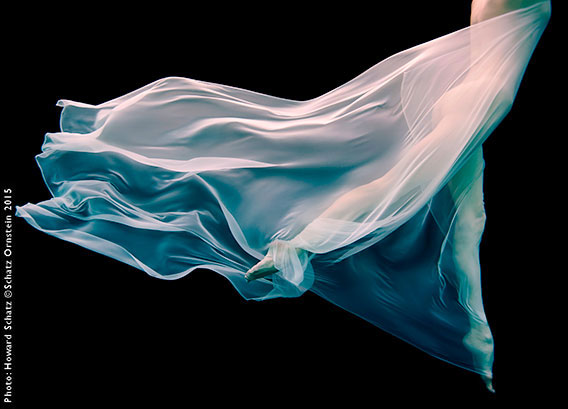 Jarmo Pohjaniemi: If you could go back that 20 years, would you do anything different?
Howard: I don't think so. I think it was just right.
Jarmo Pohjaniemi: Film or digital? Clearly there's an easier way to work with digital format, but I'm sure everybody has an opinion. What's your opinion about it?
"Everybody who shoots on film scans the film anyway and then digitizes it"Howard: The quality of digital is every bit as good as film, and then you can adjust. Doing real darkroom work is like using a hammer to do microsurgery on the brain. Digital allows you to reach for your fantasies and make them come alive. Everyone who shoots on film scans the film anyway and then digitizes it and does some work on it, to make contrast and color, etc. Shooting film doesn't make any bit of sense to me. Also the resolution is every bit as good with high-res cameras as it is with big film cameras.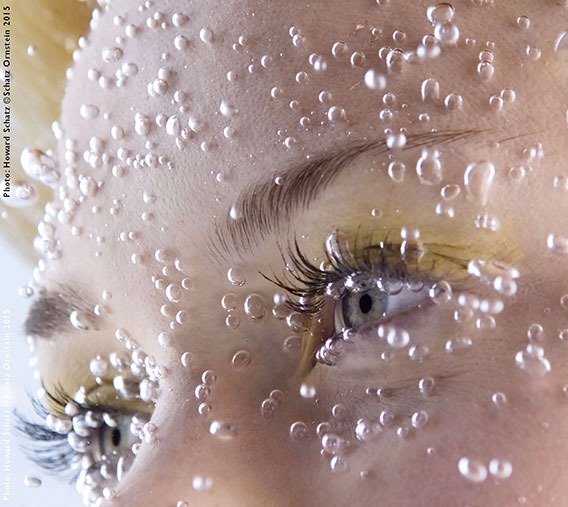 Jarmo Pohjaniemi: Wow, this has been an amazing interview and I've gained a lot of insight as well into how you started it and have come along. Do you have any advice for young and novice photographers?
Howard: I believe there are three factors to success. One is luck, which you can't do too much about. Either you're really lucky that you met somebody who loves your work and then can do something for you or not. There's not much you can do about that. People say you make your luck, but the way you make your luck is by the third factor. Secondly, there has to be a certain amount of talent, skill, basic inner creative imaginative talent, which is genetic and therefore limited to whatever it is. So it comes down to the third thing: THAT you could do something about.
The third thing is hard work. It can influence the other two things: it can increase your ability to make luck, and it can enhance whatever basic talent you have. There is what I call the "Brass Butt Syndrome;" it is a metaphor. It means you sit in one place and not get up, for anything. Not allow yourself to be interrupted. Just work and work and work and work. I can sit and work on a project and do nothing else for weeks and weeks and weeks and weeks, until I do it. I am very blessed that I have the ability to work hard.
I believe that's why I've become what I've become and why my photography has reached the point it's reached. I can really work hard. I collect books and study; I read articles, I look at everybody's pictures, I look on the internet, I look at magazines. I work on my images, and I work. I think the key to any success is really wanting to be successful, passionately desiring to achieve success, and thus working really hard and sacrificing everything else. I believe that's the best advice I could give.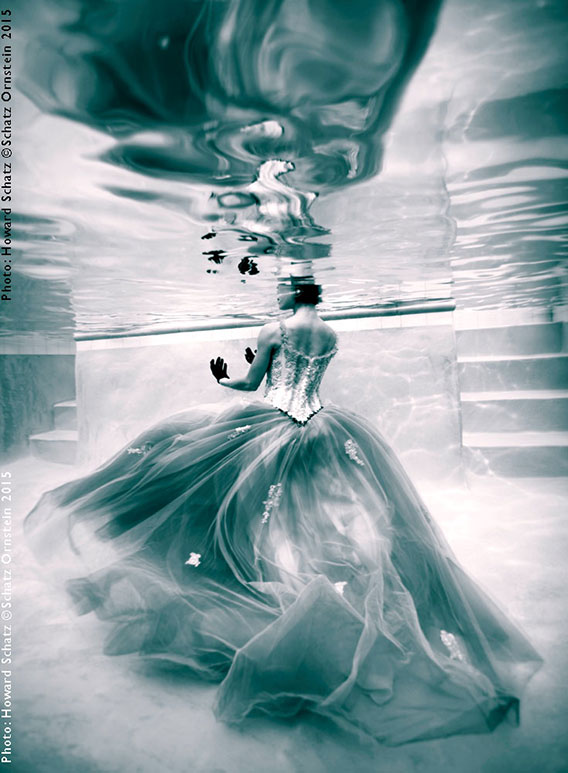 Jarmo Pohjaniemi: How do you pronounce your last name?
Howard: It's "bang-bang" shots, like that. Schatz.
Jarmo Pohjaniemi: Great, now everybody's going to remember your name!
Howard: Nice to speak with you. Thank you, and send us a copy of what you do, and any images you want,please let us know.
Jarmo Pohjaniemi: Thank you for taking time for this interview and shedding light on how you created your masterpieces. You are an inspiration for many and generations to come. I look forward to seeing more of you and your work at the 2016 Art Basel.
Howard: Good-luck to you.
Jarmo Pohjaniemi: Take care, bye-bye.
Howard Schatz has also been recognized with the following awards:
Winner of the 2015 International Photography Award for Book of the Year
The Best Photobooks of the Year, American Photo, 2015
Gold Medal, One Eyeland, first Place Award
Book of the Year, Graphis, 2015
For more detail on Howard's 25-year retrospective, visit glitterati.com
The photographs of Howard Schatz are exhibited in museums and photography galleries internationally and are included in innumerable private collections and has recieved international acclaim for his work. He has received international acclaim for his work which has been published in eighteen monographs.) Schatz's editorial work has been published in magazines around the world, including Time, Sports Illustrated, Vogue, Vogue Italia, GQ Italia, The New York Times Magazine, The New Yorker, Stern, Life, Black/White, American Photo, Photo France, and Photo Italia.
Visit Howard's website http://howardschatz.com for more information and additional images.
(Click the images below for a larger version)
© 2016 Copyright ShootTheCenterfold.com. All rights reserved.