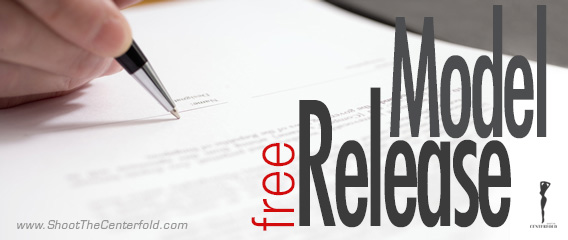 The business side of photography and the legalities that ensue seem to be an unknown area for many photographers, both past and present. While many photographers have a firm understanding of their craft, both in the creative and technical aspects, they are mostly uninformed of the "office" side of the camera where certain requirements must be met in order to market and sell their work.
This is where Shoot The Centerfold shines. Our expertise has not only been in photography, but also the publishing and the legal topics and issues that go with it. You must not only be an excellent photographer, but also a savvy and experienced businessman (or business "person" as the case may be) in order to not only get your work noticed, but also make a profit.
One of the most requested topics we get from you on our support line is the model release question; which version, where do I get it, what should it say, and so on.
STC has decided to give you a solid model release that you can download for free when you signup for our newsletter. Just add your name or company name to this editable document/release and secure your rights for the images you shoot.
Always remember to get the model release before the shoot instead of at the end. Also get two valid forms of identification as a proof of legal age. The IDs must be government or state-issued documents and at least one of them must have a photo.
Shoot the Centerfold offers exceptional educational opportunities and unparalleled advice for those who wish to not only learn the basics, but also the intricacies and legalities of photography and the photography business.
Free model release promotion has ended. You can now receive a free model release when purchasing a Single Scene digital lighting book from your online-store.

© 2013 Copyright ShootTheCenterfold.com. All rights reserved