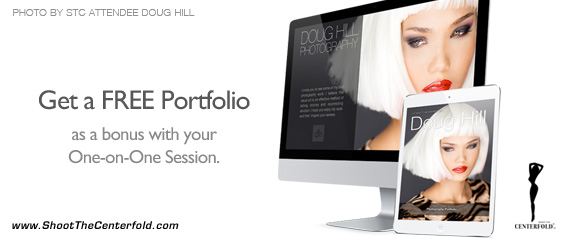 Special Holiday Offer!
Get a FREE PORTFOLIO
With Your Shoot The Centerfold One-on-One Session!
Free portfolio offer is effective until Dec 31, 2013.
Shoot The Centerfold provides One-on-One sessions as a way to develop and enhance your photography and career opportunities. We know how imperative it is to display only the best in your work, but it is also equally important to have a superior presentation of your images available if you're to impress prospective clients and editors.
Much like film, the SLR, and the darkroom, the huge black portfolios that were a popular and preferred way of displaying our work are now almost nonexistent in the professional world. Shoot The Centerfold's philosophy is to offer only the best and the latest cutting-edge methods of not only creating superior images, but now we are also proud and excited to announce that STC is now offering a FREE, beautifully designed and interactive portfolio for your Apple iPad as a bonus to your One-on-One session.
In addition to your free portfolio, STC will upload it to iTunes for you and have it available for viewing on our website. Not only is this a great way to market your photography, but it also gives you the credibility necessary to impress editors and clients, all available on your and iPad device and computer. It proves you take your photography seriously and offer only the best of professional photo services.
Your free portfolio is our way of giving back to photographers in addition to their exclusive One-on-One session. We consider it as a logical and practical approach of showing our gratitude and appreciation for the proud milestones and results we have achieved together.
Sample Portfolio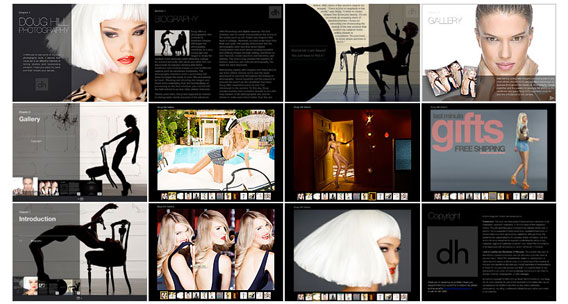 Sample portfolio by STC attendee Doug Hill 
Shoot The Centerfold One-on-One Sessions.
Shoot The Centerfold One-on-One sessions are available between our seminar/workshops while you wait for the next STC seminar/workshop to come around. You now have the option to attend a full one-day photo session with an STC master photographer:
Jarmo Pohjaniemi – Miami
Stephen Wayda – Los Angeles
Ales Bravnicar – Slovenia
Ric Moore – Dallas
Byron Newman – UK London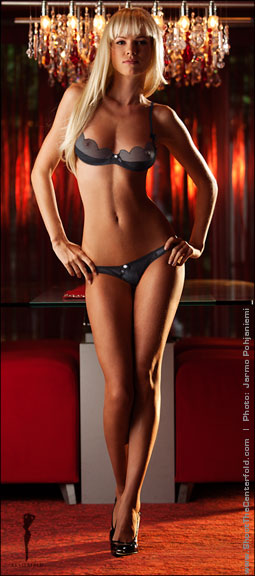 STC One-on-One sessions offer a unique educational opportunity with personal tutoring from your choice of master photographers who will teach you photography and business. In addition to receiving valuable photo lessons as a group, you will also have the chance to be individually instructed and guided in a personal learning environment.
Can I Choose What I Shoot?
Using the basic requirements and guidelines available during the seminar, you can customize your one-on-one session to fit the type of lesson you need, whether it be a full studio session with a multi-light set-up, or just a simple outdoor shoot with a minimum of equipment. If you can't decide, let us help you set up a special lesson based on your shooting style, preferences and proficiency level.
Shoot The Centerfold master photographers specialize in:
Glamour
Boudoir
Fashion
Portrait
But I'm just a beginner!
No problem! Shoot The Centerfold's excellent one-on-one educational opportunities are available to all levels of photographers from beginners to advanced professionals. STC will be there to provide the precise level of guidance you need to jumpstart your career or take it up to the next level.
What Can I Expect?
STC master photographers will be at your side, guiding you each step of the way from preparing for the shoot to helping analyze and reviewing your results. A professional photo crew, including a highly experienced MUA/Stylist, will be on hand to make your session complete. STC will also provide the lighting equipment necessary, ranging from simple light modifiers to advanced lighting systems.
What kind of models will be available?
There will be a selection of models to choose from, or, if you prefer, Shoot the Centerfold will assist you in locating and acquiring a qualified locally based model. You may also bring a model of your choice, but in all circumstances, you will be responsible for the selection, hiring and payment of the model, including unspecified model-related expenses incurred at the time of the lesson.
Do I Get to Keep the Photos?
Of course! The photos you take will be yours to use in your personal portfolio or business promotions. However, you may not sell the images.
Where Do I Sign Up?
To set up a One-on-One session, contact Shoot The Centerfold directly at OneOnOne@ShootTheCenterfold.com, or call (305) 510-3938 during regular working hours. Note! All official Shoot The Centerfold One-on-One sessions and portfolios are produced, conducted and approved via Shoot The Centerfold.
See samples of a "One on One" sessions with Shoot The Centerfold.
Shoot The Centerfold free portfolio: Terms and Conditions.


© 2013 Copyright ShootTheCenterfold.com. All rights reserved.