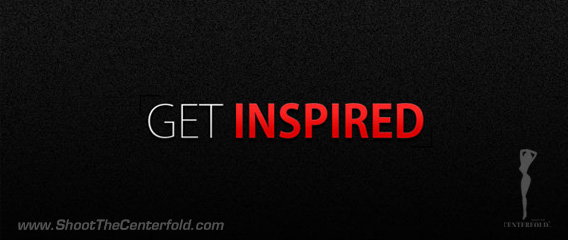 Where do you get your inspiration as a photographer? Do you sit around waiting for it to find you? Does it come to you in your sleep? Does it happen only when you find the next pretty girl willing to pose? Sometimes inspiration doesn't just happen. You often have to look for it.
One of the best ways I know to get inspired is to look at the work of other photographers—good photographers—the best photographers.
Suggestions: spend some time on the internet looking at the photography of shooters who you admire. Take a look at the early glamour work of Peter Gowland and Bunny Yeager. Yes. It's Fifties all over but you'll see flashes of their brilliance that you may inspire an idea in you.

Go to the internet sites of some of the other brilliant photographers, past and present, people whose work you admire. Rip out tearsheets from magazines. Catalog ideas. Be proactive in organizing your research. Write down your ideas when they occur.
I spent some time the other day on the sites of Lance Staedler, Mark Abrahams, George Hurrell and several others. Hurrell's bio, which is on the George Hurrell site, is inspiring all by itself. There's tons of other images to look at if you take a little time and look for them. It's truly one of the beauties of the internet.
I'm not in the business of selling Playboy these days as I feel rather let down by their recent decision to drop nudity. However, there are 60 years of Playboy to look at that can inspire you. Consider buying a subscription to Playboy's Cover to Cover internet offering. For a very reasonable price, you gain access to every page of every magazine ever printed. Trust me, you'll find thousands of images and ideas that can inspire you.
Of course, one of the best ways to get inspired is to attend the next STC seminar. Jarmo is in the planning stages right now. It is tentatively set for April 2-3, 2016 in Miami. For those of have attended in the past, you know how valuable they can be both in terms of inspiration and as a learning environment. Portfolio and marketing one-on-one sessions will be available as well as lighting set ups, test shootings, master photographers and beautiful models. We have more than a few success stories to tell from STC attendees who have gone on to shoot covers, pictorials, and make themselves into successful professional photographers.
You can sit around waiting for inspiration to find you. It's a much better choice to go looking for it.
~ Gary Cole
© 2015 Copyright ShootTheCenterfold.com. All rights reserved.