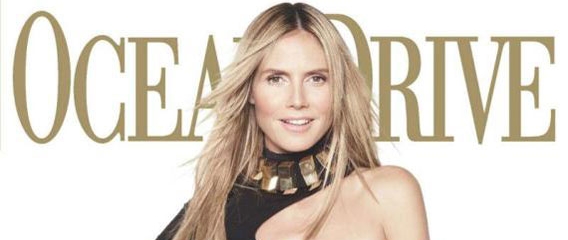 Heidi Klum is not one to be shy about going nude. The supermodel has graced many magazine shoots (seriously, many) sans clothing, wore nothing but body paint for a beauty gig, took it all off in the name of "Project Runway" and even tweeted a few scantily clad personal snaps of her own. You get the picture.
Naturally, when Ocean Drive sat down with the supermodel for their 20th anniversary issue, they had a few questions about how the 39-year-old maintains her relatively clean image (er, besides that whole body guard thing) in spite of all of the stripping. Ms. Klum dished how she learned to toe the line between tasteful and obscene at a very young age:
"When you have a good body, photographers will often be like, 'Yeah, let's take this off, and why don't we lose this too,' and you can quickly end up not wearing much clothing. You have to be careful and strong at saying no, especially when you're younger and on your own. Not everyone is cool and has your best interest [at heart]. But Rankin has always made sure, when some of my shoots would be more on the naked side, that they wouldn't look raunchy. They were sexy, yes, but very classy."
We can't say we've seen the mother of four in any photo shoot that was less than classy, but we're sure it takes quite a good head on your shoulders to maintain your sense of self in an industry with few boundaries. Just ask Kate Moss. The British model recently opened up about her own struggles with nudity when she began modeling at 16.
Fortunately, it looks like both ladies have maintained long careers and have the power to call the shots now. But what do you think of Heidi's latest take on going nude in the modeling industry?
Check out Heidi Klum's cover for Ocean Drive's 20th anniversary issue below