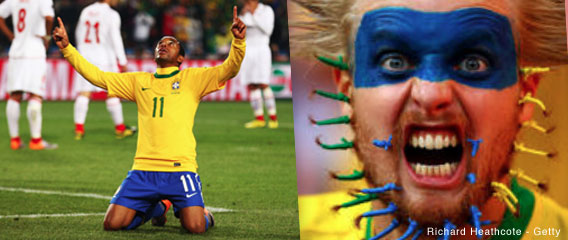 A photographer for Getty Images, Heathcote is in Brazil this week, shooting his fourth World Cup. Loaded down with three $6,800 Canon 1DX cameras (plus lenses), a laptop, at least six batteries, and an equal number of memory cards, Heathcote will be equipped to bring the most important moments — at least those involving Team England, which he's following — from World Cup turf to publications around the world.
Heathcote and the rest of Getty Images' team of 46 photographers, plus 13 editors and other support staff, will collectively shoot about 15,000 pictures a week during the quadrennial monthlong tournament, the world's largest single-event sporting competition. Given the near-hysteria attached to the games in some countries, there can be little doubt that a lot is riding on the work he and his colleagues will produce as the Cup progresses.
But though the basics of the job haven't changed much for Heathcote since his first World Cup, in France in 1998 — bring multiple cameras to the matches and shoot hundreds of pictures, or more — the dynamics of transmitting the action to eager fans around the world have changed dramatically.
In 2014, for example, Heathcote has no need for a big box of chemicals.
The World Cup, of course, is just one venue among many where technological progress has made a big difference. Pro sports photographers like Heathcote can go to work with far less gear than their predecessors, thanks to advances in networking, the equipment itself, and the tools required to bring the most exciting moments from the tournament to a world hungry to see them.
It's all about speed
For the last 17 years, Heathcote has been a professional sports photographer, and in addition to shooting three previous World Cups, he's also covered four Olympics, three European soccer Championships, the Rugby World Cup, and each of golf's four major tournaments. His official bio credits him with helping to develop a robotic camera system that can capture images from places a human photographer could never be — such as behind the net in a World Cup match.
That's a lot of experience, and if you ask him what's changed the most, Heathcote will tell you, in a thick English accent, that it's all about speed. Consider this. When Heathcote sets up along the edge of a soccer pitch this week, he'll pick up his 1DX and his workhorse 400mm lens — which he'll use for about 70 percent of his pictures — and start shooting. You might think it would be time-consuming for him to try choosing the pictures he sends on as he works, but he doesn't have to do that at all.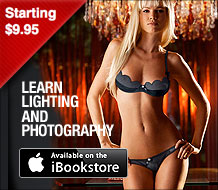 Instead, he'll have Ethernet cables hooked up to each camera, meaning each shot will be instantly transmitted via a Gigabit connection to a fiber network linking all of the World Cup stadiums to a room full of photo editors in Rio de Janeiro. Those editors can then pick the images they want, quickly write captions, and send them on to the newspapers, Web sites, and other clients paying for Getty Images' World Cup photos. From shutter snap to arrival at the client can take just three minutes, Getty claims.
Two World Cups ago, Heathcote recalls, the process was slower. "You'd still have to get the [memory] card out of your camera, download it onto your laptop, and then use the network in the stadium to get it to an editor, who was also in the stadium," he said. "Then that editor would have to send it out from there. So [today] you're already bypassing several minutes, if not longer, just by having that direct link."
Film studio in a box
But that change from memory cards to a direct link is nothing compared with the progress that's taken place since Heathcote's first World Cup, in France in 1998. Laughing as he recalls that first year — the last time, and just the sixth ever, that the home team won the World Cup — Heathcote starts by pointing out that though digital cameras were already starting to be used to shoot competitions, the quality of the photographs they produced was not acceptable for most publications.
That meant film cameras — and manual processing at the matches.
"In France," Heathcote began, "I had camera equipment, a laptop, and a film scanner that was the size of a small cardboard box, the size of a backpack. On top of that, I also had a suitcase, [and] inside was effectively a mobile film processing kit."
It was like chemistry, he said, requiring all manner of "tubes and a hair dryer, everything involved in that."
The photographer would shoot the game, and then hand off rolls of film. They'd either be put in a bag and processed by the on-site Fuji processing and collected at the end of the match, or put in a separate bag to be handled by technicians. Heathcote worked as both photographer and technician in France in 1998, and he remembered just what it was like. "We would collect the film, then have to go and process that film," he said. "We'd have a special area where we could load the film to the drums, process the chemicals, dry the film, pick the negatives, and then scan them.
This was by no means fast. Heathcote recalled a goal scored by England's David Beckham during the '98 Cup against Colombia, and a "really, really nice picture taken by one of our photographers." He got the film at least 10 minutes after the goal and said it probably took 15 minutes to process and dry the film, and then even longer to go through the images, find the perfect shot, and scan it. Already you're talking 45 minutes since Beckham broke Colombia's heart, and that's not even counting the subsequent time it took to transmit the photo over what was likely a 9600-baud dial-up connection.
'Sir, what's this white powder?'
Since it doesn't cost anything to shoot more pictures on a digital camera, Heathcote said that during the average World Cup match, he'll likely shoot between 1,000 and 1,500 pictures. That's in comparison to the 600 to 700 he would have shot on film. But, chuckling about the differences between shooting this year's World Cup and 1998's, Heathcote notes that though increased speed is the biggest change — from customers' perspective — there's something even bigger for the actual photographers.
"From a physical standpoint, the fact that we're carrying around half the amount of stuff that we used to is a very big bonus," Heathcote said. "You can imagine, especially transporting chemicals around when you're going through airports…'Sorry, sir, what's this white chemistry?'"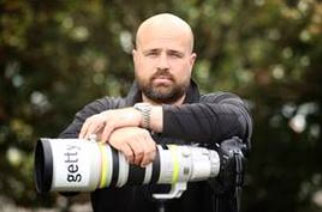 Getty Images photographer Richard Heathcote
[Cnet]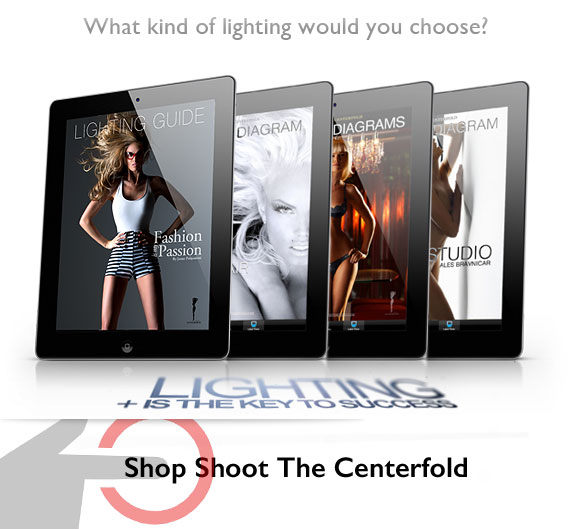 © 2014 Copyright ShootTheCenterfold.com. All rights reserved.