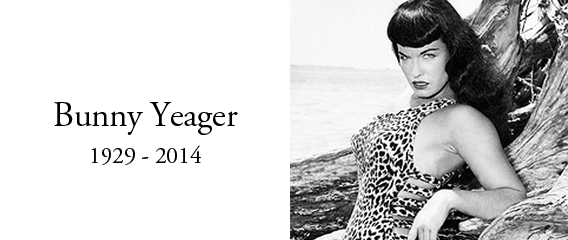 Bunny Yeager, a model turned pin-up photographer who helped jump-start the career of then-unknown Bettie Page, died Sunday, her agent said. She was 85 years old. Yeager died at a North Miami hospice where she had been for about a week, her agent, Ed Christin said.
Yeager's legacy is her cultural impact, from pin-up photography and fashion, helping to popularize the bikini, and influencing other artists such as Cindy Sherman, who read Yeager's guides on photographing nudes and making self-portraits, Christin said. "Anyone in Miami in the 1950s who wanted a bikini would come to her, and she'd make one," he said.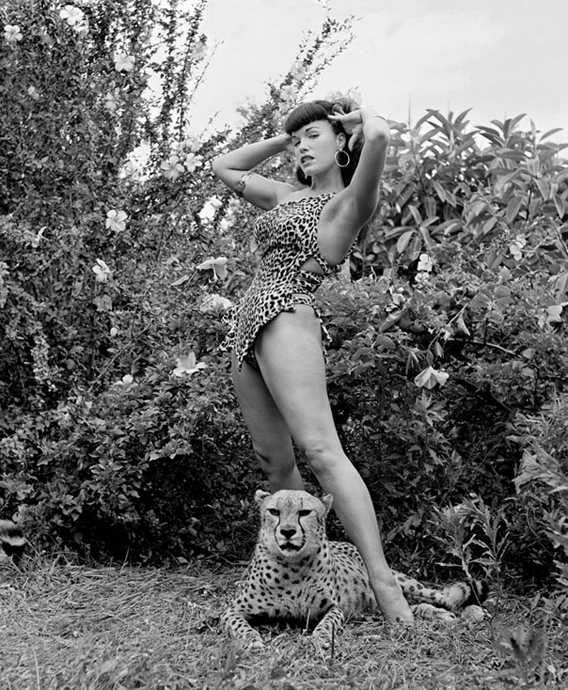 Bunny Yeager Studio
Yeager became famous for making everyday women, from stay-at-home mothers to airline attendants, feel comfortable enough to bare it all. Her photos of Page in a leopard-print bathing suit standing next to a real cheetah are still well-known today. "They all wanted to model for me because they knew that I wouldn't take advantage of them," Yeager told The Associated Press during a 2013 interview. "And I wouldn't push them to do nude if they didn't want to do nudes. It wasn't a day when nude photography was prevalent."
Linnea Eleanor Yeager was born in Wilkinsburg, Pennsylvania, on March 13, 1929, and in the 1940s became one of the most photographed models in Miami during her early career. She later turned the camera on herself, posing in bathing suits she handmade for her 5-foot-9 frame. Her self-portraits were turned into a book, "How I Photograph Myself," in 1964.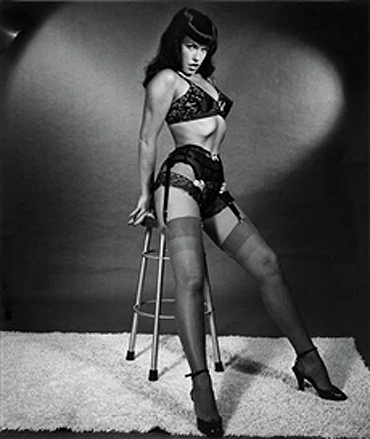 She began taking photos of Page in 1954 as she began her career behind the camera. She published about a dozen books and her work has been displayed in art galleries across the world. Besides the iconic Page photo, Yeager also shot stills of the Swedish actress Ursula Andress, who starred in the 1962 James Bond film "Dr. No" in a white bikini, a knife sheathed at her side.
Yeager said she had few requests when several magazines began to struggle or went out of business over the last decade, but her career returned to the spotlight in 2010 when the Warhol Museum in Pittsburgh held an exhibition of her work. There was also an exhibition in Miami in 2013. "And I still get that little tingle when I see the photos on the wall," she said of the latter-day attention.
In her studio, Yeager kept a stash of photos no one had seen in cabinets. They will be included in a new book Yeager was finishing, scheduled for publication in September, celebrating the 60th anniversary of Yeager's first photo shoots with Page, Christin said. "I'm still feeling like a little child and excited over everything new that comes along in my life," Yeager said in 2013. "I don't know where it will lead to yet, but it sounds good to me."
Bunny Yeager was set to make a guest appearance at the past STC Miami seminar but due to her health issues it was not possible. She may be now gone, but never forgotten.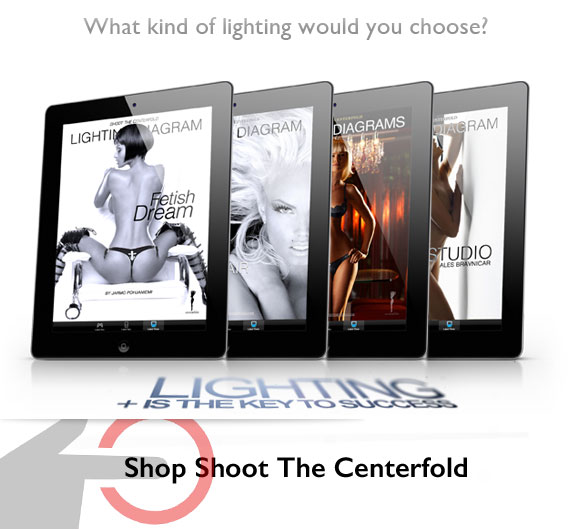 © 2014 Copyright ShootTheCenterfold.com. All rights reserved.