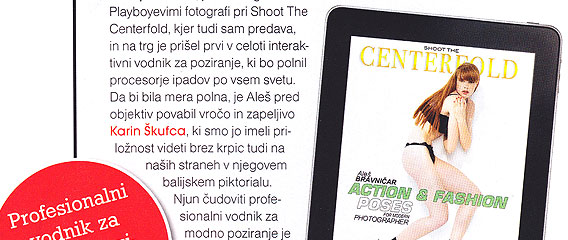 Statistics and track records say that fashion and style come from the runways of Milan (Italy) and Paris (France). Could this be true? Depends who you ask and what we choose to recognize as fashion and style. STC Posing Guides are in style "Made In USA" but what is really cool on top of fashion and style is that the Shoot The Centerfold posing guides are making headlines in domestic and international markets.
Since we launched our digital posing guides, we realized that there are many more iPads in the world than we thought there was. Some of these places include Afghanistan, Pakistan and Mongolia where delivery took four months before the client actually got her posing guide (the folks at her local customs office should be posing experts by now…).
Some of these countries don't even have iTunes Stores and they still manage to download legal copies – as they say, "where there's a will, there's a way."
Although STC's posing guides were originally aimed toward photographers, don't be surprised if at your next shoot you find a model that's brought one along. It's clear that models are just as knowledgeable when it comes to knowing how much good posing skills matter.
STC is very proud to announce that our posing guides are welcomed internationally in 46 different countries. Here are the Top 10 countries that believe they cannot live without Shoot The Centerfold posing guides.
In the order of popularity: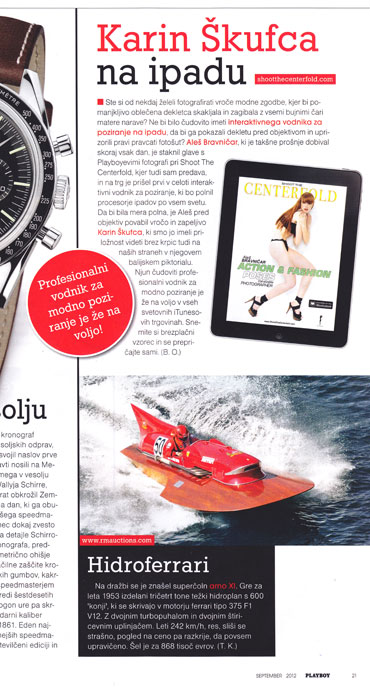 1. United Stated
2. Germany
3. England
4. Australia
5. Italy
6. India
7. france
8. Russia
9. Spain
10. Mexico
The media has also picked up on our finest poses by displaying them among coolest toys available like Ferrari boat, hottest watches and much more. Here is the latest snippet from Playboy (Slovenia) magazine:
We at the Shoot The Centerfold and it's photographers always knew that form was one of the important factors in photography, regardless if you are shooting women, men, cars or just products. Everyone seems to be after the very same concept – beautiful lines stimulate the human eye.
Here a translation to English what Slovenian Playboy wrote:
Ever craved being a part of those scorching fashion shoots where skimpy-dressed models jump around flashing their natural curvy splendors? Wouldn't it be great to have an interactive guide on iPad to show to the girl and pose her accordingly for your actual photoshoot? Aleš Bravničar, who has been getting such requests on a daily basis, has joined forces with Playboy photographers at Shoot The Centerfold, where he is also lecturing, and the interactive posing guide – the first such product in the known universe – was made for iPad users. The icing on the cake is Aleš's collaboration with hottie Karin Škufca who graced the pages of Playboy a little while ago in a Balinese pictorial. This beautifully made interactive posing guide is available for purchase at all iTunes stores worldwide and you can even download a free sample for a worry-free purchase.
Learn more about Shoot The Centerfold Posing Guides right here.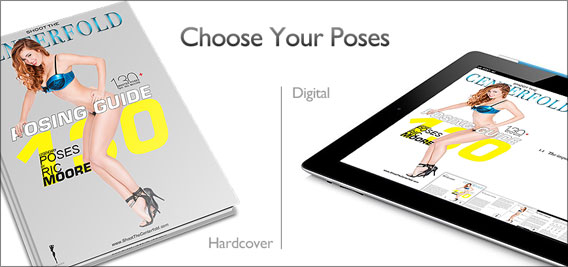 www.ShootTheCenterfold.com