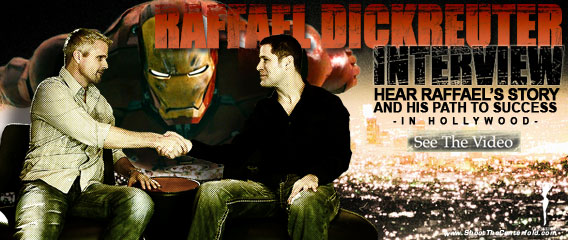 Play video ⇪
A humble, handsome, yet quiet man joined us for our Shoot The Centerfold seminar / workshop in Las Vegas. He never said more than six words during the entire event – "Hi," "Hello," "Thank you," "nice" and "goodbye."
It has been said that it's impossible to listen while you're talking, and it seemed to apply to Raffael Dickreuter – he doesn't say a word and lets his work do the talking for him. We were very proud to have him as a Shoot The Centerfold attendee, but his interest clearly did not fade after the Las Vegas seminar. This was just the launching pad for Raffael to take his photography to the completely new heights. Raffael also got Jarmo Pohjaniemi's attention after a brief visit to his website, http://www.raffael3d.com/.
Who wouldn't like to be in Raffael's shoes and work in some of the best big-screen movies in the market today? STC photographer Jarmo Pohjaniemi says, "He has been able to do same as I did in Playboy, except he did it in movie industry, rubbing his shoulders with big names like Iron Man, Superman, Green Lantern, Percy Jackson, The Hulk, Terminator Salvation, Aliens vs. Predator, and Flightplan. We could go on and on but we think this formula says it all."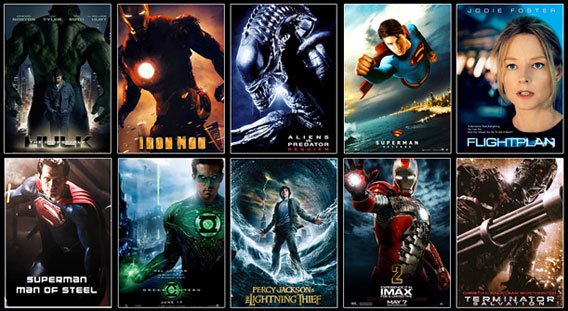 STC: Wow, this is a quite an accomplishment. In person, you're quiet and shy but on the big screen you're quite the monster, based on your professional credits.

Raffael Dickreuter: Thank you for the kind words. The visual world of storytelling, be it through still photos or motion pictures – or even just drawings and paintings – fascinates me, yet what they all have in common is they tell a story and create emotions in the viewer. I have always been drawn to that and it's very interesting to explore all the possibilities. It seems endless.
STC: How does one become so creative to come up with such cool ideas as you do? You must have had tons of Legos and toys to play with when you were a child. 
RD: Growing up, major influences early on were comic books and I even attempted to draw my own comic book. It didn't turn out that good, leaving me, as a kid, puzzled as to why is it so hard to make something so cool? Later on, I got inspired by big movies such as Terminator, Indiana Jones and Back to the Future, which let me dream that one day I would be working on such movies for a living. Unfortunately, I lived far away from Hollywood – in Switzerland – and worse, I didn't know even a single person working there or being able to help me get there. So, for quite some time, it seemed impossible.
Futuristic worlds and impressive images always had an impact on me, so growing up with these kind of inspirations, it kind of stays with you. Not sure what your toys were growing up, Jarmo… makes me wonder… (laughs).
STC: What? Are you saying that Playboy photographers had Barbie dolls to in their youth?
RD: Would make sense wouldn't it? (laughs) I am sure it would've helped a lot to get a head start on posing models instead of being clueless about what a nice pose is.
STC: So, you come from Switzerland (not too far from Arnold Schwarzenegger-land, Austria). You do have an accent, not like his, but you are in the same industry. Is it the accent or the raw talent? Do you consider Switzerland as a land of talent and what do folks back home think of you now that you've been able to fly with Superman and Iron Man?
RD:  Ha ha! we do indeed speak the same language, but let's face it, Arnold does sound quite unique, but trying to say Arnold movie lines with his accent will always be fun. Switzerland is a great country to grow up but the mentality is quite different from the US. It's all built around stability and playing it safe. That has a lot of good sides and has helped the country to get a high standard of living, but it also has a downside that it is very limiting for creative artists. There's not much room in the film industry and being a photographer or designer there is not easy. Maybe if Jarmo hosts a STC seminar that could change, who knows? I will keep watching the skies.
There are a lot of talented creative-types there, too, but they are not encouraged to go beyond and many good ones also give in and might end up doing a job that is not their calling as a result of that. But, also many great ones have come to the States and do amazing work, and that is really cool to see. I hope they like what I do, all I can do is try my best and try to do what interests me.
STC: What kind of camera do you have, and when you shoot stills, what's your preferred subject?
RD:  I shoot with a Canon 7D and have various lenses for it such as an 85mm, 50mm, 17-40mm and others. I am interested in many different aspects of photography and that it has such a wider range of possibilities is great. If you do one thing too much you can just jump to another area such as cityscapes or cars, etc. I like shooting people and I like pictures that have an intensity to it. That's why I really like movie posters as well as these grand panoramic city photos. Pictures that show an almost larger than life scale intrigue me.
STC: When did you start your photography?
RD: For the longest time, I was just obsessed with film but in the last two years my interest in photography steadily grew and it sort of started when I was able to assist my friend and photographer Rodelio Astudillo at his studio in LA and I was really hooked. From there on, I tried to practice and play around and just have fun with it without too much pressure. Then a big step forward happened when I got a chance to learn from Nick Saglimbeni, well known for his Kim Kardashian photos. There, I also met a great friend who suggested I should really check out Shoot The Centerfold and come to Las Vegas to really improve my skills further. Knowing that his opinion was always spot on, I signed up and needless to say, I wasn't disappointed, and being there learning from Jarmo, Arny and David was a thrill.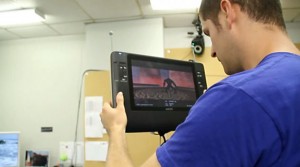 STC: You are also a quite a cinematographer in the film industry as well. You actually built your own virtual reality camera you ended up using in big screen movie. Tell us more, and were the stock components from Office Depot or Radio Shack? (We all want one too! See the video!)
RD: The virtual camera system came about as I was starting on the movie Green Lantern a few years ago and Avatar had just come out a few months before, where James Cameron had introduced his virtual camera system that pushed the envelope in that area of technology. For Green Lantern, it was planned to use that exact system and I was able to have a look at it. However, it was decided that the system required too many people to run and maintain it, so they decided to look around at what options there were.
That's when I was given the task to see if it was possible to have a simpler version that maybe could be run by just one person. I accepted the challenge and was given two to three months to try to make this happen, highly doubting that I could pull this off. And, at first, nothing worked at all and after breaking through many roadblocks, it eventually came together and was then used on the film to scout sets and explore virtual worlds. It basically allows you to walk around in a virtual environment and helps the director and production designer to make key decisions on sets before they are built. It allows you to previsualize ideas before too many resources are wasted on actually building something such as a real set.
STC: Is Robert Downey Jr. as cool as he seems in the movies? And who is your favorite actor to work with?
RD: He actually really is a nice one; one of the actors that will come in and shake every crew members hand and show interest in what is going on and appreciate the whole crew's effort. The most fascinating ones to work with, I find, are tough stunt people. They are the ones doing stuff for real and they get hurt, too. In the movie, the credit will go to the actors, but the stunt people had the real pain and risk. That is still movie magic being done for real.
STC: You mentioned that you actually have a robot head from Terminator at home.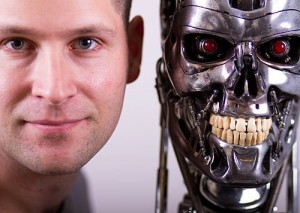 RD: Being a teenager, if I was asked if there is one movie that I would've dreamed to have worked on, my answer would have been the next Terminator movie, one that plays in the future and shows that gritty world. When I actually did get on T4, I was super excited and when I got the chance to get such a life-sized head, I went for it – and it can be great to use it to scare people at dinner parties at my place. (laughs)
STC: It must be heaven to be able to run loose on a big movie set. I mean, there is a real cool geek factor that does not get much better than this.
RD:  Seeing a large film set is definitely mind blowing, especially if you get to see an explosion or hundreds of extras running around for a panic scene etc. However, it also to be said that these sets also mean a lot of waiting. The great thing at a photoshoot is that you keep moving constantly and you see the result instantly. On a large movie set, it might take hours to prepare one shot that is over in five seconds, and a few hours more to just have another take. An important thing, I think, is that a film only works well when you have all the elements come together; the performance, the cut, sound and music, and that's when movies become larger than life. In photography, you see the result right there.
STC: Let's talk about opportunities. What did you think when you decided to go into the movie industry? Did you just believe in yourself and say, "That's it! I'm off to Hollywood!" and the rest was history?
RD: In my dreams, yes! I hoped it would be that easy, but it wasn't. It took many years to just get to LA and to get to work on movies. Growing up in Europe and in a country with almost no film industry, as well as having no connection and no uncle that would "make a phone call," it seemed quite impossible at first. But I knew what my goal was and I just tried to work on it and go one step at a time. I was about sixteen years old when my goal became clear to me and it took almost ten years to make it happen. Thank god for the Internet!
After having shot my own short films and getting interested in visual effects, I founded a portal site called XSIbase.com in 2001. As a student, I spent a few years developing that website and it started to grow from 0 and eventually reached more and more members 'til one day it was over 20,000 worldwide and became the world's largest website for softimage visual effects software.
I started to interview the pros and over time, it helped me to get more and more connections and could get to interview bigger and better people. It reached a zenith the day I got to interview four-time Oscar winner Stan Winston, the original creator of the Terminator.
I also started to organize events in London and over time, that all helped me to network. I was still a student and still stuck in Switzerland, but the day I applied for an internship it started to pay off. I applied at fifty companies worldwide and still got turned down almost everywhere. But then I got an offer from LA to come and get some training and after just a few weeks, I got my chance and was working on my first big film. The film never got made, but it was a start and then I got to work on Superman Returns and that's when things started to move forward, finally. It took many years and looking back I am surprised that this crazy dream actually worked out.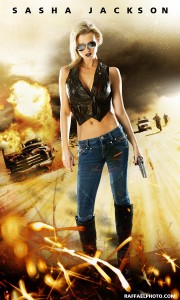 STC: So, you are saying that you have to take your career twice as serious and be much more determined to make it happen than your usual Joe Blow does?
RD: If you don't believe it can happen, nobody will. It has to come from within and be your passion. And that's why I believe it is so important to do what you really love, because when it gets tough (and it will) if it is not your calling you will walk away. But, if you can't help it you will keep going and hopefully prevail in the end, no matter what the roadblocks are. It's interesting to read the biographies of famous inventors such as Thomas Edison – they say it took him more than a thousand tries to invent the light bulb. It's good he didn't give up too soon, isn't it?
STC: Are there shortcuts to the top?
RD: There are many shortcuts, but I feel it's important to say that it's not always good to have shortcuts. Let me explain. If somebody calls you today and hands you a complete photo studio and career without you having done anything for it, it will never have the same value to you than if you have to achieve it one step at a time. The road you are taking, developing your skill and discovering new stuff, I believe, is an important aspect of becoming good at something.
As nice as it would be, if it went with no effort, maybe shortly after you would stop doing it and look for something else, something that is a challenge. Having people from the inside help you, the right connection, is a huge shortcut. Having asked colleagues in Hollywood how they got their jobs, it isn't uncommon to hear that, "I asked my uncle and he got me a gig, so I came to LA and that's how it started." I will always blink at that moment (laughs). However, I strongly believe that any adversity also holds a big potential for growth and might be in the end actually a big advantage. When the time comes, you might know how to solve a problem or create a great photograph because of what you experienced before.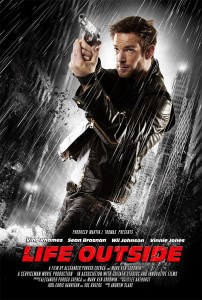 STC: You also shoot movie posters with great detail. This is photography and then you add the layers and elements on top of it to enhance the experience. Tell us about the lighting on your movie posters and which lights you used.
RD:  I sometimes use backlighting or just edgelights but in general, I try to create a "moving" effect so it will fit well into an overall concept of a poster. I will also shoot other elements or design them and then put it all together. A poster should have a dynamic and create excitement so I will always go for something that creates tension and lighting that creates contrast.
STC: When you came to Shoot The Centerfold in Vegas, did you learn what you expected to learn?
RD:  I really wanted to improve my lighting skills, moving beyond the simple two or three lighting setups I had done and try more difficult stuff. It was excellent to have such great teachers as Jarmo, Arny, and David show you directly what decisions they make to light a set.
STC: Have you used any of the lighting you learned in Shoot The Centerfold in your movie scenes for the big screen?
RD: I learned how to use the face light among many other useful lighting techniques and I definitely use them all the time now for both movie and photo work. All the imformation from STC is priceless.
STC: Wow, now that's cool! And now we can never watch a movie the same way! Superman coming in 2013 with Shoot The Centerfold lighting… cool!
RD: (laughs) Now I am curious if you will replace your models with men in tights for your next seminar –  some of the attendees might be surprised!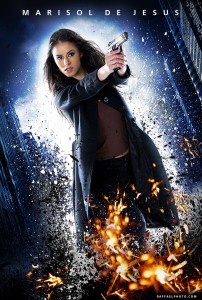 STC: If you could change anything in your job, what would that be?
RD:  When you work a lot, having time becomes an issue. I have many ideas I'd like to try but everything takes its time to do. Oh, and finally having a beaming device so you could teleport to locations without transport and hassle is at the top of my wishlist. If anybody out there figured this out, don't forget to drop me an e-mail, ASAP! Thanks!
STC: The rumor says that you are working on something with Jarmo Pohjaniemi that's going to blow some sock off? 
RD: Well, we need to wait and see. Great minds think alike and we clearly hit it off with a Superman cape and stars did line up. Little Krypton, little STC, and let's see what future brings along. Developing future takes time.
STC: Where do you see yourself in five years from now?
RD:  Being the righthand man to John Connor trying to evade the Apocalypse against the machines, as this is where robot technology is heading, isn't it?  Just kidding! I really enjoy working on both film and photography projects and I hope to work with great people in great locations. That being said, if beaming is still not invented in that time, all I can say is governments are setting the wrong priorities. (laughs)
STC: Do you think that opportunities for success is often missed because people are "looking for love in all the wrong places"? Meaning that, people don't focus enough on success? Or what is it?
RD:  I believe success is a question of balance. You need a social life that makes you feel good, work that interests you, an income sufficient enough so you are not starving, etc. So often, one or several elements are not in the place they need to be for that, and that can distract you immensely and get you off track. Then again, success is also a relative term. For some people, success means being famous, for others it means having shot a photo they like and can put on a wall. Everybody has to define their own success, more so than what they think other want them to be.
STC: Do you find yourself home behind the camera or in the 3D world in front of a computer?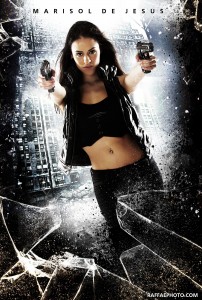 RD:  Before you can become a previsualizer, designer, animator or photographer, it all comes down to developing an eye and an interest in different aspects of visual storytelling. There is always somebody better than you and that is great so you can keep learning. I have been fortunate to learn from great artists and I keep to try improving my skills in all different kinds of areas. Movies, photography, design, etc. all share a common language and simply use different tools to achieve a quite similar result.
It is also different working for a client than working just for fun on your own stuff. If you know a movie director is about to see your stuff and judge it, you know the pressure is on and you need to bring your best. The great thing about being a previsualizer for movies is that you have to combine many skills. You need to know how a movie is cut, what is good cinematography, what is good lighting, etc. and being able to use all of this together makes things really interesting. So, no matter if you use a camera or 3D software on a computer, you are asking the same questions and solving the same problems.
STC: So what's next?
RD: Well, I have a full plate of new movies that are being made. I also want to do pictures, now that I have learned a whole new bag of tricks. I'm also working with something new and super cool with Jarmo for Shoot The Centerfold, but that's a secret for now!
STC: There you go … this also is the reality in today's photographic market if you wish to succeed, but not always necessarily so. Today's top photographers need to understand more than just making the pictures. There is the video that most publications want as well. You need to become a jack-of-all-trades to be able to fetch the high-paying jobs and the competition is not going to help you. The photography industry has changed so much in last five years and it's only speeding up faster and faster while budgets have become smaller (unless you are the one who can show the rest of us how to succeed).
Shoot The Centerfold is a perfect example of that and how to be on top of your game. Times have changed and so has photography. Out with old and in with the new, and the legacy shall live long and speak for itself. New horizons are the new milestones, and Raffael Dickreuter is a good example of today's success story. This is the moment for all of you to think about where you stand and what to do  about it if success is your goal. Shoot The Centerfold is here precisely for this reason: To bring people together, to grow together and share the knowledge that has paved careers for photographer of past, present and future.
Join us and tell us your story!
www.ShootTheCenterfold.com
IRON MAN picture is courtesy of Paramount Pictures and Marvel Studio's used for Raffael Dickreuter interview with permission from its respective copyright holders.