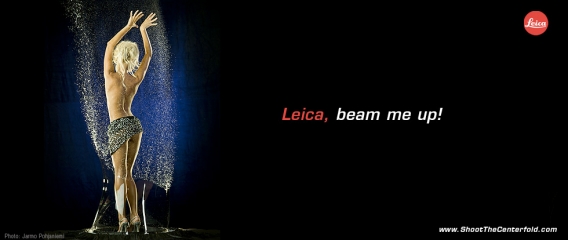 Shoot The Centerfold first started as an idea; "How about we do an educational project that features photography? Something that brings people together,  like connecting dots between concepts and actual production, actually educating those who wish to get to the next level?"
Like any new company out there, we wanted to stand out says Jarmo, just like the excellent equipment we use. Leica is a very good example. After a million-plus shutter actuations, the proof is evident.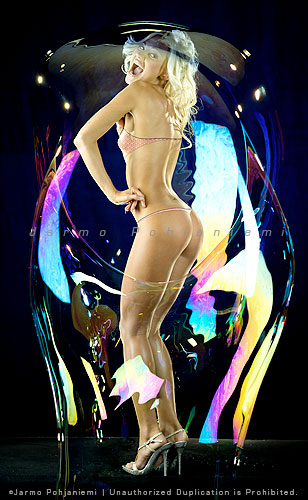 When we started Shoot The Centerfold, we asked ourselves a basic question: "How are we going to do this?" We wanted a great program, but as we all know, quality does comes at a price. So we thought to ourselves, "Wouldn't it be nice to have a sponsor? Or even perhaps few of them?" I saw that other companies had sponsors, why shouldn't we? After spending over a decade working under the generous auspices of Playboy Enterprises (and still do), there was never an actual a need for a sponsor. Well, now their is. After much thinking and planning, our mind was set. It was time to go knock on a few doors and find ourselves some sponsors.
What helped us was that we already had made a name for ourselves in the world of photography, but so had our sponsors. After having lighting, print and studio sponsors on board, we needed to make the right choices and aim high – it was time to find a camera company who believed in us. At first we felt little intimidated because there were millions of photographers and only a handful of camera companies, but it's always been my philosophy that you must first believe in yourself, otherwise no one else will.
After considering the other companies, which were all excellent choices in their own right, we turned our thoughts toward Leica on the recommendation of our manager, Jon who said that this was a "natural match. Quality meets Quality."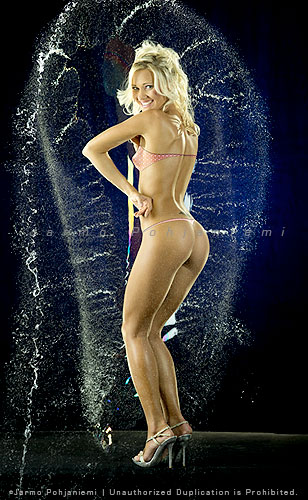 So why look any  further? It's Leica. And even though I had never shot a single frame with Leica, what is there not to like about Leica? After all, it's a legendary German-quality camera. Just like German cars and their famous beer, everybody knows that if the land of wiener schnitzel, lederhosen and pretzels has something to do with it, it's bound to be quality. They're well made and come with hefty price tag, too, but as they say, "You get what you pay for," right? A few of my friends have Leica's and all I ever hear from them, besides their stories of beer-drinking adventures in Munich, is how "wunderbar" their Leica cameras are.
So, here was my chance to get my hands on a German camera. After contacting them and holding my breath for good news, I was really amazed by how fast Leica took action and sent me a camera. It arrived in less than a week and felt like an early Christmas present. There it was! Maybe it wasn't December, maybe it wasn't under a tree, but there inside the box was a Leica's S-System camera! And they even threw THREE extra lenses, too! Wow! Needless to say, I was speechless and eager to see what all the fuss was about – again, as they say, German's are like clockwork and they know what they want (and I hope I don't disappoint them!).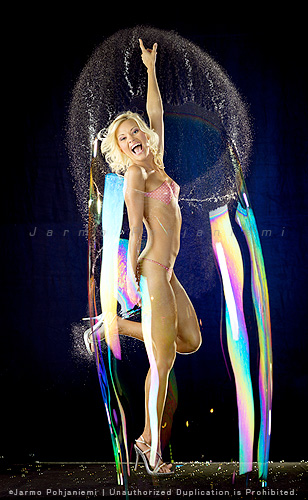 As the next morning dawned, I saw a brilliant red sun rising on a horizon and it had "Leica" written across it, It's familiar, yet elegant white scripted letters. Gentlemen, we have a camera sponsor, and not just any camera sponsor, but Leica! It went without saying I was in eager anticipation to see what this beautiful camera could deliver. I was very proud to have an opportunity to shoot with this camera.
As mentioned earlier by our manager, "Quality meets Quality." This was clearly not only our manager's mindset, but Leica's as well and in our brief meeting with Leica after having the camera, a German-accented voice spoke to me and requested that I shoot something that not only displayed the camera's quality and detail, but also something new. Shoot something that has "never been done before"!
Hmmmm, "Kein problem" [No problem]. Anyway, that's what I think that's what I said. After hanging up the phone, I sat down for the next fifteen minutes, with only the words echoing in my mind "Shoot something that has "never been done before!"
It is now that I realized that Leica wasn't going to give me a $30,000+ gift just for my looks. It was time for me to rise to the challenge and deliver the goods. Now, my competitive nature was being put to the test and I needed to produce results… and I was not about to burst this dream bubble. As I picked my brain and turned over stones for an idea that had "never been done before," I thought to myself, "How can I turn fantasy into reality?"
It all began when I was taking a bubble bath at the tender age of five. Back then, my world was filled with soap bubbles that got in my eyes, but now, finally, I can see clearly more than just bubbles and the yellow rubber duck floating happily at the end of the bathtub. My vision told me to swap that cute bouncy rubber duck that I so loved with a beautiful bouncy model… and that's exactly what I was going to do.
However, I'm not about to shoot your typical, generic bubble bath shot that must has already been done endless times. This time I needed to look at the things differently, change my perspective, and bring my childhood fantasy alive by going inside the bubble without bursting my world. Finally, I had a great idea of how to dazzle Leica and at the same time bring myself back to my childhood dreams. It just felt right.
So "Mommy, please. Fill the bath up again… it's time for another bubble bath, but this time, one that's never-been-done-before!"
Jarmo's Tip of the day: Do not buy cheap bubble solution. These bubbles are not photoshopped! Stay tuned for an exclusive interview with world famous Bubble Artist, Keith Johnson.
Learn more about Leica S-System camera from Shoot The Centerfold photographer Jarmo Pohjaniemi at WPPI NYC – Oct 26 – 28. 2011.