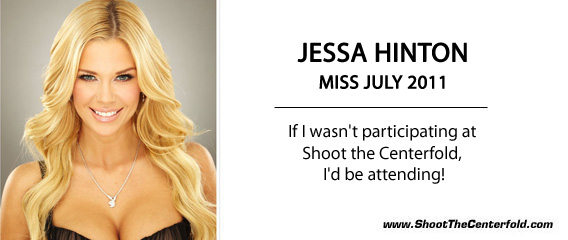 Jessa Hinton is not only a model but an actress as well. Having been active in the industry for the past decade, she recently took her career to the next level as Miss July 2011 in Playboy Magazine.
The blonde beauty will be one of three featured models posing for Playboy professionals past and present – Arny Freytag, David Mecey, and Jarmo Pohjaniemi – at the next Shoot the Centerfold seminar. The workshop is being held in Las Vegas on September 16-18, 2011, and promises a weekend of photo shoots, seminars, and workshops plus the chance to mix and mingle with industry celebrities.
She describes herself as a model who knows when to focus on the work at hand and when to take a break. "I would say I am goofy and funny – definitely not shy! I'm always the first one to crack a joke. But I take my job seriously, and count my blessings everyday!"
Jessa was actually attending a wedding ceremony when she was first discovered. "I was approached at a wedding by a talent manager. Soon after, I landed my first commercial through an audition."
Knowing a model who had worked with Playboy in the past helped introduce her to the staff of the popular publication. "A friend of mine is a former Playmate. She submitted my pictures, then Playboy contacted me. The rest is, as they say, history!"
She had a blast during her Centerfold photo shoot. "Everyone made me feel confident and comfortable. I love the Playboy family. They are my favorite people to shoot for."
Even though it was only made official last month, being a Centerfold has already begun to change her life. "I was Miss July, so it's pretty new to me. But the friends I've met through the experience have made my life so much better. All the other Playmates are amazing. And I think my pictorial, which I shot with Arny Freytag, turned out to be stunning."
Jessa wants to let photographers know how much they can benefit by attending the Shoot the Centerfold seminar. "They are the top photographers who really knows their craft. So I am a big fan. And anyone who attends the workshop will become fans, too!"
Models can also learn a lot by coming to Shoot the Centerfold. "You learn can how to pose, and what works for you. A lot of girls are unsure about posture and which side of their face and body is better on camera. I think it's a class everyone can learn from. Let me put it this way – if I wasn't participating at Shoot the Centerfold, I'd be attending!"
Jessa offers some advice for models who may be just starting out in the industry. "Don't give up. There will be a lot of doors that may appear to be closed. But trust me, there are a ton that are wide open. Persistence and hard work do pay off. Be confident and consistent, and it will take you places."
She is personally looking forward to her time in Vegas next month. "I am excited about being around all those people who want to learn. I love knowledge. So I admire people taking that step, and putting themselves out there. It will be so much fun!"
Shoot the Centerfold will take place at the newly renovated Tropicana Hotel and Nikki Beach Club. The weekend includes an opening night VIP reception, a red-carpet arrival at the club event, and exclusive seminars with special guests.
Jessa will be joined at the STC workshop by fellow Playmates Ashley Mattingly (Miss March 2011) and Olivia Paige (Miss September 2010). The exclusive event is set for September 16-18 in Las Vegas, NV. For all the details and to register for this incredible opportunity, visit the official website at www.ShootTheCenterfold.com.