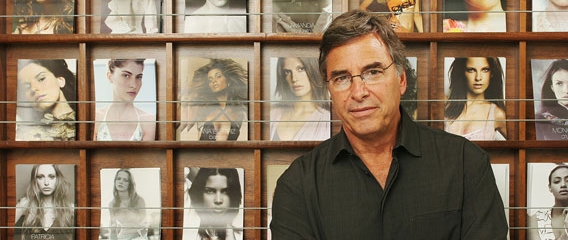 Fashion is an industry dominated by characters: the closer to the top you get, the more you'll find distinctive individuals whose strength (and weakness) lies in their powerful mix of bravado and business savvy. The over the top editors, the diva designers, the larger than life personalities who set tongues wagging and make the otherwise normal art of crafting & marketing clothing a consistently fascinating endeavor. On the modeling end, no one exemplifies this better than Elite Models founder, John Casabalancas, a man whose 40 year career has been defined in equal measure by triumph and scandal, in many ways mirroring the complex public perception of the modeling business itself.
What began in Paris at the dawn of 1970s as an exclusive boutique centered around on a few modeling stars, quickly evolved into an international powerhouse focused on finding and developing brand new talent. Elite offered not only management, but also a challenge to the industry status quo of the time. Cashing in on his own clandestine reputation and the disco decade's anything-goes sensibilities, Casablancas offered an alternative to the clean-cut agency standard, personified by Eileen and Jerry Ford, and ushered in a new era. By the time Elite Models New York opened in 1977, expanding the company and extending its reach globally, the agency was among the most powerful in the entire world.
Casablancas remains an influential presence within the industry, praised as often as he has been derided. Though he retired back in 2002 from Elite, there are more than a few of the moment industry occurrences that can be traced back to him. The current fixation with new faces owes much to Casblancas' shift towards scouting fresh talent and the launch of search juggernaut, Elite Model Look. Following semi-retirement after departing from Elite, Casablancas launched Star System in 2009 a fast growing and very promising new project focusing on his passion: Scouting. He remains very involved as its Chairman, is hands-on in developing the Brasilian operation, selecting models and developing their career plan.
When it came to making stars, Casablancas' track-record was undeniable. Christie Brinkley, Stephanie Seymour, Linda Evangelista, Cindy Crawford, Claudia Schiffer, Gisele Bundchen, Nadja Auerman, Naomi Campbell: the list of famous faces whose careers were molded by Casablancas reads like a high fashion who's who. More than simply building editorial powerhouses, he had a knack for marketing his girls as crossover stars – a distinction that meant the difference between flash in the pan versus lasting iconic stars. When it came to putting a girl on a pedestal and creating an image that translated into top dollars, Casablancas was gifted, but the master manager was not without his demons.
In our age of political correctness, it is hard to imagine an agency head today who would flaunt a lothario image, much less relationships with his often underage models. While some remember Casablancas for his skills as a manager, just as many people can recount the scandals of his personal life and the dangerous precedents they set. Stories of inappropriate behavior and clandestine relationships range from his much-discussed relationship with a then-teenaged, Stephanie Seymour, to the accusation that he abused his position as founder. Even in the litigious world of modeling, the libel suits, investigations, and tell-all books that have stemmed from Casablancas tenure are considered controversial.
There are, of course, two sides to every story and in this exclusive interview John Casablancas tells his. From his thoughts on the early days of Elite and its lasting impact on the business as a whole, to his feelings about the perceptions and misconceptions regarding his character, Casablancas offers candid insight into the business behind the glamour. Delving into the past without shying away from some of the more unflattering truths, while providing his opinions on where modeling can go next, Casablancas provides an insider's point of view that is compelling, irreverent, and at times contentious, but never boring.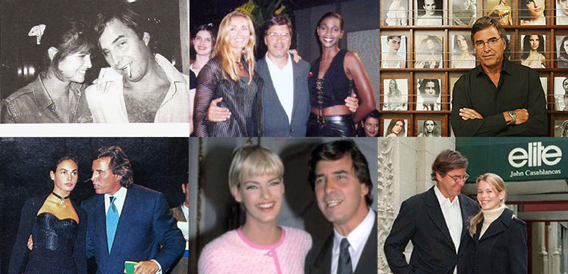 Back in the days, from top left clockwise: John with Stephanie Seymour, Bonnie Pfeifer with John Casablancas and Roshumba at the 1998 Elite Model Look, at the Elite office in the 90′s, with Claudia Schiffer, with Linda Evangelista, with Ines Sastre.
When you started Elite what was the industry like?
John Casablancas: The American Agencies (Ford, Wilhelmina, Zoli, Stewart,) controlled the business. The European agencies were just "farms" where models were formed and then shipped to the U.S., where they made all the money. The flair and style was in Europe. The look, mostly dictated by Ford, was Wasp/Scandinavian (Grace Kelly, Candice Bergen). The stars once known to the general public were few and getting old (Wilhelmina, Suzy Parker, Dorian Lee,) and a new, more wholesome crop was beginning to appear (Cheryl Tiegs, Cybill Shepherd). The rates weren't much different for top and regular models. New York and Paris ruled, but London's influence was strongly emerging (Twiggy, Penelope Tree, Jean Shrimpton). In Europe, the only place where models actually made meaningful amounts of money was Germany and, to a lesser degree, Italy.
What were your goals for the agency?
John Casablancas: I knew I was an outsider, and as a strategy from day one I chose to put in opposition the European free lifestyle, charm and sensuality against the austere, puritanical, prim and proper approach of Eileen Ford. My belief was that, eventually, the opinion of the young models themselves would matter more than that of their parents, and they would be attracted by a younger, more fun-loving philosophy. In practical terms, (and through my partner who was a Danish photographer, and my girl friend who was Miss Denmark,) I aimed at taking over the U.S. agencies' scouting influence in the Scandinavian countries, where the vast majority of European models came from at the time (Gunilla Lindblad, Charlie, Ingmari Johanssen, Beska).
Other than that, I knew I had to be original and provocative because I had no prior connections within the fashion industry, and it was vital for a Paris agency to build a prestige profile in order to be taken seriously by the top clients, in particular the editorial magazines.

Christie Brinkley / Vogue Italia 1983 | Berverly Johnson, Louise Vyent, Iman / Revlon 1985 | Beverly Johnson / Harper's Bazaar Italia 1977.
In the years since, how do I feel the industry has changed?
John Casablancas: It's been over 40 years since I opened my first agency at 21 Avenue Georges V in Paris and, in a strange way, things are slowly coming full circle! When I began, models were non-celebrities with low rates, and we've been steadily heading back in that direction over the last years! The industry, however, has completely changed as has, altogether, the world in general and fashion in particular. For me, the biggest difference is in the quality (or lack thereof,) in the human relationships within the agencies' working environments. Fashion, photography and modeling was a small universe based on personal relationships, the given word, trust, and loyalty. Of course, competition could turn things ugly, but altogether once you represented a model and established trust and friendship, the relationship was solid unless there were big mistakes or failures on our part. A model would leave her agency because she was not doing well and needed a change…today, a model will leave her agency because she's doing so well that she can easily bargain for a better commission deal with a competing agency. Model agents were true personal counselors, business advisors and managers who participated to every aspect of their models' lives and decisions; whereas today the agencies are more like secretarial services where the most influential people tend to be the bookers, who often use their relationship with the models they are entrusted to hop from one agency to the other! I had more turnover at Elite in my last three years there (1997-2000) than I had had in the previous 25 years…and, from what I've observed since, this insane carousel has become even worse in the last decade. From a technical point of view, it is obviously the introduction of the new technologies and the internet which totally revolutionized and changed the way bookings are made, models are discovered, selected and introduced to clients, etc.
Has the industry changed you as a person?
John Casablancas: Actually, my personal experience was a humbling one. When I began, I got a tremendous thrashing served by the American agencies (mainly Ford,) who not only took my best girls to the US without giving me anything in return, but also influenced them in Paris to switch to the agencies with which they were cozier. I got such a beating that I was close to giving up more than a dozen times. However, I couldn't find a buyer for my fledgling agency, and therefore decided that it was better to fight and get even than to feel sorry for myself. It's a lesson I never forgot, and even though I am a rather peaceful person by nature, I became the most competitive, aggressive and sometimes ruthless agent; I can't deny that I was pleased to see the contempt of the beginning being replaced by respect and fear. It took nearly ten years to become the world's number one, and we stayed in that position for close to twenty years. I became stronger, but never forgot that things could get bad if I didn't watch every day after the satisfaction of my models.

Iman / Saint Laurent 1979 | Gisele / Vogue UK 1998 | Cindy Crawford / Vogue US 1987.
What is the biggest misconception about John Casablancas?
John Casablancas: Actually, men fantasize about (and many women disapprove of,) the mistaken notion that I had romantic affairs with all these famous top models and supermodels! In fact, I had a very friendly relationship with my stars but, I'm sorry to say, no romantic involvement (with a couple of extremely rare exceptions considering the length of my career). I had a lot of fun, dated a great amount of incredibly beautiful women, but I kept the management of Elite's stars a strictly professional affair; that is probably why the majority of our stars stayed with us for most of their career and why I entertain still today friendships with them, their husbands, parents, etc.
Of all the girls whose careers you've played a part in, whose success were you most proud of?
John Casablancas: Our first true supermodel was Christie Brinkley, and I was extremely proud to see, in less than one year, her basic rates triple with Elite (my agency had discovered her in Paris when she was a student, but we had placed her with Ford at the time when Elite didn't yet have an agency in New York).
I was extremely proud to have convinced the two black superstars to join the same agency: Having Iman and Beverly Johnson together at Elite gave us a practical monopoly on the top budgets for black models; I still consider today Iman one of the greatest supermodels ever.
Janice Dickinson: I was proud to prove that a sexy, dark-eyed brunette could also be a star in the U.S.
Cindy Crawford: She was not your typical fashion model, but we imposed her extraordinary beauty, and together with her own entrepreneurial zest she became possibly the biggest success story ever in the industry.
Gisele Bundchen: The skinny, flat-chested fourteen-year-old finalist of the Elite Model Look became in a four-year period the first Brasilian on the cover of US Vogue and the number one model in the world.
Heidi Klum, originally just a catalogue model with other agencies, became with us, through the magic of Steven Meisel, the superstar that she is still today.
Naomi Campbell: In spite of her explosive temperament, we were able to keep her for a long time, then lose her, then get her back, then lose her again, and so on!…it was a story the press loved and, actually, I continue being very fond of Naomi.
Linda Evangelista: She was not easy to handle, but she always was loyal and, in my view, was possibly the most talented professional I've ever seen in front of a camera.
Actually, men fantasize about (and many women disapprove of,) the mistaken notion that I had romantic affairs with all these famous top models and supermodels! In fact, I had a very friendly relationship with my stars but, I'm sorry to say, no romantic involvement (with a couple of extremely rare exceptions considering the length of my career). I had a lot of fun, dated a great amount of incredibly beautiful women, but I kept the management of Elite's stars a strictly professional affair; that is probably why the majority of our stars stayed with us for most of their career and why I entertain still today friendships with them, their husbands, parents, etc.

Stephanie Seymour / Elle 1987 | The trinity: Naomi Campbell, Linda Evangelista, Christy Turlington / Vogue Italia 1989 | Linda Evangelista / Vogue Italia 1990.
You once said that Gisele and Heidi were the last supermodels – do you still feel that is the case?
John Casablancas: They were the two last supermodels created by Elite under my tenure. I've been following the business since, and although there are so many incredibly beautiful models who have made it to the top, I don't see anyone that has the glow, the prestige and the notoriety of the original supermodels. The nearest thing to it is another Elite-made star, Adriana Lima, who is close to having reached such status.
In your opinion, what caused the demise of the supermodel – besides your retirement.
John Casablancas: I retired, Eileen got old (and her kids did not have their mother's talent,) and becoming an agent developed into an extremely popular and common profession. The agencies multiplied, and due to competition, commission and rate deals became the norm, and power switched from the models and their agencies' grasp to the clients and their budgets. I'm amazed to see today (with rare exceptions for established household names such as Gisele or Claudia,) that campaigns for major products are being paid a half or third of what the rates were at the turn of the century. The agents forgot, or didn't know how, to promote their stars as celebrities, and as a result the covers of magazines, the endorsement of beauty products, fragrance campaigns, etc., were taken over by actresses and other celebrities better known to the public. I still remember nostalgically the time when Hollywood agents would call me, begging Elite to obtain for their actresses an editorial spread or lucrative cosmetic campaign…what a difference a few years make!
What changes would you like to see coming to the modeling world?
Less agencies
More professional agencies
Better contracts to secure the models. More exciting new agents to inject into the profession a return to some glamour and more excitement.
How do you feel about the idea of models unionizing themselves?
John Casablancas: Ever since I've been in this business there have been attempts to unionize models. I still don't believe it will happen anytime soon because, by nature, models are self-centered and individualistic, and because the needs of models at the bottom of the ladder are so vastly different to those of the models who are part of the top, it's extremely difficult to find common ground.
What do you feel is your legacy?
John Casablancas: I feel it's rather presumptuous to speak about legacy in a profession such as model agent! But, if I have to mention what I think I brought to the business, I would say that I was creative, that I refused to bend to the rules established by a small group of fashionista dictators, that throughout my career I imposed a beautiful, healthy, natural woman with a sensual body (which does not preclude an elegant line,) and a playful or intriguing personality, and I endeavored to live a life that reminded everyone that, even when you run your business professionally, fashion should be about fun, superficiality and sensuality, and not to be taken as seriously as some tend to do.
Are there any things you regret?
John Casablancas: Of course! For practical reasons, I sometimes took on the wrong partners or accepted unhealthy alliances. I failed to foresee the change and the mood of the business, and I did not develop in time the strong contracts that could have protected me from losing some of our more successful models. I also should never have smoked.
What do you think represents the future of modeling?
John Casablancas: I think that the golden years are gone. Some agencies have made it a policy to cut commissions in order to appease their demanding models. The rates are getting worse by the day, and clients know that anything is negotiable. Bookers from all agencies rent a room and a couple of phones, steal a few models and open shop. Rich Oligarchs or Sheikhs are buying agencies as trophies. Young models are rejected if their career doesn't take off quickly enough. Also, the new technologies available for scouting and for representing models allow just about anybody to act as an amateur model agent. With the economy as tough as it is and with this particular environment in the modeling industry, I think the future of modeling is flat at best but that there will always be a few models who continue to make top dollars. The fact that so many campaigns are still being shot with the supermodels who are now in their mid-30's and early 40's tells us, (in spite of the miracles of photoshop,) that it will take a long, long time before the glory days are eventually back. If I were a young man again and had to start a new agency, I would certainly differentiate myself by having, off the bat, a stake in recruitment, promotional projects, and reality-based TV and Internet programs, but I would definitely associate our image with a zest for life, a provocative attitude and the firm belief that classical, traditional beauty is eternal…and will always work regardless of trends.