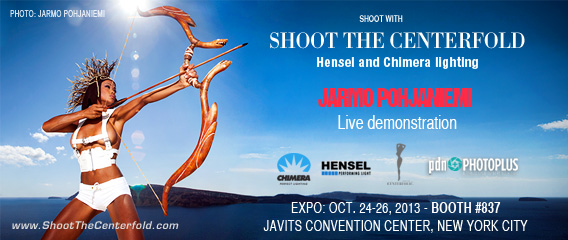 2013 PHOTOPLUS EXPO
I feel very fortunate to again be invited to join Hensel – Chimera at the PDN-PHOTOPLUS Expo & Conference on Oct, 24th – 26t in New York, NY. I am to demonstrate some of my personal lighting techniques and will also be discussing the importance and usage of lighting equipment, with the main focus on why it is essential to have the best possible, yet affordable, equipment available.
While in search of magical lighting situations, I will also be introducing my latest pictorial shot in Santorini, Greece, as well as explaining the techniques used on how to create desired results which editors cannot ignore.
JAVITS CONVENTION CENTER, NEW YORK CITY
October 24th – 26th
 For more information visit: Hensel – Chimera website.
Booth Shooters Schedule:
Visit our booth to meet Jarmo and Allison and see their live lighting demonstration.
Jarmo Pohjaniemi

Thursday, October 24th — 11am to noon & 3pm to 4pm
Friday, October 25th — 11am to noon & 3pm to 4pm
Saturday, October 26th — 11am to 12noon
Jarmo, from Playboy fame, has been creating beautiful images of women around the globe. (Hensel-Chimera lighting.)
---
Allison Earnest

Thursday, October 24th — 1pm to 2pm
Friday, October 25th — 1pm to 2pm
Saturday, October 26th — 1pm to 2pm
Allison, photographer, educator & author of the of Sculpting With Light® book series, has been educating photographers on lighting people & products for over 25 years.


© 2013 Copyright ShootTheCenterfold.com. All rights reserved.