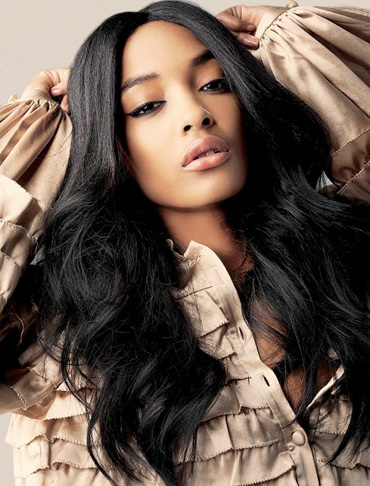 We don't often blog about boobs, women or sexy things … yeah right! But this one got our attention because of the "boobylicious" factor. We clearly are huge fans of Jordan Dunn and support her top heavy career choices:
Top model Jourdan Dunn sent out a couple of pretty disconcerting tweets this weekend regarding her couture schedule.
Couture week is well underway in Paris, with one of the week's biggest shows–Dior–scheduled for today. And apparently, Dunn would have walked in the show, were her body a little less curvaceous. She tweeted yesterday that she'd just been cancelled from the show because of her boobs:
Jourdan Dunn       
Ahahahahahaha I just for cancelled from Dior because of my boobs! I❤ fashion #Couture
It's quite unfortunate that Dunn didn't work out for Dior–not because she needs the exposure, but because Dior needs the diversity. Since Raf Simons took the helm of Dior, the house's runways have been almost exclusively white. Even industry figures have called out the house for its lack of diversity. Casting director James Scully told Buzzfeed after the last fashion season,
I feel the Dior cast is just so pointedly white that it feels deliberate. I watch that show and it bothers me — I almost can't even concentrate on the clothes because of the cast. And recently they're changing from a very diverse, worldwide, multicultural cast to just a very Germanic-looking white girl. Natalie Portman could complain that John Galliano was a racist, but I feel [Dior designer] Raf Simons sends the same message. I don't know what the difference is.
Of course, Dior isn't the only company in the industry guilty of racism–something Dunn has always been open about. She even followed up her Dior Tweet with one even more disheartening:
Jourdan Dunn       
I'm normally told I'm cancelled because I'm 'coloured' so being cancelled because off my boobs is a minor : )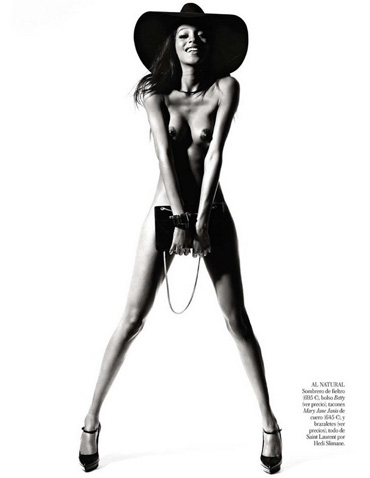 She seems to laugh it off, and it's probably necessary to have that kind of attitude in such a ridiculous industry.
Regardless, that Dunn was even being considered for the show is a nice surprise, and we hope her boobs were the real reason behind her cancellation–as absurd as that sounds–and not just an excuse for Dior to assemble another all-white runway.
Jourdan Dunn
is an English fashion model. She was discovered in Hammersmith Primark in 2006 and signed to Storm Model Management in London shortly thereafter. In 2008, she was the first black model to walk a Prada runway in over a decade.