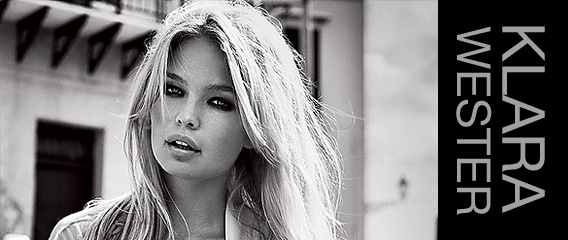 There is more to Sweden than ice-hockey and vodka. The land of Saab is also known worldwide for its blue-eyed blonde bombshells. Klara Wester is Swedish, and yes, there is a god.
As we are being haunted by everything Swedish, the first sentence pretty much summarizes Klara; beautiful, interesting, and all the other superlative words that describe her.
We recently noticed her in a Guess campaign by Marciano she did earlier this year. We wanted to see more, so we contacted her agency in the hopes that she was up to a photoshoot. While we wait for the Swenska agency to answer, here are few of Klara's hottest photos to cool down (or heat you up, whatever the case may be).
After following her on twitter, after reading about how she couldn't sleep on April 29th, we found out we have a fetish in common – high heels (and they look great on her).
Now that everything has fallen into place, we couldn't be happier to see her join one of our future seminars.
[nggallery id=7]


© 2013 Copyright ShootTheCenterfold.com. All rights reserved