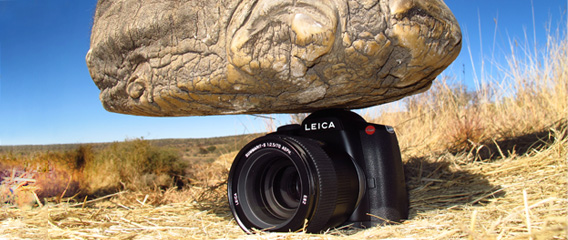 Leica's S2 vs. Elephant  – Find Out Who Makes It Out on Top
As we are in Africa shooting Shoot The Centerfold model of the year pictorial with our model winner Tina Brady, it's time to put the Leica S2 camera to a durability test. There are harsh conditions ahead that include a super-dry windy desert and flying sand, wet conditions that most camera manufacturers would not dare suggest, and animal close-ups, as well as hair-raising stunts to see what kind of details we can capture with the German Wunder camera.
We asked the local baboons to participate in this test, but they didn't seem very interested in the idea and took a dislike to our attempts to persuade them. However, we did find a friendly elephant that was more than willing to show his skill and camera-stomping techniques (with pictures to prove it). This is exactly what I mean when I said that animals seem more than interested in getting a chance to meet your camera equipment.
At Shoot The Centerfold, we bring all options on the table and want to know the real boundaries of Leica's flagship camera. Accept nothing but the very best from our test, so stay tuned for the results at the end of our safari.
COMING SOON: Find out the winner of our STC durability challenge!