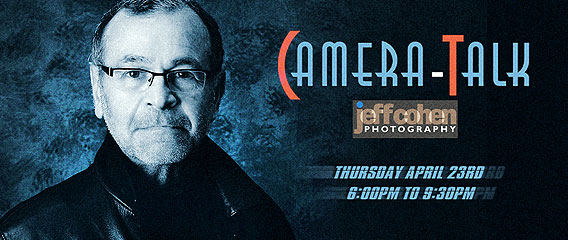 Longtime Playboy Editor and godfather of Playboy casting calls Jeff Cohen is your hot ticket if you happen to be in Illinois in April. If you have been a Playboy fan or photographer and would like to get the inside scoop on what was going on behind locked doors at Playboy not only photography-wise, but also how he whipped the photographers working under him into shape, then Jeff's Camera Talk event has your name written all over it.
Thursday April 23rd 6:00pm to 9:30pm
Highland Park resident and award winning photographer, Jeff Cohen, is hosting an intimate evening basic photography instruction and career highlights on Thursday, April 23rd from 6:00-9:30pm at his unique store front photo studio, 485 Roger Williams Avenue in Highland Park's Ravinia District. The evening will include a lecture highlighting events during his 40+ years as a photographer and editor for Playboy Magazine. To allow his instruction and presentation to be more personal and interactive, attendance is limited to 15 adults.
"People always ask what it was like to work with Hugh Hefner and the Playboy Playmates," says Cohen as he reviews the display of memorabilia that adorns the walls of his studio. The evening's highlight will be Cohen's reflections on his years at Playboy Magazine, working with Hugh Hefner, Playmates and what it was like to have the most envied job in the world!
Cohen will reflect on his years as a freelance photographer in California as well as his glamorous career as part of the Playboy Magazine empire. He will share stories of his photo adventures in Russia, Japan and Cuba and the meeting and photographing celebrities Tom Cruise, Cindy Crawford, Clint Eastwood, Michael Jordan and many others.
The instructional part of the evening with include a variety of topics with a focus on moving beyond the 'automatic' setting on a DSLR camera and how to make manual adjustments to create more satisfying photographs. Additional "How To" instruction will include: blurring the background in family photos, tips to better use of window light, posing kids and pets, basic composition guidelines and learning how to "create" photos and not simply "take" them.
With the evening limited to 15 adults 18+, those interested should contact Jeff at his studio 847.347.2509 as soon as possible for additional information and to reserve a space.
JEFF COHEN PHOTOGRAPHY
485 ROGER WILLIAMS AVE. HIGHLAND PARK, IL 60035
JEFF@JEFFCOHENPHOTOGRAPHY.COM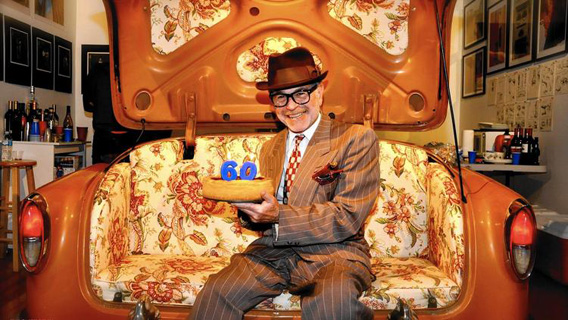 THE HISTORY OF THE CHEVY LOVESEAT
While the 60-year-old vehicle may be rare and highly collectable, Cohen's Chevy has been artistically converted into a loveseat, with many stories to tell. Serving as Playboy Magazine's photo editor for some 30 years, Cohen has photographed countless Playmates and models who climbed aboard, including Cohen's boss Hugh Hefner, who made it a point to bring his girlfriends for a Chevy photo op.
"If only that couch could talk," reminisces Cohen, who recalls the many celebrities he has photographed in the Chevy trunk-seat, including Tom Cruise, John Candy and Pete Rose.
Cohen admits he's not the creator of this strangely odd but highly functional piece of art, but inherited the 1954 Chevy 'trunk-seat' from its creator, California based sculptor and visionary Pippa Garner. Cohen and Garner were living in San Francisco in the mid-70's when they met and realized they shared a comic twisted sense of automobiles and their functionality.
Garner was in the process of creating his car furniture art for a Car & Driver magazine article and needed photography of each piece. Cohen got the gig and photographed not only the '54 Chevy, but a fully functioning executive desk made from the dashboard of Buick Skylark, its chair from a bucket seat and the a wood burning fireplace from a gaping grill of a 1960 Chrysler 300. "Each piece of Pippa's furniture was truly amazing, taking him countless days to create, and each was fully functional," recalls Cohen. "But the only piece to survive was the Chevy, which Pippa allowed me to store in my San Francisco warehouse photo studio."
Over the years the two worked together on several other projects for national publications including Esquire, Road & Trackand even Playboy. Cohen remembers the Esquire project in which Garner rebuilt a '59 Chevy to drive backwards down the street. "We drove it across the Golden Gate Bridge and got stopped by the cops. They didn't see the humor in Pippa's creation." Garner soon moved to Los Angeles leaving the Chevy in Cohen's good hands and continued to create bizarre objects and inventions and after an appearance on the Johnny Carson Show (the video clip is available on YouTube} his national fame and recognition soared. About the same time Garner fled to LA, Cohen got a call from Playboy offering him a job in Chicago.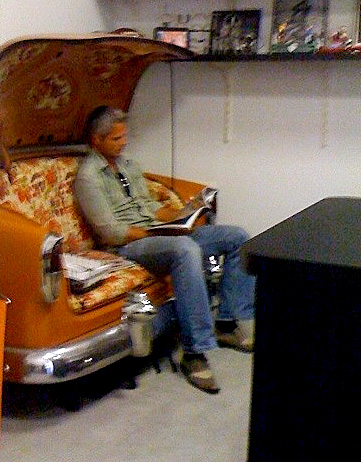 Cohen accepted, but on one condition that in whatever office he was assigned there had to be room for the Chevy Couch. Playboy was puzzled but agreed and Jeff relocated to the windy city. During his many years at Playboy, Cohen's couch became known to the entire company, with employees, corporate execs, and even celebrities taking a seat to be photographed.
And now, that famous well-traveled, well-seated and well-photographed piece of furniture, finds its home in Jeff Cohen Photography Studio in Highland Park's Ravinia District.