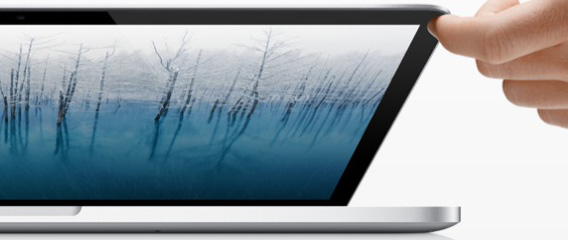 What did I learn from these tests? Well, the laptop's internal SSD is a real speed demon at an average speed of 400MB/Sec. Wow! No wonder Photoshop CS6 boots in 2 seconds! My suggestion is that you limit use of the internal boot SSD to applications and scratch files. Keep your data files on an external drive. This is simply best practice.
While Thunderbolt is speced as faster than USB-3, using the GoFlex Pro adaptors they clocked almost identical speeds, and curiously so did the 5400RPM vs 7600 RPD disks. I have no ready explanation for this. The Vertex 240GB SSD drive was another story. It's fastest when connected via the GoFlex Pro Thunderbolt adaptor and still pretty impressive via the USB-3 cable. Please note that these tests were run three times each and the results rounded and averaged.
…
There isn't much more to say for now. If you need (or simply want) the best Macbook Pro yet, then the new Retina is the ticket. Thinner, lighter, faster, fantastic screen resolution, less reflections and better battery life. Other than the fact that it's more expensive than a non-retina display model (what did you expect – cheaper?) it's a fantastic upgrade.
Apple has also released new information