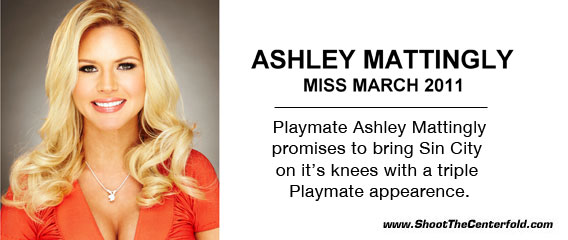 If Ashley Mattingly looks familiar to you, it is because she was featured as Miss March 2011 in Playboy Magazine. Her modeling career started with the publication and has skyrocketed since then.
Now instead of just looking at her photos, you can get a chance to personally shoot with Ashley. She will be one of three featured models posing for Playboy professionals past and present – Arny Freytag, David Mecey, and Jarmo Pohjaniemi- at Shoot the Centerfold during its return engagement in Las Vegas on September 16-18, 2011. STC promises a weekend of photo shoots, seminars, and workshops plus the chance to mix and mingle with industry celebrities.
Ashley describes herself as a natural and fun model. She really hadn't thought about modeling as a career until the opportunity to submit to Playboy came about. "I had my pictures sent in and I got a call from the staff a week later, asking me if I wanted to test! I was so excited, I jumped up and down, saying 'Yes, yes, yes!'"
Her shoot for the magazine was with STC mentor Arny Freytag. "My Centerfold shoot was hard work, but fun as well. It was an amazing experience that not many people get to have. Arny shot my Centerfold, and he made me feel very comfortable in front of the camera!"
The blonde beauty relates that becoming a Centerfold changed her life. "It's definitely opened more doors for me, and has led to some incredible opportunities – including being asked to attend Shoot the Centerfold in Las Vegas."
She feels that interested photographers can benefit by attending the weekend workshop. "This seminar will teach them how to interact with the models, and how to get the best shot. They will also learn about professional lighting and photography techniques."
Models can get a lot out of attending Shoot the Centerfold as well, according to Ashley. "I think anyone who has thought about modeling as a possible career will gain more experience and become more comfortable working in a professional environment."
Ashley offers some great advice for models just starting out. "Just keep calm during the shoot, and listen carefully to make sure you are giving the photographers what they require. Just don't concentrate too hard, otherwise it will show in your face."
She is personally looking forward to visiting Sin City next month. "I'm excited to be going to Vegas. The best part is I'm happy to be involved with Shoot the Centerfold! It is going to be an awesome weekend!"
Shoot the Centerfold is being held at the newly renovated Tropicana Hotel and Nikki Beach Club. The weekend includes an opening night VIP reception, a Red-Carpet arrival at the club event, and exclusive seminars with special guests. Ashley and the mentors will be joined by fellow Playmates Jessa Hinton (Miss July 2011) and Olivia Paige (Miss September 2010) at the workshop.
The exclusive event is set for September 16-18 in Las Vegas, NV. For all the details and to register for this incredible opportunity, visit our official website at www.ShootTheCenterfold.com.