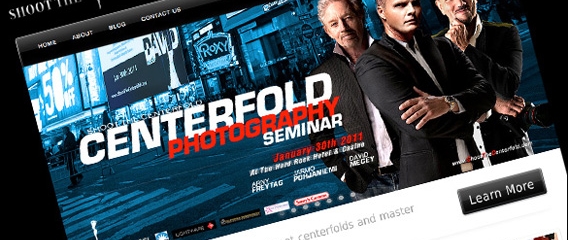 Click the image for full size.
It's being said Shoot the Centerfold is a completely new game in town in the world of teaching photography. An understatement to say the least yet is the best description available for what is being created at Shoot the Centerfold.  It's where photographers of all styles, types, experience level, and needs, will come together to seek knowledge from world-renowned photographers.
Yet this site is not only about everything that Shoot the Centerfold offers you in the way of instruction, it's also a new place for opinion, ideas, and the sharing of all those thoughts about photography. A place to release emotions generated by not only their personal work, but also the work of their peers, all generated by what they are learning and sharing at Shoot the Centerfold.
This is the Shoot the Centerfold Blog. Yes, there are tons of blogs found all over the Web. This blog is especially dedicated to the ideals being created by some of the biggest names in photography from around the world. As they say, seek and ye shall receive.
Not only will you see and interact with these greats, but also share and interact with all your co-bloggers too. Bring ideas, concepts, opinions, notes to keep, notes to share, notes to make a point. You can do all that here at the Shoot the Centerfold Blog.
We invite you to bring your thoughts, ideas, opinions, suggestions, impressions, all your voices here to our blog to make it your center for sharing, and much more. It's a place for you to meet and seek. A place to make your own created especially for the sharing of information.
Shoot the Centerfold has been founded by three photographers whose legacy begins and continues on with the magazine that created its own history with photographs of gorgeous women around the world. A magazine dedicated to the 'girl next door' which has a prestigious short list of photographers onboard to record those images in its centerfold pages. That magazine is Playboy.
Please use this blog for a place to congregate and release all the energy, excitement, and knowledge you are sure to find through the various Shoot the Centerfold programs.
Again, welcome to your Shoot the Centerfold Blog!
The STC staff