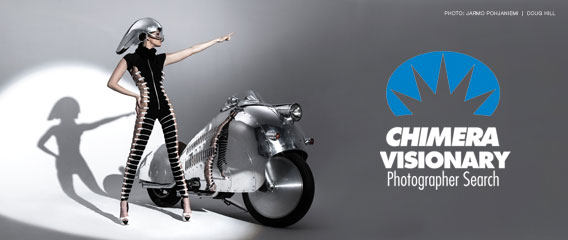 The Chimera "Visionary" photographer search competition is all about celebrating creative visions. What drives you to push your limits in the medium of photography? Having a vision is what sets each individual photographer apart. Being able to communicate this vision with a team and the world is what enables beautiful images to come to life, whether it's a still photograph or a motion picture. Our "Visionary" will be a role model for other artists to look up to, and an advocate for art and the creative lifestyle.

Want to get paid to fly to a our chosen secret location, somewhere in the world, to shoot a national ad campaign with a top creative team? Then enter the Chimera/Hensel 2015 Photographer Search by stopping by our booth at the PhotoPlus Expo for a portfolio review in NYC from Oct 30-Nov 1. The contest is open to all. There will be more opportunities to enter on the west coast. The goal of this campaign is to give one lucky winner an opportunity of a lifetime.
The total value of this campaign all said and done is beyond measure and the multitude of positive effects it will have on the winner's career will be truly profound. This will be a full scale creative campaign complete with several different looks, models, props and locations. The campaign will feature behind the scenes video coverage, so not only will your images be showcased but the larger photography and videography industry will get to know your personality.
Today this is the key to success. Sure image-making skills are a requirement, but what separates the good from the great is charisma! Not only does the winner get the chance of a lifetime but also a foot in the door in an industry that's a tough nut to crack. You will become part of the Chimera Visionary program and get personal coaching by the Perfect Light Team!
Bring your Vision to life and share it with the world!
PhotoPlus Expo booth #745
Portfolio Review Times*
Thursday-Friday Oct 30th-Oct 31st
11am-12pm
2pm-3pm
Saturday Nov 1st
11am-12pm
1pm-2pm
*no appointment necessary*
The Rules
Chimera reserves the right to modify the "Photographer Search" contest at any time for any reason. Images submitted must be owned by the photographer and have the appropriate releases. Images submitted may be used by Chimera for promotional purposes during the contest period ending at WPPI on March 5th 2015. The winner will be chosen shortly after the close of WPPI 2015. The judges for the photographer search will be a select group of Chimera Visionary photographers and the Perfect Lighting experts at Chimera. No employee of Chimera may enter the contest. This contest is open to both professional and amateur photographers ages 18 and up. This is a PAID opportunity, the photographer will receive $500 compensation and all expenses paid.
More details to be released shortly right here.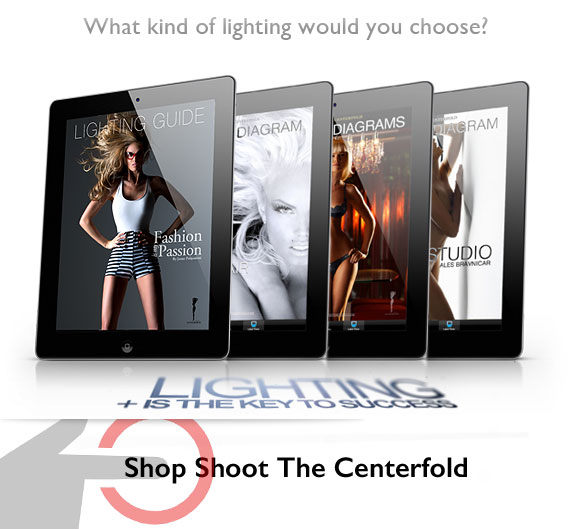 © 2014 Copyright ShootTheCenterfold.com. All rights reserved.