Pamela Anderson is just getting better with age and her new look screams sexuality with a totally new revamped look (it's the "Sharon Stone move aside" look).
So it's no surprise that the pinup has done another nude photo shoot, this time for French magazine Purple. The 46-year-old looks flawless as she writhes around in faux fur and heels for acclaimed photographer Sante D'Orazio. We cannot decide if her new look is better from her Baywatch era or not but we definitely like it and it's today so we give it two thumbs up!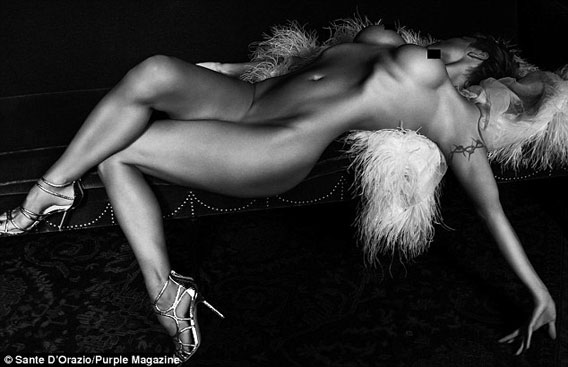 Baring it all: Pamela Anderson reclines in a new photo shoot by Sante D'Orazio for Purple magazine
Pam, who is starring in Werner Herzog's upcoming film Vernon God Little, is in the shape of her life. Perhaps the movie has something to do with her new look since the blonde big hair wasn't coming across as serious on the big screen. Sante D'Orazio's lighting style can be recognized a mile way and it works very well. Simplicity and styling has a lot to do with her new images and Pam's amazing posing skills also helps! Her age also fits the bill and does not get in the way at all. Seriously speaking, the pictorial is stunning and now we're dying to see the upcoming movie to find out if her new look does it justice! It's not that we did not love her buxom blond appearance from before but its just a fact that times have changed and Pam has refined and evolved with them.
What took us by surprise with the drastic new look is the fact that Playmates seem to get stuck on their heyday's appearance until the end of time. I am not saying that the good old GND does not do the trick! In fact how Playboy could even exist without them n today's publishing environment is an everyday battle between the older fans and the new generation of viewers. I would like to to leave this decision in your hands and applaud Pam's new direction.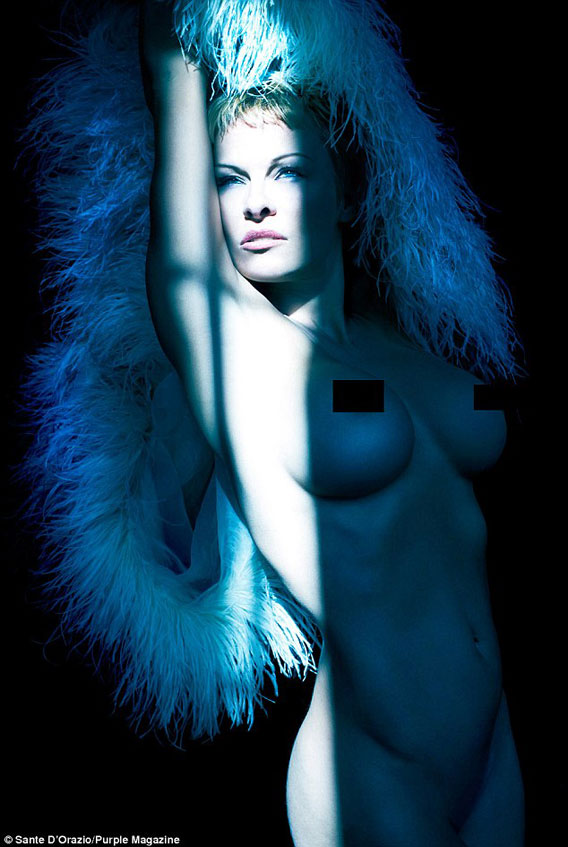 Still in perfect shape: The 46-year-old is toned and trim for the French publication
The Barbwire actress is known to be a quite surprising personality which can be very good when photographing her. She certainly doesn't just stand there and stare at the camera. Pam's got game and it sure shows since her career took off from the glossy pages of Playboy. But who could have known that she would still be going strong after all these years? It has a lot to do with the will power and determination of an individual. Is there a such a thing as a life-span of a model? Sure there is … especially in editorial fashion photography. A model can start looking for retirement as early as 23 years of age unless your name is among the top-models. But Pam has a recipe that has worked all these years and is still going strong.
It seems that Pam is not longer categorized as a only a model. She is a full fledged actress and wastes no time to express her point of view when rubbed the wrong way! She's what we call the "the chill Canadian diva" who has just captured a new set of fans from Sharon Stone's top flock! (Ouch! We did not say that since Ms. Stone ranks quite high up there too but I am sure that you can see the resemblance between the two bombshells.)
It comes as no surprise that the website for Purple crashed as soon as they posted these photographs. We here at STC (and our previous haunts) have also had crashes and midlife crises based on Pam's popularity. Even Borat had his Pam fetish splashed across the big screen.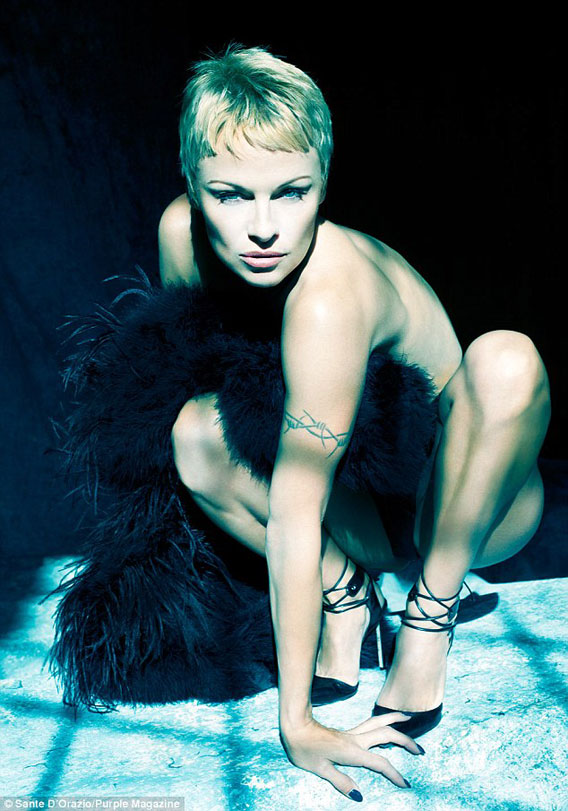 Pam's cat like pose and the Barbwire tattoo are the only two reminders left from her previous look
Short hair suits her: The actress, who will next appear in Werner Herzog's Vernon God Little, chopped off her famous locks last year. In the magazine's interview, conducted by Sante, Anderson opens up about her new hair style.
"I like to be bold. It wasn't planned. I'd worked with Deborah Anderson; they shot me in short, dark wigs. The make-up artist Autumn Moultrie told me I should shave my head — show my face more. I told Paul Desmarre of Christophe Salon Beverly Hills to come to my house later and cut it. Three hours later and voila! I love the movie Breathless by Jean Luc-Godard with Jean Seberg. Not to get too personal, but it really helped me get out of a 'situation' that was not right, no matter how hard I wanted to believe otherwise. My family and dearest friends didn't bat an eye. I'm surprised we're even talking about this and at all the attention it's generated. I'm grateful, though; the response has been shockingly positive."
When asked about her career she said, 'There's a bubbling up of interest I didn't expect. So I'm going with the flow. Collaborating with people I admire is a dream come true. Working with Purple is really exciting."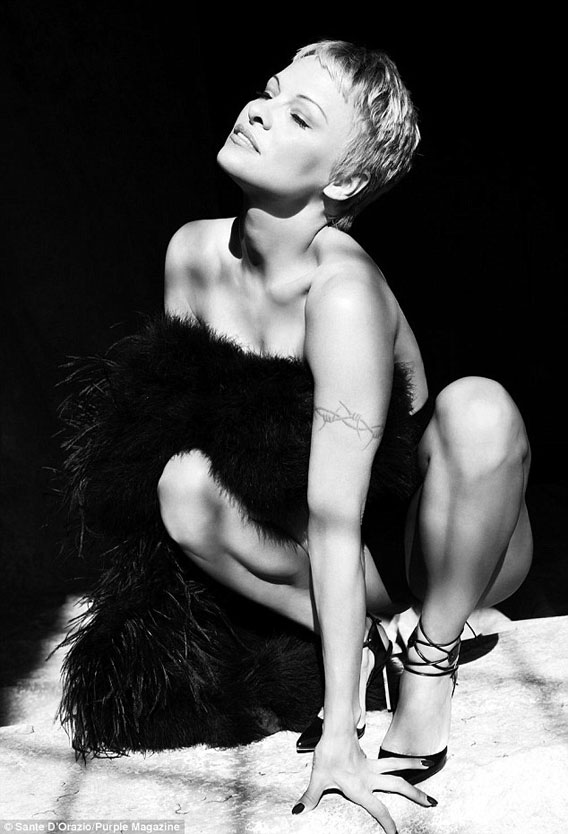 Glowing: The former Baywatch actress has remarried Rick Salomon and seems happier than ever
One project in particular excited her.
'The man who surprised me the most — who's developing a project I'm unable to discuss yet — wanted me to work with him before I cut my hair. He said he sees the artist in me and wants me to work seriously with him, and to have faith that he will reveal something great in me.
'This haircut convinced a lot more people [laughs]. It has struck a chord. It amazes me — even in love — how it's changed everything and encouraged real soul connections, less superficiality."
As far as the shoot, she said, "I'm a bit of an exhibitionist, and I like having the pictures taken. But seeing these was really something different, something we did. It's like a launching pad for what I'll do now. While looking at the pictures I was thinking to myself, is that really me? I mean you don't take a bad picture — people always look their best in your pictures. It still was a shock to see how strong I look."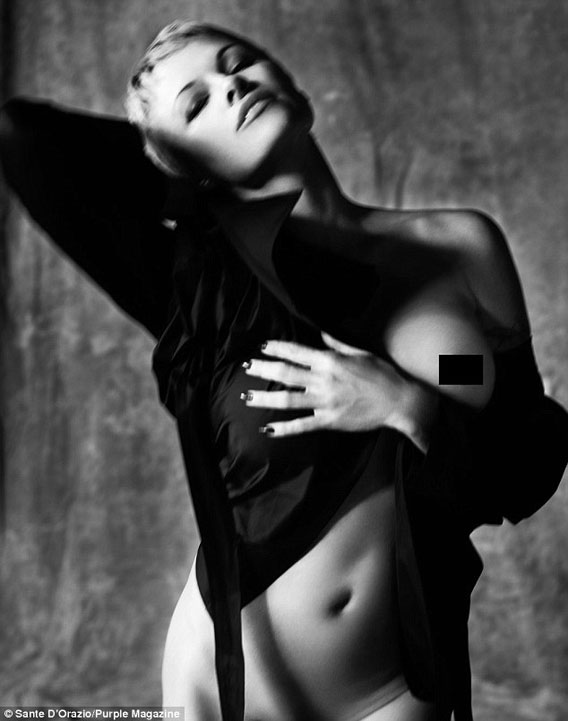 Her pose has poise: The Canadian has been modeling for 25 years
Anderson seems to be making a lot of big changes in her life lately.
Last year she cut her hair off, leaving it into a short Mia Farrow circa 1960s style. The result has been amazing and has given the model/actress an entirely new image. The beauty has also remarried Rick Salomon, who she wed in 2007 but divorced in 2008.
The Malibu resident has gone back to movies as well. In addition to co-starring in Herzog's Vernon God Little with Mike Tyson and Russell Brand, the former Baywatch actress will also appear in Jackhammer.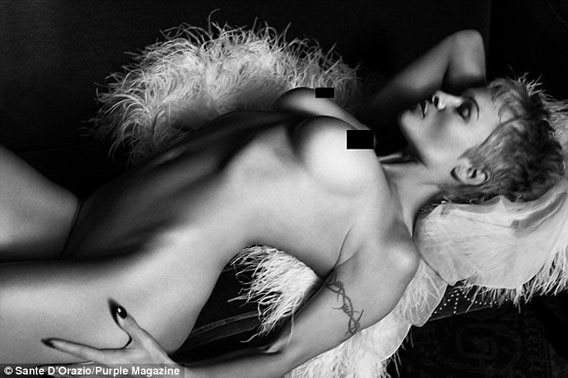 Comfortable in her skin: The blonde has a talent for making nude photography look like art
So there you go, a totally renewed Pam for fans to start loving and following her all over again (not that she was ever forgotten!). But this serves as an good example for those who need to do a little "style upgrade" and that keeping up with the current times and trends is possibly the best thing we can do. Pam has certainly done this and good for her as it seems that she has just turned a new chapter in her life and career.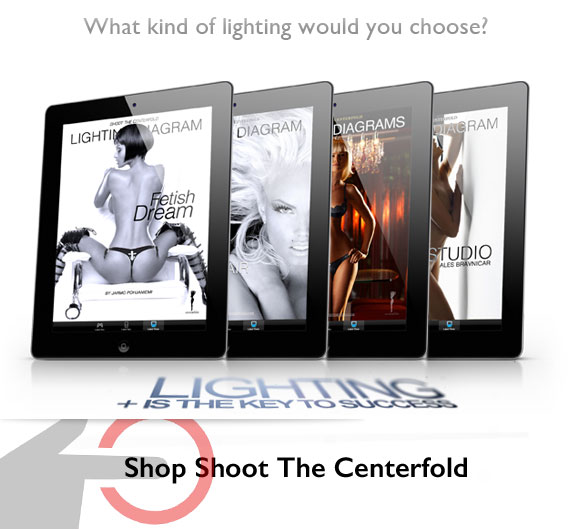 © 2014 Copyright ShootTheCenterfold.com. All rights reserved.