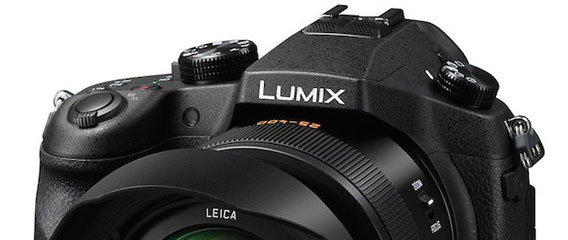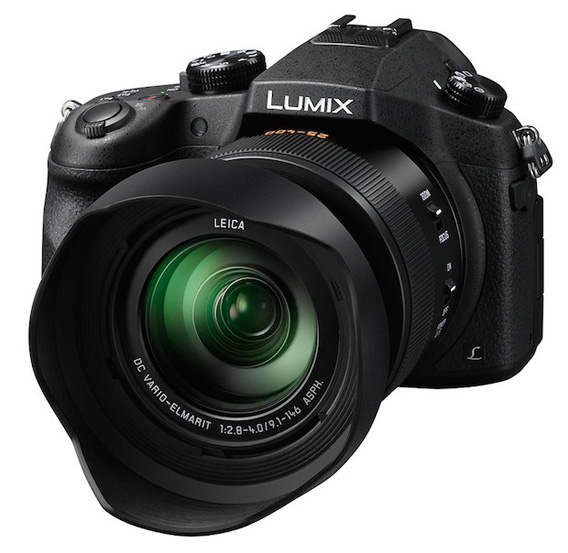 Since Sony released the RX10 last year, there have been exactly zero competitors to rival that camera's stellar lens quality, zoom reach, and sensor size. It redefined what a "bridge camera" could be. Panasonic is the next company to realize the advantage of bringing large sensor image quality to a fixed long range zoom.
The FZ1000, available in July for $900, has a 20 megapixel one-inch sensor and an equivalent 25-400mm f/2.8-4 power zoom lens, aided by 5-axis optical stabilization. That's double the reach of the RX10's 24-200mm f/2.8 setup. What you sacrifice is a hair of wideness, and a full stop of brightness at the long end, which will definitely affect low light shooting. The lens is a beauty designed with the help of Leica. It has a series of aspherical elements, which Panasonic claims will reduce color fringing and distortion, and it's powered by five speeds of zoom which should provide some good control. It does, however, lack the control ring that we loved on the RX10 which allowed for smooth aperture adjustment. The FZ1000 only has a focus ring.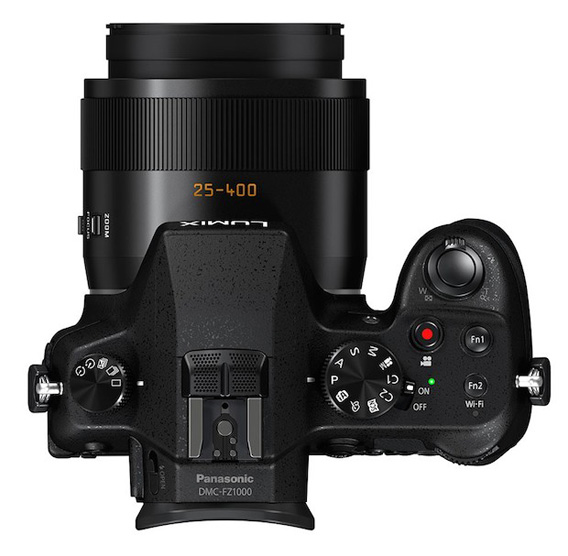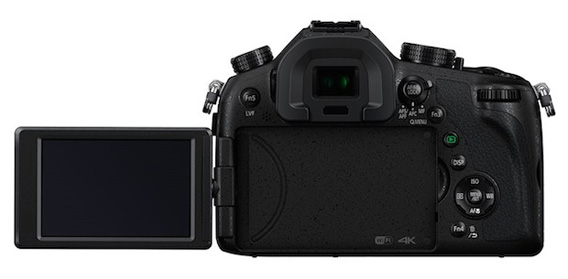 Shots are framed usingA 2.4 million dot OLED viewfinder and rear LCD that flips out and rotates for tough angles. It shoots at 12 fps in burst mode, and has a contrast AF system with Panasonic's DFD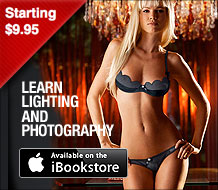 (depth from defocus) technology that cuts down on hunting. Autofocus seemed really fast when we played around with the camera.
Still capabilities aside, the FZ1000 was built just as much for video. It shoots in 4K at 3840 x 2160 resolution in 30p with a 4:2:0 8 bit MP4 codec. Full HD mode records at 24 Mbps in AVCHD, in 30p, 24p, or 60p. There will also be a 120 fps slow motion mode with reduced-quality MP4 recording. The 4K mode does crop in on the sensor, reducing the focal length to an equivalent 37-592mm. The camera also features focus peaking, magnification, zebra patterns, and a flat cinema-like color profile for more versatility when grading.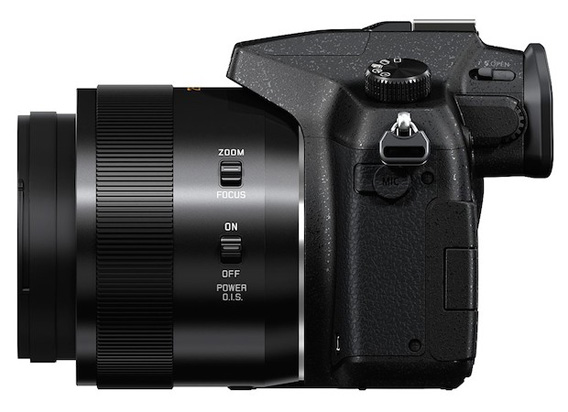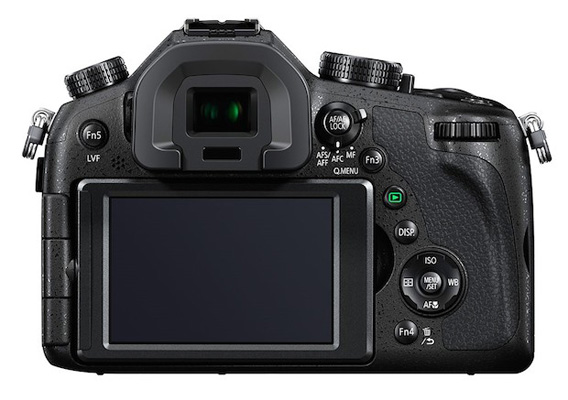 4K shooting definitely makes the FZ1000 a bit more alluring than the RX10 on the video side, but there are some missing pieces you should know about. You can't shoot 4K in 24p, which will make those seeking a cinematic look quite upset. Panasonic was very candid in admitting that they left out the 24p option simply to differentiate the camera from the higher-end GH4, which also shoots 4K. That sucks. To keep the FZ1000's price at a low $900, Panasonic had to make the body all plastic and without weather sealing. This is compared to the RX10's magnesium alloy body which is protected against the elements. Another key feature not found on the FZ1000 is a built-in ND filter, for maintaining shallow depth of field in bright light. These smaller features are easy to forget about, but go a long way in user experience.
It's great to see this type of camera gain some competition. It's evidence that larger sensors are going to take over all camera categories—a necessary move in order to differentiate from smartphones. Bridge cameras make a ton of sense for many consumers who don't want to buy and carry expensive telephoto lenses. Before, we were stuck with puny small-sensors in extremely un-stylish bodies. But with the performance of cameras like the FZ1000, people can have their cake and eat it too.
Overview:
20.1MP 1″ High Sensitivity MOS Sensor and Venus Engine

The large 20.1MP 1″ High Sensitivity MOS Sensor and refined Venus Engine image processor enable high-resolution still image and 4K video recording with native sensitivity to ISO 12800, which can be further expanded to ISO 25600. The two technologies also contribute to a marked reduction in noise through the use of Multi Process NR, Random Filter, and Aperture Filter systems to realize consistent color fidelity and image clarity. The sensor and processor combination also avail notable speed throughout the camera, including the ability to record up to 50 fps using an electronic shutter, 12 fps with a mechanical shutter, or 7 fps with a mechanical shutter and continuous AF. Benefitting a hybrid workflow, users can switch between recording 4K movies and still imagery instantly and there is also the ability to make in-camera 8MP screen grabs from 4K movies.
Leica DC Vario-Elmarit 16x Zoom Lens

Benefitting the image capabilities of the FZ1000, an expansive 16x optical zoom Leica DC Vario-Elmarit lens is built-in, and provides a 35mm-equivalent focal length range of 25-400mm with a maximum f/2.8-4 maximum aperture. The optical design comprises 15 elements in 11 groups, which includes five aspherical elements with eight aspherical surfaces and four extra-low dispersion elements to reduce chromatic aberrations throughout the zoom range. To further extend the effective range of the zoom lens, both Extra Optical Zoom (EZ) and Intelligent Zoom technologies work to increase the reach with minimal image degradation. Additionally, benefitting filmmakers, the speed of electronic zoom can be control within five different settings to better match the scene and recording needs. Helping to maintain steady handling with the long zoom lens when recording full HD and HD movies, HYBRID O.I.S. image stabilization is available and minimizes the appearance of camera shake. This image stabilization system compensates for camera movement across five different axes-horizontal, vertical, axis of rotation, vertical rotation, and horizontal rotation-to benefit handheld recording. Additionally, a Level Shot Function works to detect an image's horizon line and maintain it even if the camera is tilted.
4K QFHD Video Recording

Benefitting from the 1″ MOS image sensor, The FZ1000 is able to record 4K QFHD (3840 x 2160) video at 30p with a high bit rate of 100Mbps in the MP4 file format. Full HD 1080 video can also be recorded-at 60p, 30p, 24p, or 60i-in the AVCHD format, as well as full HD, HD, and SD formats in the MP4 format. Additionally, high speed video recording is possible at 1080p, 720p, and 480p with sensor output frame rates of 120 fps, 240 fps, and 360 fps, respectively. When recording 4K video, use of a UHS-3 memory card is recommended and continuous recording up to 29 minutes and 59 seconds is possible. A built-in stereo zoom microphone records audio in either AAC or Dolby formats and a zoom noise reduction system, as well as an Auto Wind Cut function, helps to reduce background and internal camera noise during recording. Furthermore, a 3.5mm microphone input is available for utilizing an optional external mic to garner even high quality, more controlled sound.
Light Speed AF with LUMIX DFD Technology

Incorporated within the Leica DC Vario-Elmarit lens is a linear AF motor, which works to achieve fast and precise focusing performance utilizing LUMIX DFD (Depth From Defocus) technology. This high speed focusing system shortens overall focusing time by comparing two images with different sharpness levels and then determines accurate subject distance information. At the wide end of the zoom range, AF times up to 0.09 sec. are possible and at the telephoto end, an AF time of 0.17 sec. is achieved. When using autofocus, both Face and Eye Detection functions can be used to base focus on recognized aspects of a subject, and general subject Tracking AF can also be used to maintain sharpness on moving subjects. Furthermore, 49-area focus, with flexible and scalable single area settings, and Pinpoint AF can also to determine focus across the image. Low Light AF helps to set focus in dim lighting, as low as -4 EV, and, when working with manual focus, Focus Peaking is available to more objectively determine critical focus by highlighting sharp edges of contrast.
Camera Design

Characterized by a large ergonomic grip, manual zoom/focus ring, eye-level viewfinder, and rear LCD monitor, this bridge-style camera features a familiar form factor that affords notable stability while shooting. The 0.39″ 2,359k-dot OLED LVF (Live View Finder) provides 100% framing accuracy and has a 35mm-equivalent magnification of 0.7x for a bright, easy to view image that is especially well-suited to use in bright conditions. Alternatively, a rear 3.0″ 921k-dot Free-Angle LCD screen is also available, which is ideally suited to working from high and low viewing angles. It, too, has 100% framing accuracy and an anti-reflective coating and wide viewing angle further enable its use in an array of lighting conditions. An eye sensor is also incorporated into the viewfinder's design to automatically detect when a user's eye is up to the finder and to switch between viewing methods.
Built-In Wi-Fi Connectivity

Built-in Wi-Fi connectivity enables seamless transferring of imagery from the FZ1000 to smartphones and tablets through the use of the Panasonic Image App, which also permits direct sharing to social media sites. Connection between devices is possible using a QR code system or through the use of NFC (Near Field Communication), which allows compatible devices to tap to connect. Linked mobile devices can also be used to geotag imagery in-camera, for plotting to interactive maps, and to remotely monitor and control the camera's zoom, focus, and shutter release from a distance.
IEEE 802.11b/g/n
2412-2462 MHz (1-11 ch.)
WPA, WPA2
Infrastructure Mode, WPS, Wi-Fi Direct
Dedicated Wi-Fi button
NFC: ISO/IEC 18092, NFC-F (Passive Mode)
Other Camera Features

A built-in pop-up flash is available for adding additional light to a scene and a hot shoe is also incorporated into the camera's design to accept external flashes for even greater control.
Time lapse recording permits the recording of consecutive imagery over a period of time, with the option to automatically compile the imagery into a time lapse video for efficient playback.
Macro shooting is possible with a minimum focusing distance of just 1.2″ at the wide end of the zoom range, or 3.3′ at the telephoto end.
A top mechanical shutter speed of 1/4000 sec. at the wide end, or 1/3000 sec. at the telephoto end, helps to freeze fast-moving and work with wider apertures in bright conditions. Furthermore, a top shutter speed of 1/16000 is possible when using the electronic shutter.
A quick start-up time of 0.66 sec., coupled with fast AF and continuous shooting times, permits intuitive use and swift shooting capabilities.
A range of Still Image Scene Modes are available to creatively enhance the look of image in-camera: Clear Portrait, Silky Skin, Backlit Softness, Clear in Backlight, Relaxing Tone, Sweet Child's Face, Distinct Scenery, Bright Blue Sky, Romantic Sunset Glow, Vivid Sunset Glow, Glistening Water, Clear Nightscape, Cool Night Sky, Warm Glowing Nightscape, Artistic Nightscape, Glittering Illuminations, Handheld Night Shot, Clear Night Portrait, Soft Image of a Flower, Appetizing Food, Cute Dessert, Freeze Animal Motion, Clear Sports Shot, Monochrome, and Panorama.
Photo Style settings allow you to give images and movies a distinct look prior to shooting: Standard, Vivid, Natural, Monochrome, Scenery, Portrait, Custom, Cinelike D, and Cinelike V. Furthermore, Picture Adjustments are also available for further enhancement, and include Contrast, Sharpness, Noise Reduction, Saturation (not available for Monochrome), and Filter Effect (for Monochrome only).
In-camera RAW processing is possible, allowing for adjustment over color space settings (sRGB/Adobe RGB), white balance, exposure compensation, photo style, intelligent D-range control, contrast, highlight/shadow, saturation, noise reduction, intelligent resolution, and sharpness.
Auto exposure bracketing is possible using 1/3, 2/3, or 1 EV steps for up to 3, 5, or 7 frames with a maximum difference of exposure of +/- 3 EV.
Language support: English and Spanish.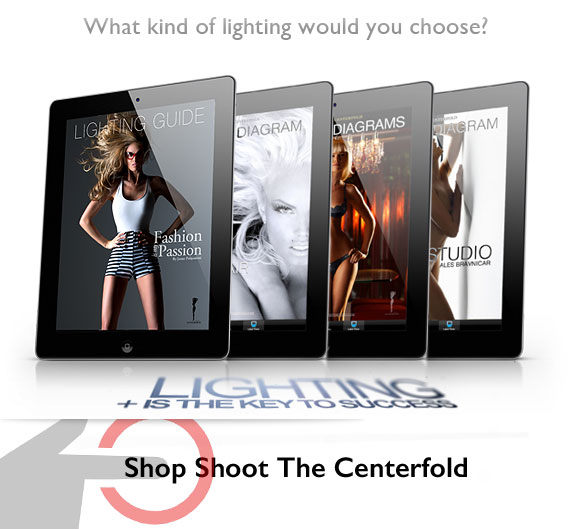 © 2014 Copyright ShootTheCenterfold.com. All rights reserved.