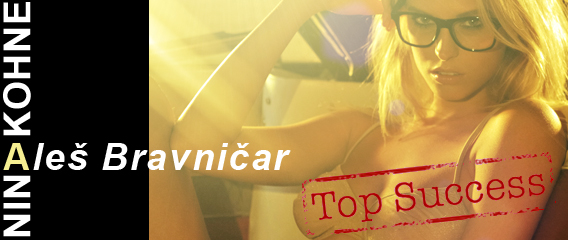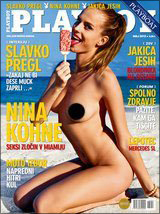 Shoot The Centerfold seminar attendee and guest photographer Ales Bravnicar maximized his Miami visit not only by attending our January 2012 STC seminar – workshop, but also by photographing fashion model Nina Kohne, who is this month's celebrity model for Playboy Slovenia and whose pictorial photos were taken while our seminar was going on. Nina's issue hit Slovenian newsstands yesterday.
This double whammy is a great example of getting things done. However, one thing we and our Miami STC family do wonder about is where was she and why was she not introduced to STC attendees during the seminar?
Well, to make up for the lost opportunity of not being able to meet the lovely Nina in person, here is a link to a behind-the scenes look at her Slovenian Playboy Playmate pictorial photographed by Ales Bravnicar during his Miami visit:
http://www.playboy.si/dekleta/zakulisje/nina-kohne-na-kraju-seksi-zlocina-miami/
(To see the page, type in the highlighted "Captcha" key word in the box below it.)
Also check out the "Making Of" video on YouTube : (NSFW)
http://www.youtube.com/watch?v=TGdnTUnxw3M
Stay tuned for a link to Nina's actual Playmate pictorial!
Here is what Ales had to say: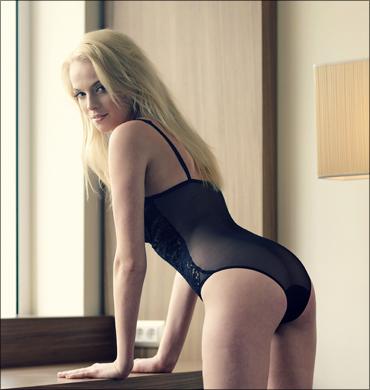 Going on a shooting quest thousands of miles from home requires careful planning. This time, it was no exception. We took only what we absolutely needed (with 42 pound airline weight limitation, you are kinda forced to) and even some of that stuff was superfluous.
This happened to me several times before – I took a portable flash system with me and did not even touch it. I prefer daylight to any artificial light source that requires electricity. I find the right frame, the right angle at the right time of day, are all I need and when I get them I just shoot away.
My trusty California Sunbounce reflector (silver/white) is an amazing helper, held by my assistant at an exact right angle from above (and NEVER from the ground up when it is the key light source), but that is about it. The camera kit consisted of 5D Mark II with 24-70/2.8 and 70-200/4 (the latter is twice as small and lighter than his bigger brother and almost as perfect, I just love that lens) and another exact same body for backup. Always carry backup! It is the most fundamental thing you must do because you just never know.
The shooting time was either early morning or afternoon. Sometimes we even shot at noon when we needed the sea to be at its bluest or when the model was lying on her back and needed to be lit from above with direct sunlight. There is really no right or wrong here. Just use the sunlight as a tool that best suits your needs.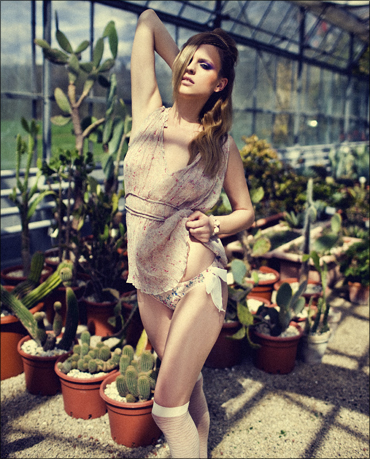 For the whole pictorial we shot about 2,200 frames altogether. That is my usual frame count, give or take a few. We usually need 12 to 13 different scenes or moods. Now do the math.
One of the biggest blessings on such a photoshoot is having a good, down-to-earth model that has no issues about nudity in public. This can either make or break the entire shoot. If the model ain't cool with it, everything starts to fall apart really quickly. The editors will NOT pleased and you will NOT get re-commissioned.
* Photographer Ales Bravnicar had a secret weapon with him during the shoot: A circular polarizing filter.
When working at the beach and near the water, you'll have a lot of light, but you will also have to learn how to control it. Even though you might not see it, when working near the ocean or near foliage you will have billions of invisible water droplets (but not invisible to your camera). The sun's rays and heat will then cause a glare or haze when they hit these airborne water particles.
Taking a tip from landscape and outdoor photographers, Ales used his polarizer to enhance the sky, control reflections and deepen color saturation.
A few quick tips:
1. Use a circular polarizer. In the past, linear polarizers worked best with film, but are now useless when working with today's AF systems.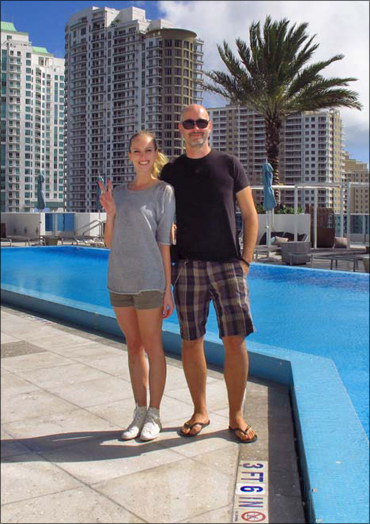 2. Even with the ability to instantly review your images with the camera's LCD screen, be sure to take a few shots without the polarizer. Unless you're shooting tethered and able to see a large image, it's a good idea to play it safe.
3. Be careful when using wide-angle lenses. With the angle of coverage being so wide, you might not get the same coverage across the image range.
4. Adjust the polarizer by looking through your camera and noticing the effects. Each surface will be reflected differently. Twist your polarizer until you achieve the desired effect.
5. Because polarizers are thick and rely on a secondary frame to be able to rotate, the degree of the vignette will depend on the size of lens you're using.
6. A good polarizer isn't cheap. It's better to invest in a well-built polarizer than use an inferior one trying to save a few bucks and having your images pay the price.
www.ShootTheCenterfold.com