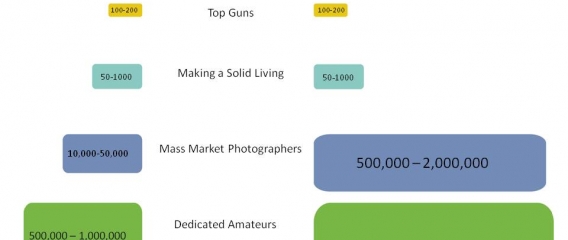 Click the image for full size.

People who have heard talk about the photography market have usually seen hand drawn pictures of what we call the photography market pyramids. The pyramids depict what has happened to the market because of changes in technology.  Lower costs, faster processors, incredibly creative software applications, and mass market adoption (re: scale) have all contributed to changes in our market.  It used to be that the pyramid was a really tall skinny pyramid.  On top of the pyramid were a select few top billing photographers.  These top guns were the Helmut Newtons or other "famous photographers"  and a few hundred others.  Then directly underneath in the second level of the pyramid you had a slightly larger group of photographers who were scratching at the ceiling trying to get up to the huge day rates at the top of the pyramid.  These photographers were making great money on solid jobs in their slice of the market.  They all had something in their image making and their attitudes and business acumen that set them apart.  Some were still life photographers, some shot ad jobs, and some were high end wedding and event photographers, or great editorial or fine art photographers.  The next layer (the third layer) of the pyramid housed the bulk of the professional market.  This layer consisted primarily of portrait and wedding photographers and studio photographers.  The third layer had a barrier to entry – part of it was vision (or the photographers "eye") and business capabilities of the photographer and part of it was the craft.  The craft or technology of photography separated and consistent creative process separated this tier from "some guy with a camera".  Back then, there was a lot to learn and a lot to buy.  You needed the right tools and the right knowledge…and some of those tools were really expensive.  The bottom tier represented the hobbyist.  These were people who loved photography.  Back in 1985 cameras were expensive, processing was expensive, and getting good images took a commitment to learn how to expose you film and how to print.  So the size of the hobbyist market was limited.
Fast forward to 2010. Advances in technology have flattened out the pyramid. The base is broad and the entire pyramid encompasses thousands of times more participants than it used to.  At the top of the pyramid you have the same number of "famous top gun photographers".  Some might argue that the earnings have gone down, but there are still top guns making big day rates.
Just under the top gun section of the pyramid we have roughly same number of photographers scratching to become top guns as we had back in 1985.  But on the other hand, their earnings have actually held up pretty well.  They are shooting more Pottery Barn catalogs and getting better rates for top billing weddings as they add more services and products to their toolkits.  Some are using new tools like the Foba TURNA turntable for shooting flash animations of product that they used to deliver only as still images.  Some are using DLSR video to shoot motion where they previously had only shot still.  And others, now that they have the tools to work more efficiently, have more time to spend perfecting their art and making images that redefine image creation or to refine how they market themselves.  Those who embrace the technology generally win.  This month, Digital Video magazine (dv.com) had a great story about how Shane Hurlbut (Best known as Director of Photography from Terminator Salvation), was using Canon 5D MKII's to shoot a segment for US Navy Rescue Teams. The 5D allowed his team to shoot faster and in ways that they could not with larger legacy camera systems.  Hurlbut embraced the 5D MKII when it first came out and is now shooting better-faster-stronger because of this new technology.
So let's look at the next level of the pyramid.  This level got a lot larger.  At the Wedding and Portrait Photographers International show (WPPI) this year there were over 30,000 attendees.  One of the show organizers told me that more that 50% of the attendees were coming to the show for the first time.  One of the reasons for this increase is the accessibility of image making tools.  The barrier to entry as a to entry level photography has dropped substantially.  A lot of these new people at WPPI were coming to learn how to "make it".
Finally, the base of today's photography pyramid is the non-pro or the aspiring amateur, and this is where the pyramid had broadened the most. At this point in time we have millions of photographers who love making images and video.  And while they might be participating in the micro stock market, they are, for the most part, members of photo sharing communities.
However, there is one thing that has remained constant throughout the last 2.5 decades despite advancements in technology: being a photographer requires much more than being able to take a few good images and throw them up on Flickr.  It requires stamina, consistency, networking & people skills – it's a business and you need the whole package to "make it". That is why the top tiers of the pyramid have retained much of its shape.  To be successful you need to have an all encompassing passion for making great images no matter the environment.  You need to be focused and relentless.  Sure a hobbyist might be able to create a great portfolio of 20 (or ever 200) beautiful images, but what happens when you hand them an assignment with an uncooperative team at a boring location with models who don't fit the wardrobe and a makeup artist that doesn't show up? Can they still get the shots that were exactly what the uncommunicative art director wanted?