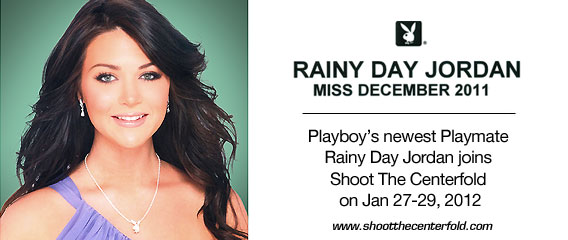 "Playboy's Miss December, Rainy Day Jordan has dreamed of being in Playboy magazine forever.  With her incredible personality, humble attitude and southern Texas accent,  Rainy Day Jordan had Playboy photographers Ric Moore and Jarmo Pohjaniemi instantly overwhelmed during initial testing and centerfold shooting sessions with this extraordinary model – and Hef, well he was no different- instantly approving her with Playmate status.
"Rainy Day Jordan was one of the best models I have ever worked with" quipped Jarmo Pohjaneimi following his centerfold testing shoot. "She has that girl-next-door look that was identified the first time I ever saw her  – she is absolutely incredible."
To fuel the intrigue even further with this gorgeous Playmate, one only needs to briefly chat with Rainy Day about the other women in her family: "Well, my mom's name is Windi, her sister's name is Dusti, I have a great aunt Sandi and on the other side of the family there's a Stormy" she commented, with a great big smile and personality just oozing from her as she spoke.  Rainy Day will be the featured Playmate model for the next upcoming "Shoot the Playmate" seminar/workshop in January.
Mentors for this event will be the dynamic team of Jarmo Pohjaneimi and legendary centerfold shooter Arny Freytag – as they guide, instruct and coach you through tricky lighting setups, posing and much more!  This seminar is guaranteed to help you to reach new heights of professionalism and shortcut many years of tedious trial and error learning.  Best of all, you'll retain much of our course content, tips and techniques for the rest of your photography career bringing just a ton of return for you on this very modest investment in your personal professional development.
So if you've been waiting for an opportunity to really sharpen your photography skills, associate with some of the best photographers in the world –  and truly have been saving for a "Rainy Day" – here's your chance!
Attend this Shoot the Centerfold Seminar/Workshop* January 27th through 29th 2012 in Miami, Florida and experience the ultimate competitive edge for your photography career.
*Space is limited for this incredible opportunity, so you'll want to book your space early.  Call 305 389 7698 or visit www.ShootTheCenterfold.com  |  info@shootthecenterfold.com