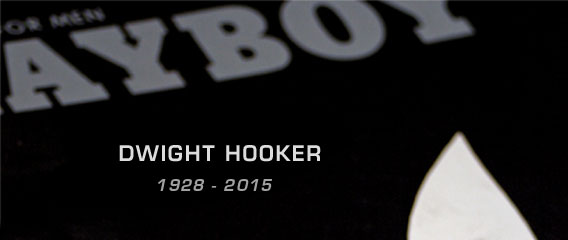 Just learned that Dwight Hooker, one of the mainstays of the Playboy photography staff during the '60's, '70's and '80's has passed.
Dwight ran his own photography studio in Detroit when Playboy hired him to be the club photographer in that city. He did so well that Vince Tajiri, then Playboy Photo Editor, brought him to Chicago and put him on staff.
Dwight shot everything from Playboy Playmates, to Girls of, to Bunnies, to travel, to food and drink, to What Sort of Man ads, to architectural shoots, to party shots and more. In other words, he was a master photographer regardless of the subject.
He was a great guy to travel with, always worked hard and played hard. Women loved him and he loved women…and married more than a few. He died holding the world record for number of sheets of 8×10 film used on one Playmate shooting. 837. Those were the days when Hef insisted that we get things right….no matter how long it took or how expensive it got.
That Playmate shoot was for the Collinson twins, Playboy's first twin Playmates. Dwight had a great sense of humor, made me crazy trying to keep track of his expense account, always had an interesting story to relate and could be depended on in most any situation. He could light anything from a shot glass to an amphitheater. I'll miss him.
~Gary Cole