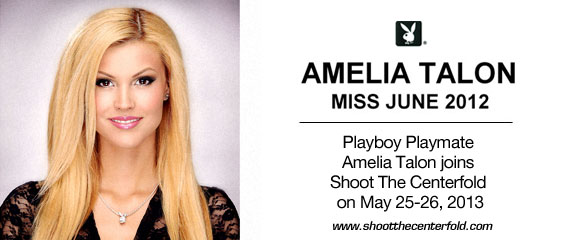 We've had our eye on Playmate Amelia Talon for quite some time. Not long after catching Hef's attention at a testing for Playboy, she appeared in several Special Editions and it wasn't long before she was selected as Miss June 2012.
Amelia's a self-professed "geek-ette" due to her penchant for all things gaming. The 22-year-old gamer even has a Pokémon Poké Ball tattoo on the nape of her neck. Her favorites include World of Warcraft and Call of Duty.
"I wasn't sexy when I was younger. I was the artsy goth girl on the corner, but look at me now – I'm a successful model and a Playmate. I feel like an ugly duckling who's turned into a swan," says Amelia.
Well, she's indeed Playboy's butt-kicking gamer now, but somewhere the girl who loved to play dress-up is still there, as her blog reveals a Top 10 of sexy cosplay outfits (and it comes as no surprise there's a Playboy Bunny on the list!).
Amelia's love of the camera and posing is sure to make her a hit at STC's Bahamian seminar, so come join us!