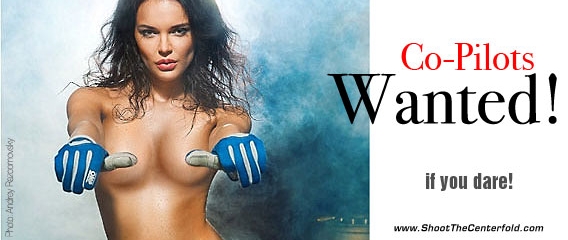 Take a girl who's as burning hot as Arizona asphalt on the hottest day in summer, combine it with a sassy Ukrainian attitude and you've got the fastest, sexiest Playmate on the planet.
If you ever run to Inessa Tushkanova at a red light, don't think that your supped-up Subaru will make even the slightest impression on her. Inessa is a rally driver who has won a lot of races and will easily leave you in the rearview mirror eating her dust! Before you get your hopes up too much up, let's find out what really does impress the world's fastest centerfold.
Interview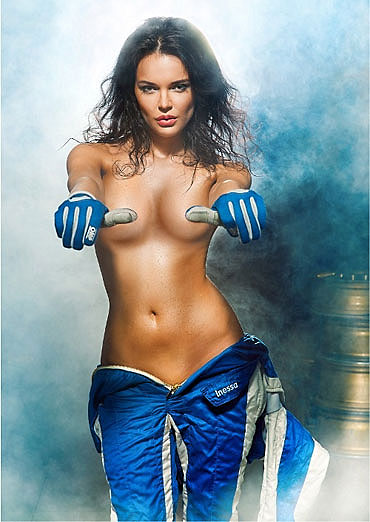 STC: Rumor has it that you are the fastest Playmate ever. Tell us where speed matters and where is that you don't mind taking it slow?
Inessa: Speed is important everywhere!! It makes you feel alive and really helps you to appreciate every sensation life has to offer.
STC: So, when you get romantic… gears shift, speeds change – are there more curves involved than just fast, straight roads?
Inessa: That's something you'll have to ask my partner. Let's just say that he enjoys the ride. 🙂
STC: They say that everybody can drive fast on a straight road, but they chicken out and hit the brakes when they see curves?
Inessa: I'm not sure about that because I rarely use my brakes. If you can't handle the curves at top speed, people are just going to pass you by. That's also true about life in general.
STC: Your curvaceous figure clearly speaks for speedy situations and it can be confusing to see the differences between the brake and the gas pedal. You must get this quite often?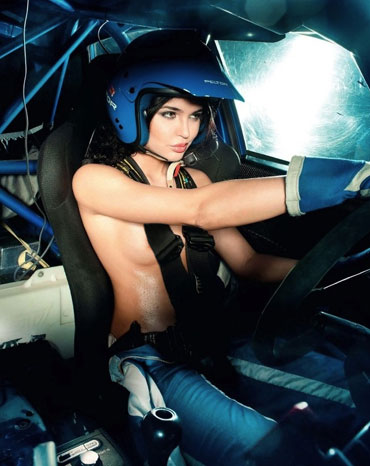 Inessa: You don't need to look at your feet when you walk, do you? Let guys think what they want. When you're behind the wheel of a racecar, you don't even have to look down anymore because the car becomes a part of you. Everything becomes instinctual and you don't even have time to think, you just act and react. To me, driving is the same as breathing. It's who I am. If you want to get along with me, you're going to have to decide who's going to be in the driver's seat.
STC: What's the fastest you have ever driven?
Inessa: The fastest I've ever gone is about 200(mph), but that was really pushing it because normal race speeds for rallies are anywhere from 120 to 150.
STC: What's the fastest you've gone and crashed?
Inessa: About 180. It was a snow-covered track and as you can guess, it was easy to lose control of the car, especially when you're going fast.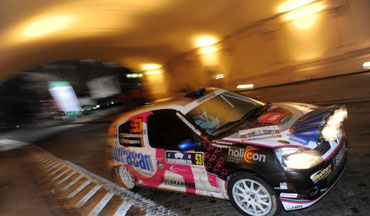 STC: What do your fellow rally drivers think about you besides you driving them crazy and crashing?
Inessa: You'd better ask them. It's a male-dominated sport and they don't appreciate women being involved because it's easier for us to get sponsors. That, and their egos tend to get in the way. I don't know about them, but I'm there to race and WIN!
STC: You have won rallies. It must be embarrassing for top racecar drivers to have you beat them.
Inessa: If they're good drivers, there's no shame in losing when you've done your best. It's just that someone else's "best" was better than yours, that's all.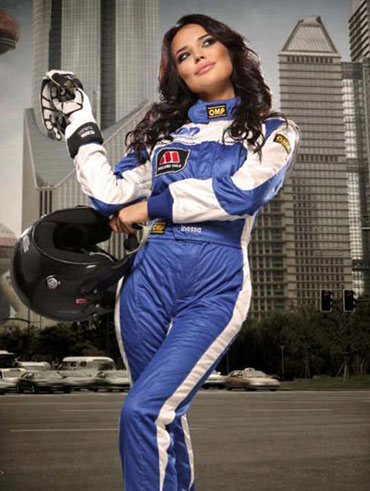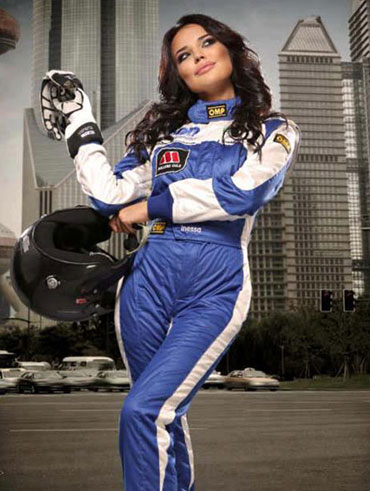 STC: What's your favorite car?
Inessa: Mine! I have a V10 BMW M6, but I want a have 911 Turbo S Porsche.
STC: What other passions do you have besides racing?
Inessa: Yoga, sport bikes and traveling.
STC: Do you consider yourself a tomboy?
Inessa: Yes and no. I like being with the guys because I like feeling the rush of competition, but I also like feeling like a woman, which is one of the reasons I posed for Playboy. It's possible to have the best of both worlds. There's nothing that says you have to be one or the other.
STC: Which has brought you more success and notoriety, racing or your looks/Playboy?
Inessa: It's both – they go hand in hand. Racing is what I like to do, but Playboy helps because it brings attention to the sport. I posed nude not only because I wanted to, but because it was also a good career move, even though many people don't see it like that. Fortunately for me, I'm not too worried about what they think. =D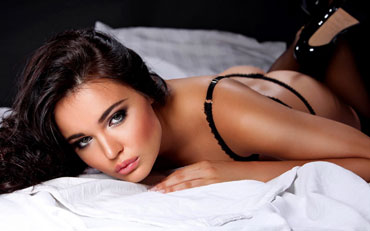 STC: Can you change a tire if necessary? (We're sure that there's no shortage of helpers.)
Inessa: Of course I can! What kind of question is that? (laughs) It may surprise you, but I even work on my own car! As a driver, you're expected to be able to take care of your vehicle. To be honest, I like doing it. It's a good feeling to know that if something breaks or goes wrong, you'll know how to handle the situation and get it running again.
STC: Do you plan to do modeling as well? There must be a few nice offers and sponsorships from car-related companies?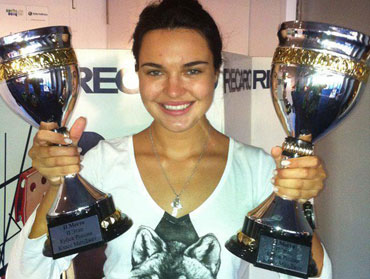 Inessa: I don't have any offers at the moment but it would be nice to have them, and I wouldn't mind modeling if it helps me to do what I like.
STC: Do you find that some drivers don't take you seriously because you've been in Playboy several times?
Inessa: Yes, it's true, but when they're behind me they change their minds. As I said previously, it's a man's sport. If I couldn't prove that I'm just as good or better than they are, I wouldn't be out there. I could drive naked if I wanted to and still be able to beat them if I set my mind on it.
STC: What do you think of Formula 1 and NASCAR racing?
Inessa: I like NASCAR because it's a challenge I'd like to try. It's a slightly larger vehicle and a lot more power behind it.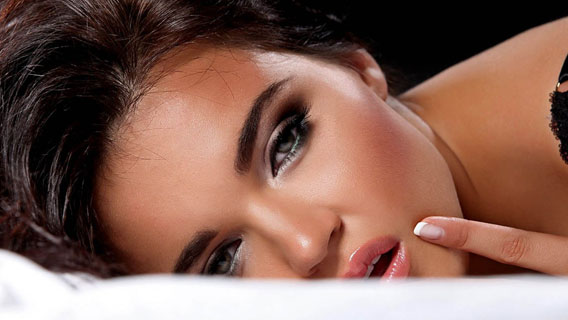 STC: Are you single?
Inessa: Single, and I plan on staying that way for the time being. Sure, I go out, but nothing serious. My career comes first right now.
STC: What do you look for in a man or woman?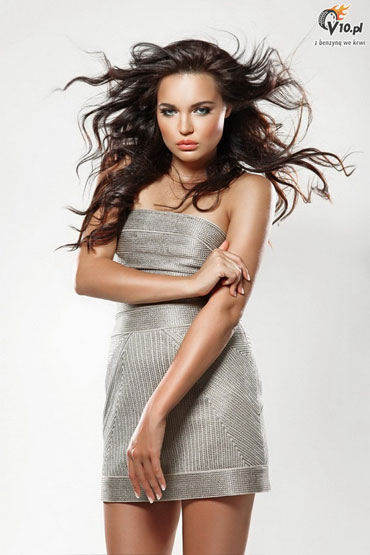 Inessa: Being a model, I know that looks are at best an illusion. When I meet someone I look at the inside, I look at his heart. Words can be misleading and as we all know, a man who is interested in a relationship will always tell a girl what she wants to hear, but actions are a truth that can't be hidden.
STC: If you wouldn't be racing cars, what would you be doing instead?
Inessa: I'm rally driver!! That's all I know. It's all I want.
STC: Are you a good backseat driver?
Inessa: I can drive you crazy on a front and backseat 😉 I'm a driver so I know how I'd like to drive, but I know enough to keep quiet when someone else is behind the wheel, if you know war I mean!
STC: When with a male companion and you're both in a car, who's in the driver's seat?
Inessa: I'd rather be in the driver's seat, but I usually let a man drive. It's a guy thing. It makes them feel better.
STC: As an expert driver, how do you feel when someone else is driving? Do you sometimes think their driving skills need improvement?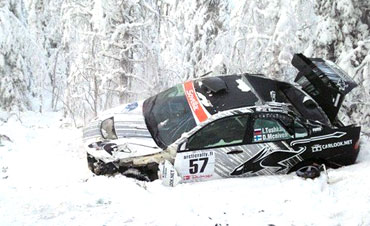 Inessa: I never drive with person I don't know. It's too uncomfortable! Even when I know the person, I'm still hesitant because as a professional driver, you get to see firsthand what happens when people make mistakes.
STC: What drives you crazy?
Inessa: Relationships! Enough said. =D
STC: Any plans to come to the USA anytime soon? What would be the purpose of your trip?
Inessa: I would like to work on a project involving cars and try to be an actress in a movie – it's my dream. It would be great because I could do my own stunts and the race scenes would be real.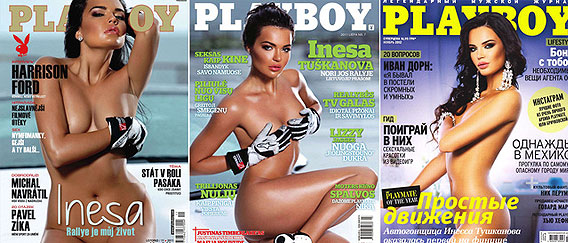 STC: You have plenty of fans around the world, ourselves included. We wish to see more of you in the future and I'm sure we will. Who knows? Maybe a photo session for our fans with you behind the wheel could be around the next turn?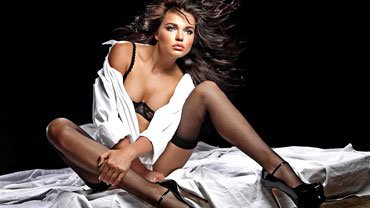 Inessa: If you invite me for a shoot, I'll do my best to make sure it happens!!!
STC: Anybody out there ready for the speed challenge or for a quickie quarter-mile? We didn't think so!
www.ShootTheCenterfold.com