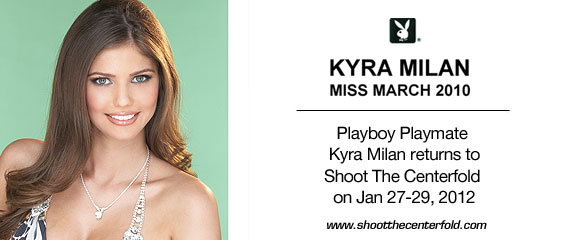 Playboy Playmate Kyra Milan (Miss March 2010) returns to Shoot The Centerfold exactly one year after she first appeared at our very first seminar / workshop held in Hollywood, Florida at the beginning of 2011.
After looking back and listening to a multitude of requests, it's now time for round two! Kyra offers beautiful poses and looks for both glamour and fashion. She keeps herself busy as a Playmate with her schoolwork a priority. While even numerous calls and requests from Elite modeling agency have been put on hold, Kyra has agreed to attend and we at the Shoot The Centerfold feel very lucky and honored that she can once again join us for our Jan 27 – 29, 2012 seminar / workshop in Miami, Florida.
"It's not every day that you get to work with such talented photographers and I really enjoyed the first time around," says Kyra, who is clearly a photographer's favorite due to the sheer volume of requests for her to once again be in front of the camera.
We at Shoot The Centerfold think of Kyra as one of the most talented Playmates we have ever worked with, and as you can tell by the samples below (photographed by Jarmo Pohjaniemi for Elite and her fashion career), Kyra can hold a pose with a focus and intensity few others can match.
For Jarmo, there is more to photography than just one look or perspective. He explains that true photography means being able to control every technical and emotive aspect of your craft, especially when working for clients who may or may not share your personal photographic vision.
"This photographic discipline is often neglected by many photographers, even those who are quite experienced. One of the keys to a successful photography career is to be able to change at the flip of a switch based on the demands and needs of your client," says Jarmo. "Very often we can easily get sidetracked and photograph only what we personally like instead what clients have requested."
This exciting and challenging aspect of photography will be addressed at the next Shoot The Centerfold seminar/workshop and include methods and practices that will add variety to your work and open yourself to understanding this frequently overlooked facet at out next seminar / workshop in January 27-29, 2012 in Miami, Florida.