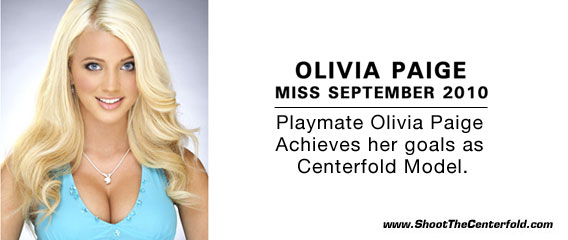 Beautiful and talented Olivia Paige started building her first portfolio at an early age. "I shot with a lot of local photographers and entered pageants, which helped build my confidence immensely." As she got older, Olivia set her main goal toward becoming a Centerfold — and she achieved that goal with great success.
Now she wants to help all other models and photographers attain their goals as well. Olivia will be one of three featured models posing for Playboy professionals both past and present — Arny Freytag, David Mecey, and Jarmo Pohjaniemi (OMP Member #68348) — at Shoot the Centerfold when it returns to Las Vegas on September 16-18, 2011.
The weekend will be filled with photo shoots, seminars, and workshops which are guaranteed to instruct and inspire the attendees. Not only are you learning photography from the best, you can also now brush up your skills on DSLR movie making with Jarmo Pohjaniemi, who has produced all STC trailers, just to mention few.
Playboy staff members were won over by the model, and quickly booked Olivia for several major assignments. "It all started when my mother and I traveled from Holley, NY to Las Vegas, NV to attend a Playboy Casting Call. From there I shot for Special Editions, filmed for Playboy TV, then tested for Playmate before shooting my Centerfold!"
Her Centerfold experience as Miss September 2010 was very memorable. "I had a ton of fun at my Centerfold shoot! Everybody always asks if I was nervous, but I was much too excited about the opportunity at hand that all I could think was to embrace the moment no matter what the outcome and have fun!"
Being a Centerfold has changed her life in more ways than one. "Well… I never thought in a million years it was possible to ever reach my dream of becoming a Playmate, let alone the fact that I now live at the Playmate house — just across the street from the Playboy Mansion!"
Olivia describes herself as "outgoing, creative, self-aware, and extremely excited about modeling!" She is personally looking forward to the upcoming weekend in Vegas. "I'm looking forward to meeting a lot of great photographers, and being able to continue my learning experience as a model! There is always room for improvement, and you can never practice anything too much!"
She feels that both photographers and models can benefit by attending Shoot the Centerfold. "I think that the photographers, as well as the models, will benefit from the workshop because of the amazing mentors that we have leading the seminars. Plus everyone will get a chance to work and collaborate with new people! It's always important to be confident enough in your work — as a model or as a photographer — to be able to deliver your best performance and ultimately a great end result!"
Olivia has some great advice for models just starting out. "PRACTICE, PRACTICE, PRACTICE!! Get comfortable in front of the camera. The more you practice, the more aware of your body you'll become, the more confident you'll become, and the more efficient you will be at photo shoots!"
The STC event will be held at the newly renovated Tropicana Hotel and Nikki Beach Club. The weekend will include an opening night VIP reception and a red-carpet arrival at the club event.
Olivia can't wait to meet and work with the participants of the upcoming Shoot the Centerfold in Las Vegas. She will be joined by fellow Playmates Jessa Hinton (currently Miss July 2011) and Ashley Mattingly (Miss March 2011) at the workshop.
The exclusive event is set for September 16-18 in Las Vegas, NV. For all the details and to register for this incredible opportunity, Click Here.