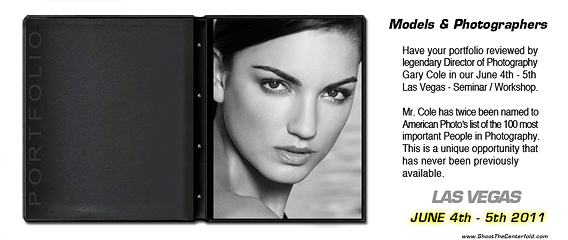 Have you ever really wanted to know what it takes to go from 'survive' to 'thrive' in the global photographic community? Well here's your chance to find out from Gary Cole, a man who has defined these terms for over 30 years as Playboy Magazine's Director of Photography. Come to Shoot The Centerfold's Las Vegas Seminar / Workshop to sit down one-on-one with Gary, have him review your portfolio and give you insight on how to take your career to the next level. This is an opportunity that has never been offered before; Only the likes of Helmut Newton, Steve Wayda, Pompeo Posar, Richard Fegley, and our own Shoot The Centerfold Photographers have received such personalized instruction from Mr. Cole, and their legacies stand the test of time.
Reserve your seat to meet Mr. Cole
GARY COLE
Senior Vice President
Photography Director
Sports Editor
Playboy Magazine
Playboy Enterprises, Inc.
Gary Cole has been the Director of Photography for Playboy Enterprises, Inc. for over 30 years. During that time he has managed the acquisition of all photography for Playboy and supervised photographers and production staff, studios, film and digital labs and photo archives. He has established and maintained relationships with leading photographers around the world while managing an $8 million dollar annual budget.  He has extensive experience in approaching and negotiating agreements with celebrity talent from movies and TV and has been involved in all creative aspects of the magazine.  Gary has twice been included in American Photo's list of the 100 Most Important People in Photography.
Gary is also Playboy's sports editor and has written over 50 major articles for the magazine on college football and basketball as well as pro football. He  selects Playboy's prestigious Playboy All-America teams and has acted as on-camera expert on numerous College Football Preview television shows, all syndicated nationally on major networks.  In a study of various media outlets, The Village Voice judged Gary the nation's most accurate college football prognosticator over a ten-year period. In addition, Gary is also an accredited voter for the annual Heisman Trophy award and  was the 2002 recipient of the Jim Murray Outstanding Sportswriter Award by the All-American Football Foundation.
Taking on the additional responsibilities of Editorial Director of Playboy.com from 2004-2008, Gary led the successful transition of Playboy's brand from print to its highly successful online presence. He continues to monitor content quality and provide creative input for all of Playboy's internet sites.
Before joining Playboy, Gary worked for WBBM-TV (CBS) as a writer/producer, for Robert Snyder Associates as the supervisor of a commercial photography studio and as a book editor for Playboy Press.
A native Chicagoan, Gary attended the University of Illinois before earning a BA degree in creative writing from Northwestern University where he studied under Edward Hungerford and British poet Stephen Spender. He has extensive experience coaching youth sports including a 13-year stint coaching basketball for FAAM (Fellowship of African American Men) in Evanston, IL and is also an active fundraiser for the Muscular Dystrophy Association.