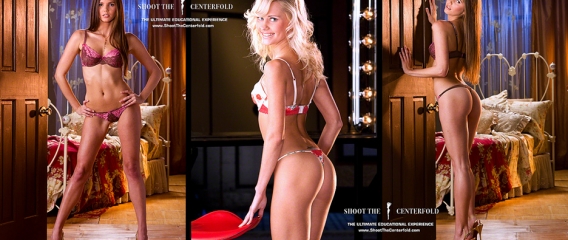 Click the image for full size.
One of Miami's own photography instructors, Eugene Breaux, attended our seminar with his students. Here is what he had to say and some example photos by Eugene that speak for themselves:
Shoot The Centerfold seminar was a fantastic and wonderfully inspiring experience meeting and working with these 3 high caliber photographers. The step by step, light by light instruction in small groups was perfectly done. Even after my 40 years experience I learned a few new things myself. This is a seminar you don't want to miss next time around. We started to apply some of the techniques we learned at our very next workshop class and photo shoot.
We had 4 of our workshop models and our MUA Jessica working at the seminar. We also had 2 prizewinners from our group of photographers. Keith Hardy won a Lightware lighting case and Juan Prieto wins the Grand Prize, $1,400.00 Hensel Complete Lighting Outfit. Well that alone was worth it! As an added bonus for members who attended this Seminar get to go to the next one for free, pretty good, hey.
Every member gave it a top 5 star rating and glowing reviews on our website www.light-study-pro.com. We all appreciate the opportunity given us by the Shoot the Centerfold Photographers and help in giving back to our photographic community.
Eugene Breaux