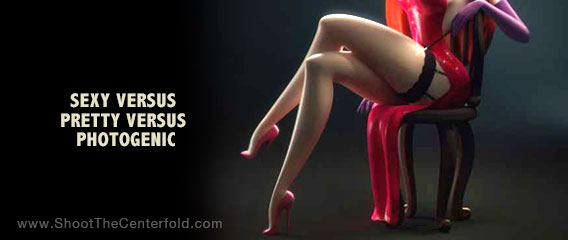 I've been amazed at how many times over the years people, yes, even photographers, have asked me what we at Playboy looked for in a model. "What do you look for in a Playmate?" The answer seemed so obvious to me that sometimes I was stuck for words. I titled this blog "Sexy Versus Pretty Versus Photogenic" because so often there is a tendency to confuse the three or to consider them one and the same thing.
Another aspect of the confusion is whether we are making our judgment based on in person interaction or looking at a photograph of her. While we used our eyes to sometimes make in-person judgments about whether to test shoot a model, I don't ever remember a case where we made a final decision about a girl's Playmate potential by simply looking at her, even if she was standing on a set not wearing a stitch of clothing.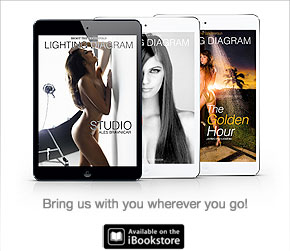 Sexy
"Sexy" is an attribute that some women project by their mere presence. Some women enhance that quality by their choice of clothing, shoes, makeup, hair, movement, flirtatiousness, her seeming availability. Those qualities don't necessarily translate into sexy in captured images. Conversely, a woman who does not naturally exude an obvious sexuality in person may, in the hands of the right photographer, come across as being very sexy in photos. I can think of dozens of Playmates, dozens of celebrities, who exactly fit that description.
Pretty
Don't allow your emotions toward the model to enter into the equation."Pretty" is another quality usually based on the judgment of the eye and it is often a judgment made at first glance. Figure, hair, skin all come into play. Smile and an engaging personality also figure heavily in the equation. However, sometimes the camera reveals flaws that our eye didn't see or looked past since other stronger attributes predominated our attention.
Photogenic
So now we come to "Photogenic" and here one judges not on an in person evaluation but on what the camera can see and capture. Yes. We're still looking at hair, complexion, figure. However, we're looking from a different and objective perspective. Is each side of the face proportionate?
Are the eyes the same or is one slightly smaller or does the lid droop ever so slightly? Are the teeth straight and white? Is the nose too long? Is it straight? Is it slightly bulbous at the tip? Are the breasts full and even? If there has been a breast enhancement, is it completely natural in appearance and does it fit the physique of the woman? Are the nipples proportionate to the size of the breast? Has the model made the unfortunate decision to decorate part of her body with an ugly tattoo?"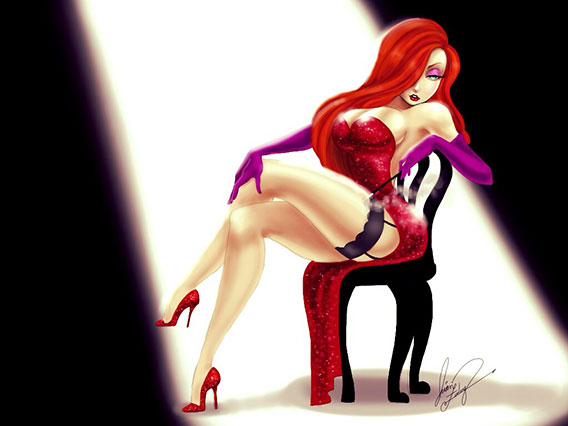 Jessica Rabbit by Oaqua
I know I'm sounding awfully nitpicky here and perhaps a little cold in my assessments, but that is the job of both photographer and editor when judging a woman's glamour modeling potential. One has to be coldly critical. She might be the nicest, sweetest girl in the world. You might love her personality. You might even feel as if you love her…at least at that moment. However, that doesn't necessarily mean she's a great glamour model or a Playmate. Even when you are judging images, don't allow your emotions toward the model to enter into the equation.
As we all know, the better the model, the better the picture.To be clear, I'm really only talking about glamour and nude models in this discussion. Fashion models, especially high end fashion models, have a completely different set of photogenic standards. In that world, being gaunt may be a strength. Having a very unusual look could be just what French Vogue or Dior is looking for. Certainly, they have their own checklist when it comes to perfect skin, teeth, etc. However, it is a different checklist, at least in some aspects, from that used in evaluating a glamour model.
As we all know, the better the model, the better the picture. That was why Herb Ritts, at the height of his fame as a photographer, often refused to shoot certain models, even certain celebrities. "I can't make them beautiful," he would often say. And if he couldn't make them beautiful, or capture the beauty within them, he would simply refuse the assignment. While none of us have that luxury, it is important that we remain objective in our assessment of a model's potential.
~ Gary Cole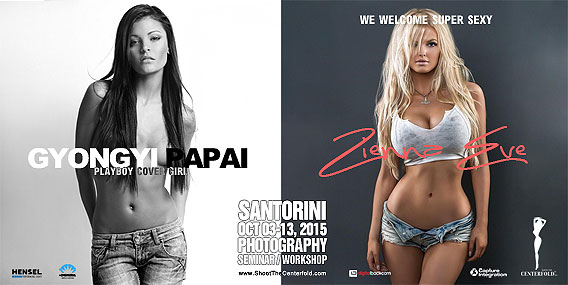 © 2015 Copyright ShootTheCenterfold.com. All rights reserved.