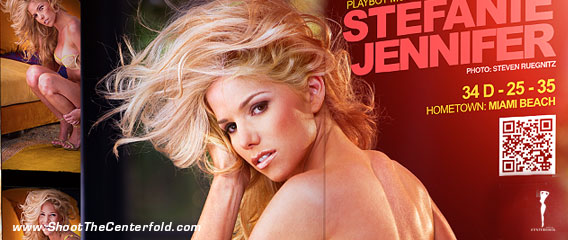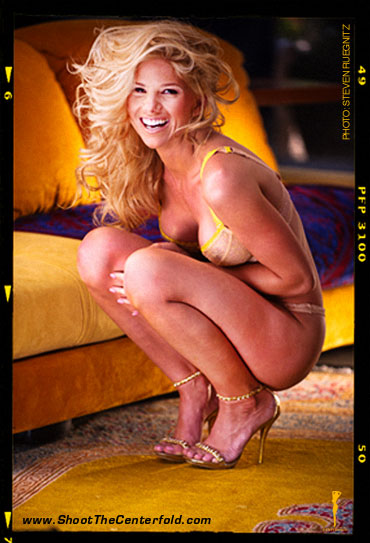 According to Playboy magazine and our own investigation, Stefanie Jennifer is also known as a hottest BarMate in Miami Beach, which has also earned her the title as "Playboy's Miss May BarMate 2012."
Ladies and gentlemen, let's welcome Playboy model Stefanie Jennifer of Miami Beach, Florida as one of the models for our Oct. 13-14, 2012 Shoot the Centerfold seminar / workshop.
Here is a brief interview and her take on our upcoming seminar. Tips not included!
Interview:
STC: Thank you for joining the Shoot The Centerfold seminar / workshop for the second time. You seem to have gotten a lot more under your belt since your first appearance at the STC seminar in January. Tell us what happened!
Stefanie: A big thanks goes out to you guys and to Shoot The Centerfold attendee photographer Steven Ruegnitz. A few shoots and next thing I see are my pictures in Playboy. I also was Playboy's Miss May 2012 BarMate of the Month.
STC: According to Steven, your sparkly smile and appearance is very hard to resist. We are quite convinced that you have also made a big impact on many other photographers.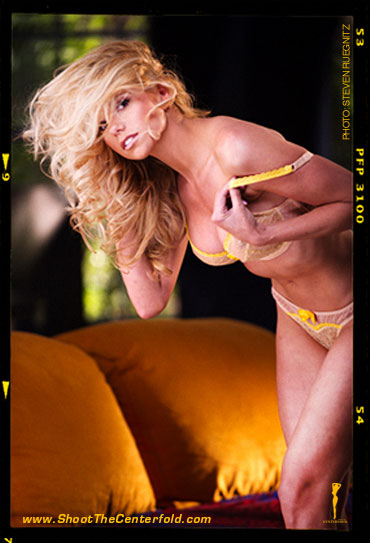 Stefanie: That's really nice to hear and I hope that my popularity grows even further… maybe a STC attendee from the October seminar can shoot me for the next hot pictorial for Playboy!
STC: Well, that should be a no-brainer, plus we have photographic evidence.
Stefanie: Modeling is something I have always wanted to do. I really love taking pictures and seeing myself in magazines or anything sexy. Lots of people always said I should've gotten into modeling. So far, it's been great and I'm looking forward for more shoots to come.
STC: You moved to Miami from South Jersey in hopes of modeling. For people who aren't aware, South Jersey is a popular place to be, just like South Beach Miami. What are the biggest differences between these two places?
Stefanie: Everything! They say that birds fly down south for a reason and I've been called a "rare bird" from time to time, among other interesting names. I like the beach and the night life, palm trees, bikini trips and the white Caribbean sand between my toes, which seems to get in all the hard places to reach! The modeling industry here in Miami is definitely better, too. I'm really excited to meet new photographers in hopes of future shoots.
STC: What kind of qualities do you look for in a photographer?
Stefanie: Obviously, a photographer's work is something I look at first. I get so many requests from photographers only to realize that most of them are not yet qualified yet to shoot professionally. No offense to anybody, but I don't want to waste my time by helping someone pretend they're a photographer for a project that doesn't go anywhere. However, I am willing to shoot with anyone for practice or portfolio purposes. A good model can tell when photographers know what they're doing. New photographers need to know their skill levels before taking steps that might be too big for their shoes. I understand very well that we all have to start somewhere, just like I did, but we also need to help each other instead of making false promises that never see daylight.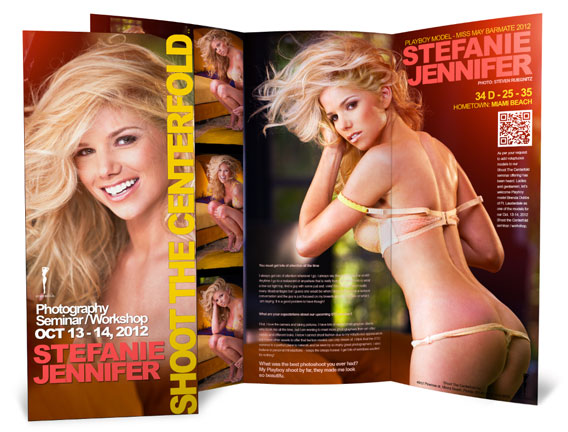 STC: You are one of the hottest bartenders in Miami Beach, which was also one of the reasons for your Playboy BarMate pictorial. Tell us about the ups and downs of a sexy BarMate such as yourself.
Stefanie: I'm sure most of you remember seeing Tom Cruise's "Cocktail" movie where he elevates the bar scene to rockstar status. Being a BarMate in one of South Beach's hottest spots can be very Cruise-like without the stunts. I have something else to offer to my clients that they seem to like better.
STC: And what exactly would that be?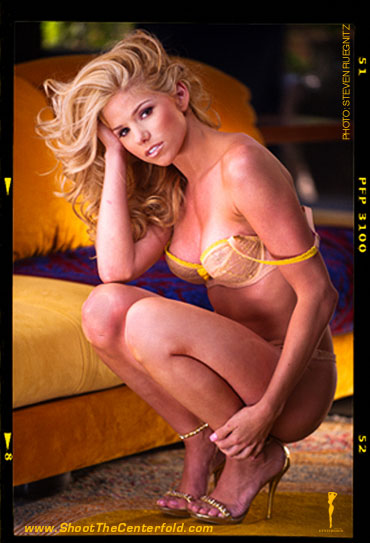 Stefanie: Come see me on Saturday night at The Clevelander bar and you'll get the picture. I may even throw in a surprise for you!
STC: Where do you see yourself in five years?
Stefanie: I'm a strong believer in planning for the future. Multiple pictorial endorsements under my belt would be nice and acting has been on my mind as well, but time will tell what's coming and don't let my blonde fantasy-girl look get in your way because I can promise you there is more to this blonde than meets the eye.
STC: Any hobbies?
Stefanie: Working out, rollerblading, shopping, and doing the normal girlie stuff… oh and I also love relaxing at the beach on my days off.
STC: Are you a morning or an evening person?
Stefanie: I am a little bit of both! [laughs] I love getting to bed early and getting up to workout and pamper myself. But I can also be a night owl, get me out with my girls and you never know what the night may bring.
STC: Tell us your worse and best photoshoot experience ever.
Stefanie: I really don't have any bad ones and I hope I never will. Sometimes you get a photographer who does not really know what to ask and you can tell that he might need a little more experience. Models like photographers who are on top of their game instead who just being somebody who owns a camera. I have a camera, too, but I couldn't take a decent picture if my life depended on it. That's why I like to stay in front of the camera, not behind it. The best photo experience by far has been my Playboy shoots and Steven Ruegnitz's shoot that that you can see in my brochure. He was so nice and paid attention to every detail in a shoot, including how I was feeling and if I needed anything. That's rare and pictures should tell you how things went – of course, it helps when you can learn from the best instructors.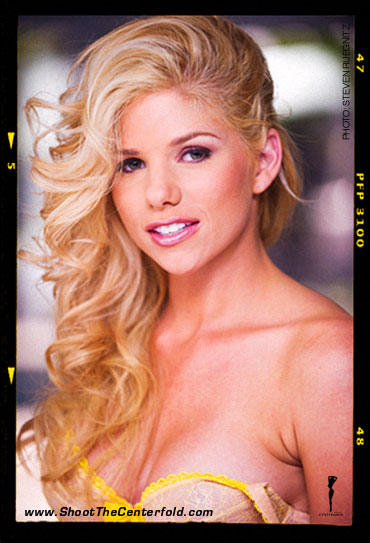 STC: So are you going to rock the house at next STC seminar in October?
Stefanie: You bet I am! Are you??
STC: Your confidence level is very inviting for any level of photographer. Do you shoot nudes?
Stefanie: Convince me! If I see light at the end of the tunnel, anything is possible. Steven had the perfect approach and I recommend that photographers learn what makes models tick. [laughs]
STC: Are you single?
Stefanie: Who wants to know?
STC: Nice. Are there any lens-loving recommendations?
Stefanie: Yes, make me look beautiful in your pictures.
STC: There we go, and we welcome everybody to take on Stephanie at our Oct. 13-14 seminar / workshop. (BTW, the best lens choices should be a 24-70mm and 70-200mm zoom.) Then again, Stefanie did leave room for improvement in this specify category.