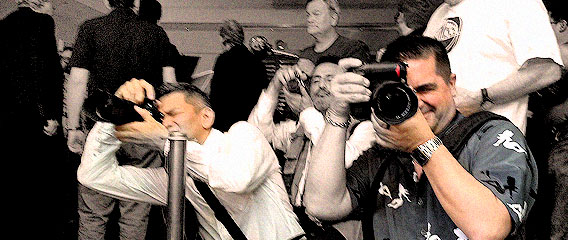 Dear fans, photographers and the curious;
This past weekend, Shoot The Centerfold had its very first real Glamourcon experience as the headliner for the venue. We had eight tables and two Playboy Playmates per table for a grand total of twelve beautiful centerfolds and models, all just in our booth alone!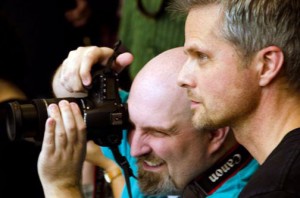 It was a heavenly and humbling experience, and if this wasn't enough there were an additional 40 Playmates in neighboring tables, ready to greet you and sell their headshots, autographs and magazines which you can set right next to your night table!
So much beauty and talent in one single room; it was such a life-changing experience. One attendee said that he thought that he had died and gone to heaven. The moment wasn't lost on me; I said to myself, "If only that old gang on mine could see me now!"
Going into Glamourcon, we did not quite know what to expect, or how the Shoot The Centerfold educational program would be received, since Glamourcon fans are mostly pin-up fans who travel long distances to see their favorite models and Playmates.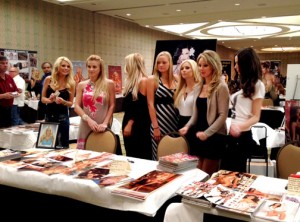 To our pleasant surprise, we quickly realized that we had more photographers than could fit into our mini-seminar/workshop ballroom. Fans who weren't necessarily photographers found their way to our booths, ready to learn and fire their favorite point-and-shoot cameras with our assistance, exploring the Playmate in front of them via their viewfinder.
In our seminar / workshop, we had two photo sets where everybody got their chance to fire their cameras, which varied from generic $25 point-and-shoot cameras to extravagant $50,000 Hasselblads with digital backs.
Of course, Arny Freytag featured his famous strobe-lighting set. My set was based on HMI constant lighting, which was offered for the first time at a Shoot The Centerfold seminar/workshop. Our goal was to offer more variety and give more shooting time for those who wanted to really let loose with their cameras.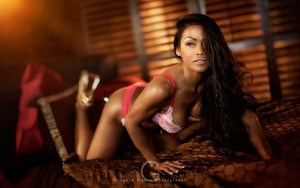 Clearly, there was no shortage of snap-happy photographers. I have never sat in the middle of a photo set with 50-plus photographers all firing their cameras at the same time. It was a satisfying feeling to know that everybody was very "gung ho" and ready to shoot Olivia Paige (Miss September 2010), Ashley Mattingly (Miss March 2011), and our very own Mary Alejo. When the shutter clicks finally stopped, several satisfied photographers walked away saying, "There is something about Mary!"
Even next morning when I woke up, I still kept hearing repetitious shutter clicks from all the different brands of cameras, almost as if I were listening to a paparazzo symphony orchestra at a red carpet event. This was perfect music to my ears, until the next morning when I took a shower that filled my ears with water and slowly drowned out the clicks.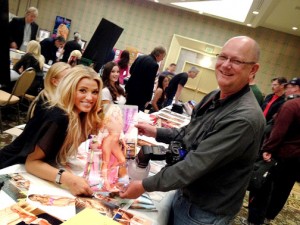 Countless satisfied faces and smiles indicated a time well spent. Even a few film cameras found their way to our set, and it brought back memories from the past as you could hear rolls of film being rewound. It felt as if I was walking down memory lane. There is something very special about film that plenty photographers still seem to miss. I'll always remember the famous words of Steven Spielberg saying, "Film is forever."
Talking about filming, Playboy TV was also there capturing the magic as it was being created. Tune your tube to Playboy TV in the near future to see how all this at Glamourcon played out. This was a very successful experience for Shoot The Centerfold, as well as its fans and photographers.
We thank everyone who came and stopped by our booth to say hello, and we send out a very heart-felt thanks and much appreciation to all the beautiful models and Playmates that attended the event and made it truly special.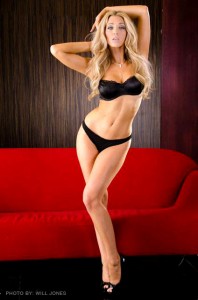 We look forward to seeing you again at the Shoot The Centerfold event coming soon to a city near you.
www.ShootTheCenterfold.com