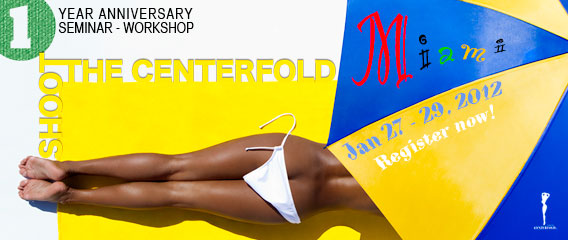 We are exited to present our one year anniversary seminar / workshop in Miami Beach, Florida on Jan 27th – 29th, 2012 were it all begun.
Arny Freytag, Jarmo Pohjaniemi and Shoot The Centerfold photographers will be highlighting an all new venue with very special guests from all over the world.
Our key-note speaker, Gary Cole – Director of Photography for Playboy Magazine for over 35 years –  will be back to speak about the business side of the industry and share his insight into the essentials of landing your first major assignment, views on the special challenges presented by digital photography, recollections of spending a career working for Hugh Hefner, the founder of the world's number one men's magazine. An opportunity will be made available to have your portfolio personally reviewd on one on one basis with Gary Cole and Jeff Cohen, the once Managing Editor of Playboy photo editor and former Executive Publisher of Playboy's Special Editions and the creator of Playboy's Casting Calls.
Mr. Cole has twice been named in American Photo's list of the 100 Most Influential People in Photography and has guided Playboy's stellar staff of photographers including Pompeo Posar, Mario Casilli, Richard Fegley, Dwight Hooker, Don Azuma, David Chan, Jarmo Pohjaniemi, and Arny Freytag. He has also worked with the world's most celebrated freelance photographers including Helmut Newton, Herb Ritts, Pete Turner, Bert Stern, Phillip Dixon, Matthew Rolston, Lucien Clergue and countless others.
There is no other event of this type in the world, allowing you direct access to meet and work with Playmates, celebrated industry professionals, and celebrities, while enjoying fabulous sunny Miami Beach, Florida.
See you there,
Arny & Jarmo
Don't miss out, limited space available.