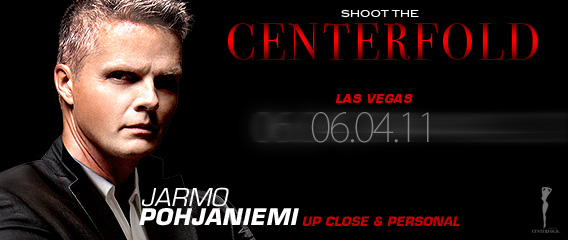 Las Vegas is the site of the next "Shoot The Centerfold" event, presented by three Playboy veterans — Arny Freytag, David Mecey, and Jarmo Pohjaniemi (OMP Member # 68348). The event will be held at the Tropicana Hotel on June 4th & 5th, 2011. The weekend promises attending models and photographers an exciting mix of workshops, seminars, photo shoots, Q and A sessions, model competitions, VIP parties, and poolside photo shoots. To sign up for this exclusive event, go to www.shootthecenterfold.com for all the details.
Born in Finland in the early 1960s, Jarmo moved to Portugal at the age of seven. He grew up on his family farm, then served in the military his native country. After a successful career as a male model, Jarmo moved behind the camera and made his name as one of Playboy's top photographers. He has also found success as a fine artist, recently showing his sensual, seductive images during Art Basel Miami and several other fine-art galleries
Jarmo's earliest artistic experience was not with photography but music. "I was trained from a young age to play piano, so music was one of my first creative outlets. Later in life, this passion would return as I entered the record industry as a producer."
Trying to find his place in the world, Jarmo relates that he stumbled into the fashion industry during his early 20s and pursued modeling for over a decade. "I always tell people that there is nothing better than owning a business that has no overhead. Being a model was exactly that. Traveling the world, meeting people of different ethnicities and get paid to do so without any business costs out of my pocket. It was a very good experience that finally brought me to the USA, via Paris, Milano, London, Tokyo and many more.
The most rewarding thing about being in front of the camera for Jarmo was that it gave him an opportunity to see the world. "Modeling opened my eyes to things I never would have encountered in my home country of Finland. "Meeting so many different  people, tribes and cultural movements was a schooling that cannot be gained though books in a classroom; you must experience them for yourself. The second most important lesson, that really got me going, was being able to see the world's top photographers and models in action. Being a model is one thing; being a model who studies everything that these photographers did is another story. It taught me not only photography, but business and do's and don'ts as well. I asked tons of questions and assisted the very same photographers that shot me."
Jarmo recalls that "a magnetic urge" catapulted him behind the camera in one of his first successful artistic moves. "After a million plus miles, countless hotel rooms, numerous countries and endless diets, the day comes when you realize that all you are is a clothing hanger, and you need a new purpose to exist.  My agencies told me that I was out of my mind when I told them that I was retiring. They suggested I take a vacation and get my head straight. According to my agencies, I appealed more to the catalog and youth modeling due to my young looks. They believed when I aged, I could model for Valentino and other distinguished brands as well. But Valentino and the 'chiseled cheek' look that they wanted had to wait… I picked up a camera and started to explore the world via a viewfinder."
He remembers being interested in photography since he first saw his father's cameras, but he did not pursue it until he actually owned one. "Before I started modeling, I walked into a pawnshop at a young age and bought a camera with the 'longest lens money could buy' — I clearly got ripped off! But at the time, I didn't know any better … I was on the way to heaven and ready for my very first pictorial. I arrived home and told my girlfriend to get naked. She was terrified at first, but after a few smooth moves I was snapping away, paving my photography future. At least that's what I thought. There's no bigger rush than running to the local film lab with úber expectations to only find out that all the film was black. Clearly a huge disappointment and waste of romancing my girlfriend to pose for me. The world of f-stops had gotten the best of me, and I clearly had some learning to do. The real transformation came long afterwards, when world-famous photographer Bruce Weber told me to get behind the camera.. And I did."
Even though he has many years of experience under his belt, Jarmo firmly believe that photography is a never-ending study.  "There is no graduation day for those who wish to learn and constantly one-up themselves by improving their skills. Not one day goes by that I don't study situations. I've never thought of myself as an artist … More like a man of many episodes and vivid vision."
Jarmo's foray into the Playboy family was the result of an impulsive phone call. "I had always admired the early Playboy pictorials, but it was never sexual to me. The lines and lighting dazzled my young mind all the way from my dad's bathroom collection to today's beautiful, artistic photography. Women can be portrayed in so many different ways. There is nothing more beautiful than capturing a special moment that can be only seen, not explained in words. When I grew enough hair in my chest, I called Playboy's main number. The  operator answered and I asked to speak with the editor in charge of photography. For some miraculous reason, the editor picked up the phone, which never usually happens! I explained who I was and told him how beautiful I thought that Playboy photography was … But I also told him something was missing in his pictorials and that I was the man to bring it to him."
The editor gave him an assignment that would lead to a successful career with the publication. "He quickly responded, razor blade sharply, telling me to shoot any two girls on spec, send him the film for evaluation, and he would let me know how much I sucked. In a nutshell he was telling me to 'Put your money where your mouth is.' So I shot two girls I knew and sent the film in. Weeks passed by with no answer. I started second-guessing my photographic skills and my dreams started to crumble. Then, suddenly my phone rang after the third week. Just as razor quickly, he told me that he wanted the film…  how much did I want for it? I was speechless. But before I was able to say anything he made an offer which ended up working out well for me, because I was not ready to ask for as much he offered — his offer was three times higher than I had in my mind!"
Jarmo shot and submitted spec shoots for about four years until Marilyn Grabowski from Playboy Studio West called and offered him a permanent gig. :Was it easy as it sounds?  No, it was not. Would I change anything? Not a chance!"
He offers some insight into his creative approach to choosing, lighting, and shooting models. "Mostly everything starts with a concept. Then I choose a model and build lighting based on what the needs are. I don't choose a model because she is beautiful. I choose the model based on looks that work for a specific shot I have in mind. Lighting can be as simple as available light, or it could involve every available light that you can get hands on. Every situation is different."
Jarmo details how he helped bring the "Shoot the Centerfold" project to life. "When I rewind time backwards, thinking what I had to do to learn what I have learned so far, I often wonder: 'Where were the masters back then when I had questions about how things are done?' There really were none, and the ones who did make it did not want to share their knowledge and secrets with everybody who wanted to steal their gig… and I don't blame them. So I was all over the place, looking for information about how the best photographers do their pictorials, only to find out that there were no answers."
He started thinking that after being with Playboy for over a decade, it would be a good idea to share all of the knowledge he had learned with the world. "I remember when I first was invited to Playboy Studio West in LA. It was a 'WOW' moment! I finally got answers to the millions of unanswered questions I always had. And I realized that there were a bag of secrets that you cannot figure out unless somebody is willing to show them to you."
Friends and other photographers kept sending Jarmo emails asking about his lighting and photo techniques, which prompted the idea of an educational program. "I contacted some of my fellow Playboy photographers with this idea. Some thought that I was out of my mind, while others thought along the same lines as I did. Thus, 'Shoot The Centerfold' took its first baby steps."
"Shoot the Centerfold" had an auspicious debut in Fort Lauderdale earlier this year at a sold-out, one-day event at the Hard Rock Hotel. Now Jarmo and his creative colleagues are gearing up to make the Las Vegas event an even bigger success. "I would recommend the attendees let their guards down and keep their egos at home. Learn everything you possibly can during the two days of seminars and workshops. We will teach a lot of things that require your full attention. This way you can maximize the learning experience."
He has several suggestions for photographers to remember while attending the workshop. "On Saturday, which is the seminar day, we will lecture and demonstrate techniques that we will put in use on Sunday, which is the workshop day. If you study and listen well on Saturday, you can put your new skills to work for you on Sunday, when you will be shooting one-on-one sessions with Playmates. Our longtime photo director, Gary Cole, will also be there to evaluate portfolios and answer business-related questions. Gary has twice been included in American Photo's list of the 100 Most Important People in Photography. Use this unique opportunity to your benefit, because chances like this don't come around often."
Models will also be able to attend the weekend event and compete in the free "Shoot the Centerfold" Top Model Search on Sunday. Jarmo advises prospective participants to "choose your swimsuit or lingerie attire well, and don't over do your hair and makeup. There will be lots of photographers besides our 'Shoot the Centerfold' instructors, so you will be able to have your pictures taken as often as possible by attendee photographers. Network and make connections!"
Jarmo is personally looking forward to a successful exchange of ideas and instruction during the weekend in Vegas. "I just want to share the knowledge I have received over the years, and make sure everybody gets what they came for and more. Our ultimate goal is to give back to the community and be rewarded with lots of great images and happy faces."
"Shoot the Centerfold" is set to be one of the first major events held at the new Nikki Beach Club at the Tropicana, and will feature appearances by Playmates Shauna Marie McLaughlin, Ashley Hobbs and Kassie Lyn Logsdon, as well as DJ Tamera Sky. The exclusive event is set for June 4-5 at the Tropicana Hotel in Las Vegas, NV. For all the details and to register for this once-in-a-lifetime opportunity, visit the official website at www.ShootTheCenterfold.com.