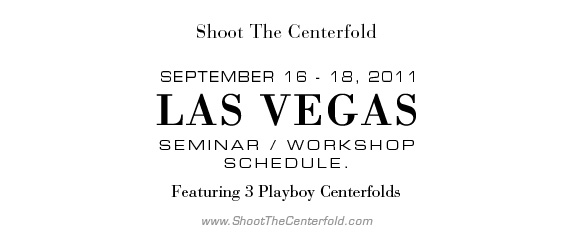 For imitate Release:
3 Centerfold Photographers.
3 Playboy Playmates.
2 Playboy Senior Photo Editors.
One unforgettable weekend !!!
First and foremost, the money you spend gains you an enormous learning opportunity. You will receive instruction from not one, not two, but three illustrious Playboy centerfold photographers with over 80 years of experience. An opportunity never before offered anywhere.
Each of us will share with you the essence of what has taken us to become known and honored in the industry.
The first day: We will be discussing our preferences with makeup/hair and how important these elements are in creating the perfect image. Followed by how wardrobe is utilized to help build the mood and style of a photograph, followed by the importance of having an experienced crew of assistants to help you, the photographer, manage and set the lights so you can focus on the necessary details that can often be overlooked if your forced to take on these tasks by yourself.
Here is something new in addition to your already rich program. You've seen our videos and loved them. How would you like to receive a very special introductory course in using your DSLR to shoot professional level video? Now you will!
Jarmo Pohjaniemi, who has directed and shot all our videos, is going to be teaching an introductory course on Friday all about digital video photography. Bring pen and paper and all your questions as our master of moving pictures is going to help you move your images.
The second day: David will discuss his 'less is more' lighting philosophy by working with two to four lights in a guerilla style shooting scenario. Jarmo will demonstrate about how to achieve the perfect picture with six strobes and further lecture cutting edge lighting styles and how to capture some of the most challenging situations.  Arny will show how to work with "available light"; That is, every light available! Often utilizing 40 or more strobes to highlight and accent every inch of the set, including places most photographers never even see.
The third day: Now it's your turn to take all the new tips and tricks you have learned and step behind the lens for a personal shoot on each of the three sets with Arny, Jarmo, and David for one-on-one instruction. An amazing opportunity to bolster your portfolio with images that are sure to impress even the most demanding of clients. Why not to start with Gary Cole, Playboy's director of photography of 30 plus years or Jeff Cohen the former Executive publisher of Playboy Special Edition's. These two gentleman will be available to review your portfolio and give you tips and insights about the industry. (Bring 6-8 of your best images to show Mr. Cole and Jeff Cohen that could open a new era in your photographic career).
We certainly hope you will take advantage of this very special event. It's been said many times before and holds especially true to our program: "You get what you pay for." Join us in Las Vegas for the experience of a lifetime!
Friday – Event Day 1
10:00 – 11:00 Pre-registration – Pass out maps, schedules, wrist bands, badges, lunch locations.
11:00 – 12:30 David – Basic Photoshop, metering, and camera settings.
12:30 – 01:30 Lunch Break.
01:30- 03:00 Jarmo – DSLR Video & Filmmaking, a basic guide to making professional Hollywood quality videos.
1. Camera basics 2. Settings 3. Lenses 4. Gear 5. Shooting techniques 6. Recording sound mono and stereo 7. Using a slider 8. Directing 9. Post work
03:00 – 03:30 Break.
03:30 – 05:00 Arny – Basic lighting 101 discussion, the art of set design.
Saturday  – Event Day 2
08:00 – 09:00 Registration – Pass out maps, schedule, Lunch locations, wrist bands, badges.
09:00 – 09:15 Introduction by STC Producer Jon Paulsin.
09:15 – 10:30 Keynote speakers Gary Cole and Jeff Cohen.
Have you ever really wanted to know what it takes to go from 'survive' to 'thrive' in the global photographic community? Well here's your chance to find out from Gary Cole, a man who has defined these terms for over 30 years as Playboy Magazine's Director of Photography. Come to Shoot The Centerfold's Las Vegas Seminar / Workshop and sit down one-on-one with Gary and Jeff Cohen, have them review your portfolio and give you insight on how to take your career to the next level. This is an opportunity that has never been offered before; Only the likes of Helmut Newton, Pompeo Posar, Richard Fegley, and our own Shoot The Centerfold Photographers have received such personalized instruction from Mr. Cole and Mr. Jeff Cohen and their legacies stand the test of time.
10:30- 10:45
Break.
10:45 – 11:30 David intro/slide show with detailed information on how each image was accomplished.
11:30 – 12:15 Jarmo intro/slide show with detailed information on how each image was accomplished.
12:15 – 01:00 Arny intro/slide show with detailed information on how each image was accomplished.
01:00 – 02:00 Lunch.
02:00 – 02:15 Playmate introductions.
02:15 – 07:00 Shooting demonstrations begin with David, Jarmo and Arny. The main group will be divided into 3 separate groups- each group will witness a live demonstration with a Playmate being shot by David, Jarmo, and Arny for a period of 1.5 hours. There is a 15 minute break for transition and a brief break between each session. Each group will rotate to the other photographer until each group has seen the demonstrations by each instructor.
The demonstrations will consist of detailed instruction on various subjects such as lighting the set, lighting the model, working with the models, posing and expressions.
(Set descriptions to be announced).
10:00 – until! Red Carpet VIP Event at Club Nikki with Playboy Playmates  and celebrities. See our past Red Carpet here
Sunday – Event Day 3
Putting the lessons from day two into practice
The main group will be divided into 7 smaller groups, each with an Ambassador equipped  with radios, maps and schedules. Each group will spend 1 1/2 hours on each of the 7 various activities with an hour break for lunch.
09:30 – 10:30pm
1. Arny's set with a beautiful Playmate 
Miss July 2011 Jessa Hinton.
2. Jarmo's set with a beautiful Playmate 
Miss September 2010 Olivia Page.
3. David's set with a beautiful Playmate 
Miss March 2011 Ashley Mattingly
. 4. Open discussion with 
Gary Cole
and 
Jeff Cohen
including portfolio reviews for those who signed up for a review. 5. Demonstrations by our sponsors. 6. Additional shoot area focusing on posing. 7. Second additional shoot focusing on posing.
We will rope off the individual shoot areas with David, Jarmo and Arny to insure a true one-on -one learning experience  for each of our photographer-attendees.
SCHEDULE SUBJECT TO CHANGE..
(Set descriptions to be announced).
Arny, David & Jarmo