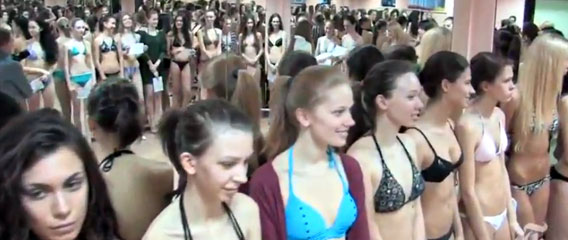 Interesting story and video about Russian model machine. The reality and how some models end up finding either success or disaster.
By DAVID REDMON and ASHLEY SABIN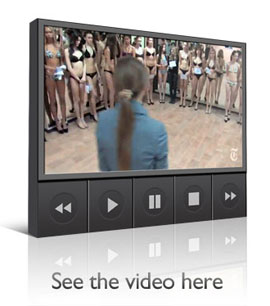 In this Op-Doc video we present Masha, a 13-year-old aspiring model who attends an open casting call in Siberia, Russia. Sometimes hundreds of girls audition at these model castings; other times a few dozen show up. Rural Siberia is a thriving location for scouts hoping to recruit teenage girls as young as 12 and export them overseas. The Op-Doc also introduces Ashley Arbaugh, a former American model turned international model scout, who seeks out teenagers with her Russian comrades. When we filmed Masha in 2009, the scouts said that these girls — often poor in a society of extreme income inequality — are desirable not just for their looks but because they are malleable and easier to guide and direct.
Ms. Arbaugh initially approached us and suggested we make a film, which became a feature-length documentary, "Girl Model." She wrote to us: "I have been traveling and documenting in Russia and Ukraine the journey of these young girls that become prostitutes and fashion models, or the foggy lines that exist between both." Our feature documentary, from which this Op-Doc is adapted, traverses these foggy lines.
Masha's fate is currently unknown; our recent efforts to contact her have not been successful, but her Facebook page suggests she is still an aspiring model. Indeed, some young Russian models find international success — as evidenced on the catwalks of New York Fashion Week. However, even here in the United States, it's astonishing how vulnerable young models are to exploitation. Some are unpaid or paid only with clothes, and some find themselves in debt — which makes them vulnerable to predation. Sara Ziff, an American model and filmmaker, recently initiated the Model Alliance to protect and enforce models by devising a Models' Bill of Rights.
"We believe that models, like all workers, deserve to be paid for their work," Ms. Ziff said. "Many younger, less established models are working in debt to their agencies, and they struggle to cover their day-to-day expenses. A tank top simply doesn't pay the rent."