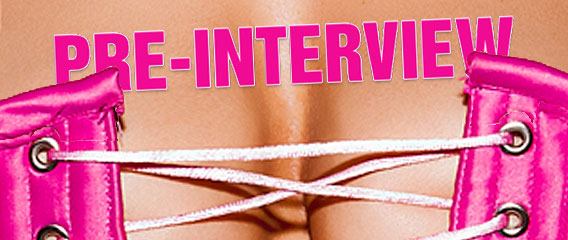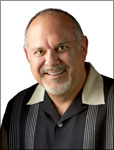 Dr Dan, these are very exiting times for you and your photography career. You just shot another Playboy Playmate layout and a 60th anniversary cover! Are you ON A ROLL, or what? It seems like a dream situation for any glamour photographer out there. Tell us, how did everything turn out?
Dr Dan: Everything went very well.  I was VERY pleased. We accomplished several sets and have a lot of images to choose from! However, I'm sorry that I can't share the results (yet) due to Playboy's exclusivity clause, which means no information can be revealed because they own the copyright and publishing rights.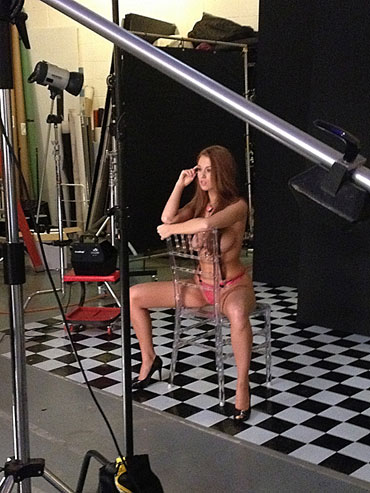 That's true, but we can at least spread the good news about how one man's dream has come true. Tell us about your concept and the sets you used. You actually had a Plan A, B, C, D, E and F. That's a lot of options and backup plans for a single shoot. Why so many and did you execute them all?  
Dr Dan: Living in Denver, the weather is very unpredictable in the winter and a location in the mountains is very costly during the ski season. So, we instead decided to go into the studio.  The concept for the shoot was Valentines' Day, so I decided to present a minimalist image of the idea of Valentines and not spoon-feed the viewer and do another bedroom setting.
I prefer to have a lot of options to look at.  When shooting for the international editions, logistics make it difficult to have one-on-one time with the editor. So, when the concept was approved, I sent a sample of ideas that I had collected over the years that I think would fit the editor to reassure them and give them a chance to say if they wanted to go a different direction.
I knew I had the model for two days and that I wanted to capitalize on the time to get the maximum results. All too often, I have more ideas than time.  Having options gives me more opportunities to potentially get other sets published in other editions, especially if the model's popularity takes off.  Also, I have a very strong work ethic, which means in a given 8-10 hour day, there is NO excuse to not get at least three to four sets done with the proper planning and crew.
When doing so many sets, some will be weaker than others, but you can expect to get a higher ratio of good images verses bad IF and ONLY IF the model is prepared and capable of doing an extended shoot.  Ours' was, and her attitude on set was playful, fun and very easy to work with.
How was the model chosen for this shoot? Can we even mention her name yet?  
Dr Dan: No, sorry, not at this time – the name can't be released but she is a popular model.  She was considered for the December issue during the casting process in October, but the editor decided to go in a different direction. So, when the February cover came up, I reminded the editor of our model and she thought she would be perfect for it.  I guarantee we will all be seeing more of her in the future (both figuratively and literally)!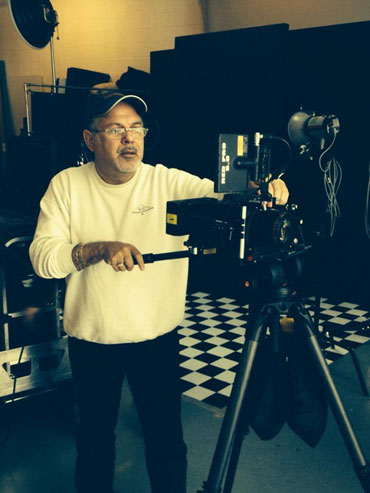 What about your workflow? We saw that you also have the RED camera on your set – are we expecting something cinematic from this pictorial?  
Dr Dan: The RED was chosen for one of the sets. Jon Firestone is a DP and the owner of the camera.  I first met Jon when he got out of film school. We are good friends, both of us having worked on movie sets and production sets for years. Over the years, I have hired Jon to be my first assistant on photoshoots.
Previously, I had discussed with him that I wanted to get familiar with the camera on one of the shoots, so when this opportunity came up, I knew this would be a great time to use it.
I chose a very simple lighting scheme and set so that we would not have any lighting issues and were instead able to focus on the camera system and model.  I was surprised at how easy it was to learn! I shot the RED in the vertical format so that we could create a moving cover because I wanted to have another marketing idea to present to my editor.
It never hurts to give a little more than what the editor ask for.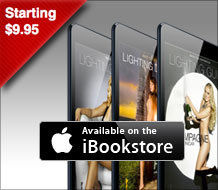 You shot the pictorials with Canon 5D Mark II. Did you shoot tethered or to a card, and what's the next stage of your favorite editing process?
Dr Dan: I shot to the CF card, and then my technician would put the card in to review on a larger screen.  I also was using my 6" HD monitor when I was up in the ceiling to review my shots.  I have been transitioning to Lightroom and the more I use it, the more impressed I am with the RAW editing tools.
I have shot with the MK III and like the camera a lot, however, I haven't had a need to transition to it because the MK II still delivers a great image.  It's so easy to get caught up with getting the latest and greatest equipment, but at the end of the day the camera is just a black box – the lighting and the model is what makes the image. I know a lot of photographers say, "If only I had such and such equipment then I would be a better photographer," but that simply isn't true.  I know plenty of guys driving $200K sports cars but can't drive them as they should be driven.  "It's not the arrow, it's the Indian!"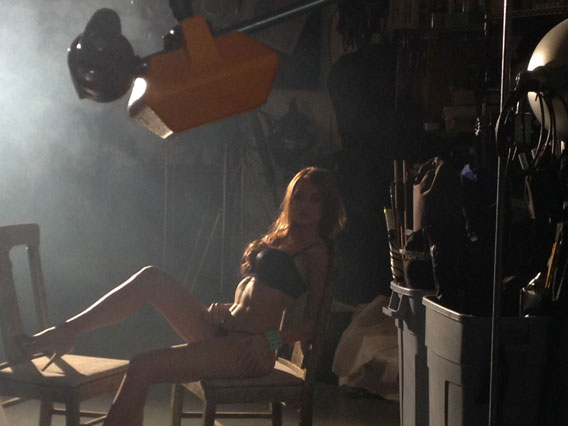 What were the challenges you faced during this shoot?
Dr Dan: Styling, getting the wardrobe, and shopping for it during the holidays!  We had a month to plan and prep, so we already knew the lighting ideas and the sets we wanted to have.  One particular set was a challenge because of having to deal with the reflections on black plexi, but we overcame it in good form, even if it did put us about an hour behind schedule.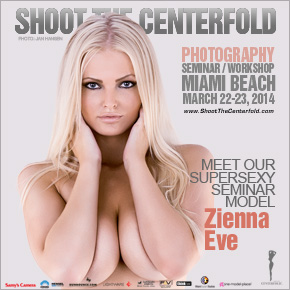 If you could go back and do it all over again, would you?  
Dr Dan: In a New York minute!  Being creative is my life blood.  I had a great crew, some of which I have known several years and they are ALL creative, so the collaboration was great!
There was also this insanely huge portable interface on set, based on your BTS images. What can you tell us about it?  
Dr Dan: LOL! That was Jon Firestone's custom system that he builds and sells for RED camera operators. He built it into a case where he can just open the lid, plug it in and go. He travels around the world with it.
When the editor requested you for this shoot, were you surprised? You have already shot a few Playmate layouts, but shooting a second cover and not just any cover – a 60th anniversary cover! – is a pretty cool deal.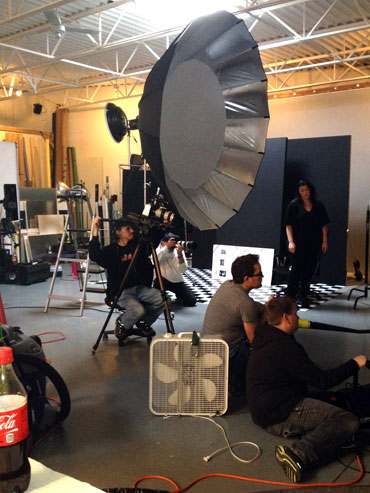 Dr Dan: Surprised, a little, but excited is a better word.  My editor and I stay in communication and frequently discuss ideas and consider models.  I have been able to develop a very good relation with my editor and she knows me by my professionalism, creativity and attention to detail.  In fact, the model gave me an email from her describing me as such. ("Dr Dan has been a great person to work with – very professional, very detail oriented, and his shoots have been fantastic. So I consider you to be in good hands.").   Great shot in the arm when I read that!  So, look forward to seeing more shoots!
Watching the BTS images, you truly were up and down and all over the studio, and it looks like a pretty big facility. Tell us about the facility and what the "dealmaker" was for you in choosing this specific studio.  
Dr Dan: The studio was Peregrine Studios owned by Paul Peregrine, owner of Lightware cases.  His company is one of the STC's sponsors.  Paul and I met at the first STC event in Ft. Lauderdale and when we discovered we lived just a few miles away from each other, he asked me to visit and I have been going to the studio every Friday since, helping with shoots, shooting instructional videos, etc.
When I told Paul about the opportunity, he opened up the studio for the shoot. He was also the art director on the shoot.  The studio is very large and allowed for four shooting stations.  With the exception of the overhead shot, we kept the camera in the middle of the studio and merely rotated to shoot each set.
So, this was just a brief pre-interview to see how it went and what to expect from you in the future. We are extremely proud of you and your admirable progress, Dr Dan. You're truly an STC attendee success story!
Dr Dan: Thank you! STC has been an incredibly supportive and I am very grateful for being in this family of experts and creatives!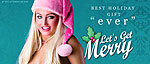 Check out Dr Dan's earlier success stories and  step-by-step look at how the Playboy SA December 2013 cover shot was created.  ➔
Learn how to get your work published, join STC seminar / workshops and Stay tuned for more Dr Dan in the near future!


© 2014 Copyright ShootTheCenterfold.com. All rights reserved.