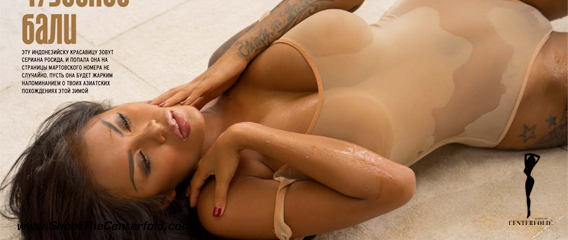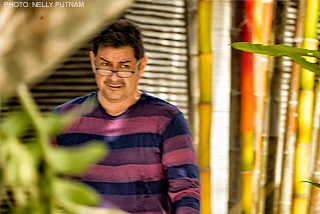 Just when you thought that you'd seen it all from our 2016 Asia seminar, the STC's fat lady again sings a high note.
Our workshop attendee Stefano Navarro's poolside pictorial with sultry Serliana Rosida proudly shines in ink and glossy paper as a six-page layout in the March issue of Russian Playboy.
Serliana's vixen looks are about as piercing as they come and has set the Stoli folks on fire. Navarro shot the pictorial during the STC Asia seminar as the last lesson of the day. Stefano captured the best angles and expressions of sexy Serliana.
We placed our bets on Serliana, and there are more payoffs yet to come. In the meantime, enjoy the previews. Politics aside, Russians are known to be proud of Vodka, beautiful women, and now, Serliana.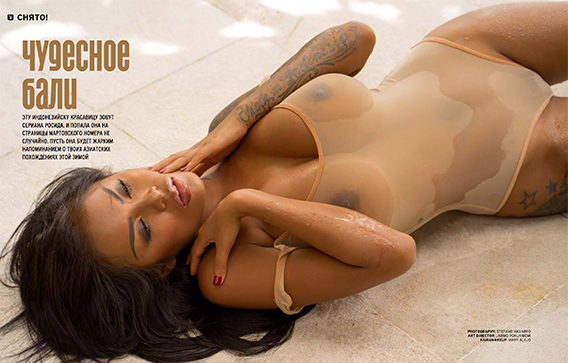 Serliana Rosida by Stefano Navarro for Playboy Russia
Serliana Interview:

STC: Congratulations on your March Playboy feature. The editor has gotten the heavier paper stock to keep readers from ripping out the pages.
Serliana: I am over the top excited about this opportunity. It has been a lifelong dream to be in Playboy. I could not have imagined in a million years that the opportunity with STC would lead to this.
STC: You are breathtaking, and your looks are unique. Tell us where did you get them, and where you from?
Serliana: I originate from a small village in Blitar Java, Indonesia. We had no running water, no bathroom, and mother cooked on an open fire. But life was simple, and it was home. We grew up poor; often we had barely enough to cook simple meals of rice and oil to sustain us.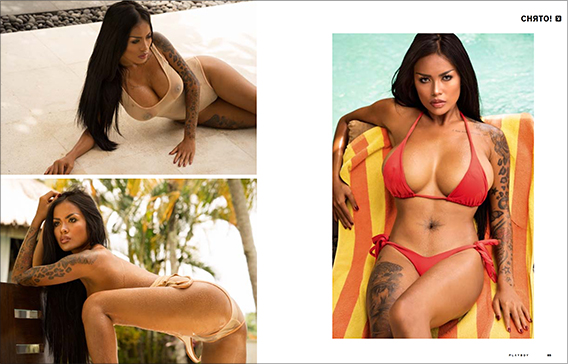 Serliana Rosida by Stefano Navarro for Playboy Russia
I faced many hardships growing up that I still can't talk about with others. I left home at age 13 to find a better life. I found myself on the streets of various villages and big cities across Papua, Sulawesi, and Jakarta.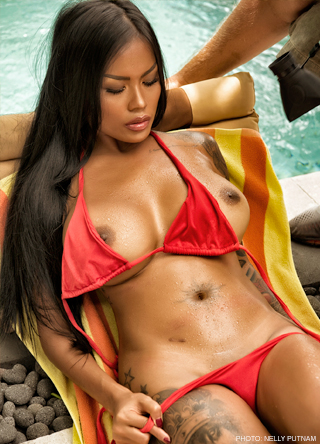 At age 18 I finally found my way home to reunite with my family and from that moment forward I did all I could to help them. I traveled, worked in modeling in Singapore, Hong Kong, Thailand, Australia and various places across Asia before settling in Bali five years ago.
Throughout all my experiences in life, one thing has carried me through the good times and bad times, and that is bravery: the courage of my heart and confidence in myself that I will always find my way. Part of my dream has now come true. Being in Playboy magazine means the world to me.
Even as a little girl I always dreamed that one day I want to be as beautiful as the women I saw in the magazine. Also, I want one day to be a successful business woman, and I wish to inspire as many people in this world and volunteer to help kids in need.
My hobby is cooking. I also love design, photography, and work as a makeup artist. Taking care of people that I love is part of my culture and part of me.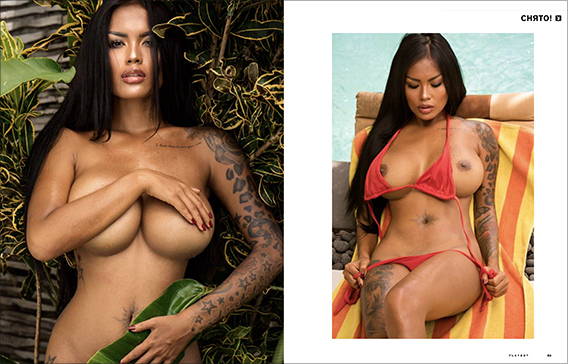 Serliana Rosida by Stefano Navarro for Playboy Russia
STC: Any hobbies?
Serliana: I love cooking and photography, design and doing makeup. Taking care of people I love is my passion. I like to believe that this is also part of my culture.
STC: What gets you going and turns you on?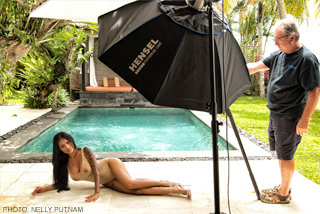 Serliana: This may sound little odd, but it's me! I mean what turns me on is seeing my man having sex with another woman in front of me. Can I say that? Yeah, welcome to my fantasies.
STC: You seem very open about your sexuality.
Serliana: There is nothing to be ashamed of when it comes to something as beautiful as sexuality. People paint curtains and see what they want to see. I'm very open about the topic even though I am quite traditional about my heritage.
STC: A little bird told me you might be shooting for Playboy again? Please say this is true!
Serliana: That little bird has a big peep! Let's hope so! We'll have to wait and see. I like to keep a few surprises up my sleeve (or in my cleavage). See you all soon!
Stefano Navarro Interview: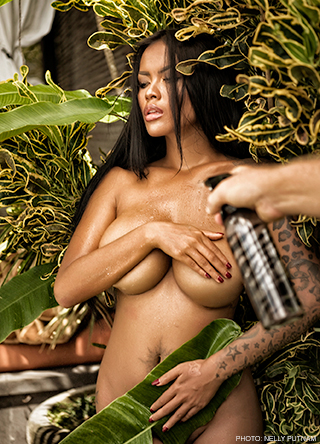 STC: This pictorial might come to you as a surprise. Please don't hold it against us. Russians are known for its KGB-level secrecy.
Stefano: Yes, this is a bit of a surprise. But I am very glad to know that my images now qualify for Playboy. Thank you, STC!
STC: How many times have you participated in STC seminars and what's your take?
Stefano: I think it has been four or five times, but not enough! I've learned so much, and you have opened my vision and set my mind to see things I never imagined.
STC: You not only focus on glamour photography. Tell us what gets you going photographically and style-wise.
Stefano: Without a doubt, photographing models ranks high. I like shooting nudes, but not just nudes. Styling plays a significant role with fashion vibes. Also, landscapes and architectural shots are on top of that list.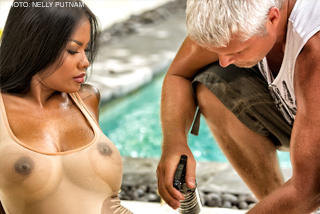 STC: How was it to photograph Serliana?
Stefano: Hmm, let me think about that! Duh! Let me just say, my camera is still warm and asking for more. What's there not to like? Where do we go next?
STC: This is your very first Playboy pictorial. We hope that this is just one of many to come.
Stefano: I sure hope so. Not only does this gives me ammo to look for more, but to be more selective than ever before. I would like to advance from here in hopes of a successful future in photography.
© 2017 Copyright ShootTheCenterfold.com. All rights reserved.